With the rise of battery-electric vehicles (BEVs) in Norway, there has been a significant drop in diesel-fueled vehicle sales in the country. Some models, such as Volvo's V40, V70, and the XC60, saw decreases around 95% in sales since 2013. During that same time period, the consumer market share of diesel and gasoline vehicles overall were nearly cut in half while the first half of 2019 alone saw 55% of all car sales go to BEVs. These figures were provided in a press release published by independent energy research firm Rystad Energy.
"This adoption of electric vehicles has resulted in a dramatic decrease of traditional gasoline and diesel vehicle sales, with the steepest decline seen in the diesel segment," Artyom Tchen, senior analyst on Rystad Energy's oil markets team, stated in the release. "High-range battery electric cars have reduced the sales of high-end diesel vehicles, primarily SUVs and sedans, which are also the most energy-consuming private vehicles on the market."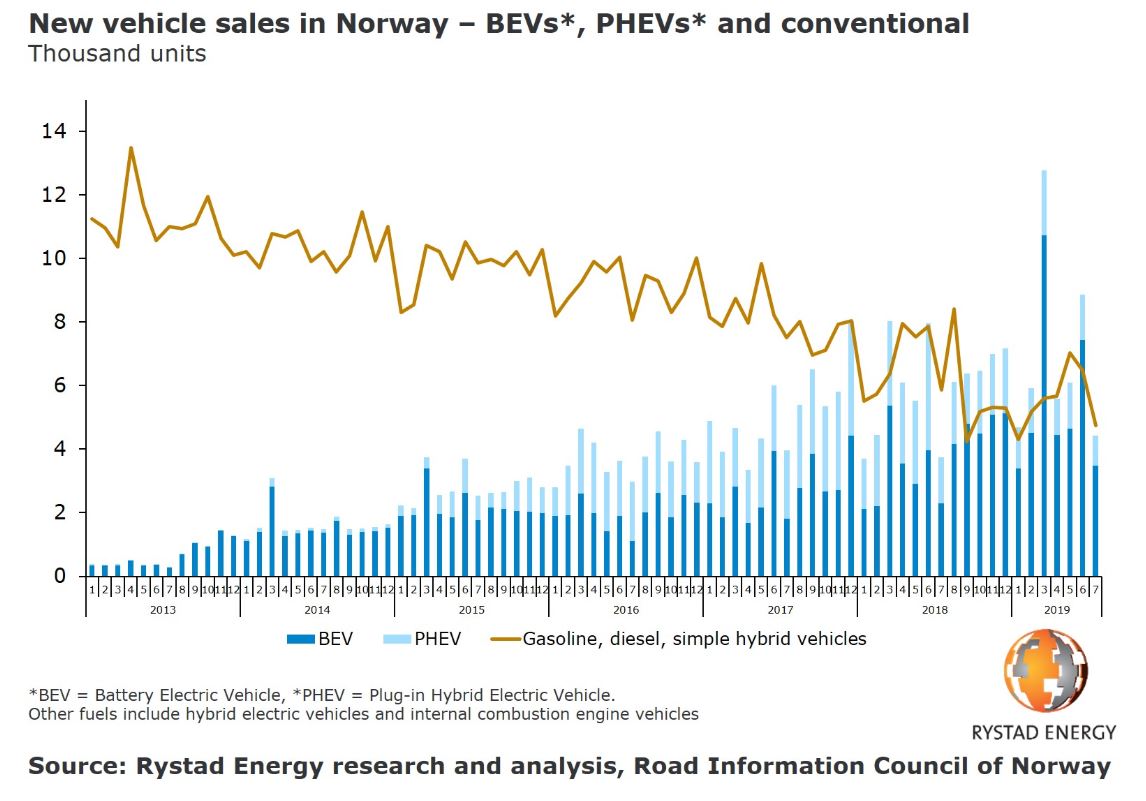 Tesla's Model 3 has led the charge recently in Norway's BEV sales, capturing 13.5% of newly registered vehicles in 2019 thus far. The Director of the country's Information Offices for Road Traffic (OFV), Øyvind Solberg Thorsen, commented that it's unusual for one model to have such dominance in the market, according to a report in local publication E24!. In June, the total number of Teslas registered in Norway overall surpassed 40,000 vehicles, and Model 3 sales made up around 70% of the all-electric car maker's sales in May. Notably, the Standard Range Plus variant of the Model 3 only began arriving in Norway this month.
The reason for the sharp decline in Norway's diesel car purchases seems to be linked to the country's efforts supporting clean energy vehicle sales. "As for the steep decline for new diesel vehicles, two factors are at play," Rystad's report revealed. "A high proportion of vehicles sold have traditionally been mid- and high-end diesel models which would naturally take the biggest hit in terms of market share. Secondly, sales reductions of new diesel vehicles are tied closely to consumer fears concerning potential restrictions or even a ban against diesel vehicles in the country."
Other policies supporting this market change include a system of tolls, fees, and taxes favoring electric vehicles that's currently in effect. For instance, electric vehicles only pay a 50% maximum of tolls for ferries, public parking, and toll roads, and all cars are subject to a progressive tax system based on their emissions – high emissions have high taxes. Norway is also committed to the long-term goal of banning fossil-fueled vehicles entirely by 2025.
As a global leader in the transition to a clean energy economy, Tesla's success in Norway is a nod towards the company's overall mission to drive that same transition worldwide. CEO Elon Musk has praised Norway for its clean energy vision several times in the past, citing its hydropower-driven grid, its transition to emissions-free vehicles, and commitment to a carbon free environment. "Norwegians should be proud. You're in the front seat and a world leader in this field," he said during a talk in 2016.