Tesla's Powerwall 2 home battery will soon be available at the company's retail locations as part of a revitalization that emphasizes the energy side of the business. The move to reinvent its retail sales strategy comes as part of Tesla's long term business plan to promote a 360° sustainable energy lifestyle — complete with electric cars, solar power, and home battery storage. Selling a lifestyle and a way of thinking, Tesla retail store reconfiguration will deepen its already formidable brand, which offers a premium lifestyle experience that complements a high-tech image.
The shift is one of several growth steps that Tesla has adopted in its innovative approach to sales. All along, Tesla has rejected a traditional model in which intermediaries sell their products to independent dealers, who are then granted exclusive territories and display in company-owned showrooms. Tesla has always sought to distance itself from these hard-selling franchise models that are imbued with negative connotations for buyers. Ganesh Srivats, Tesla's vice president of North American sales, "We knew we couldn't rely on dealerships to promote our mission, to operate the business the way we wanted to, to provide this great customer experience. So we've really had to chart our own course."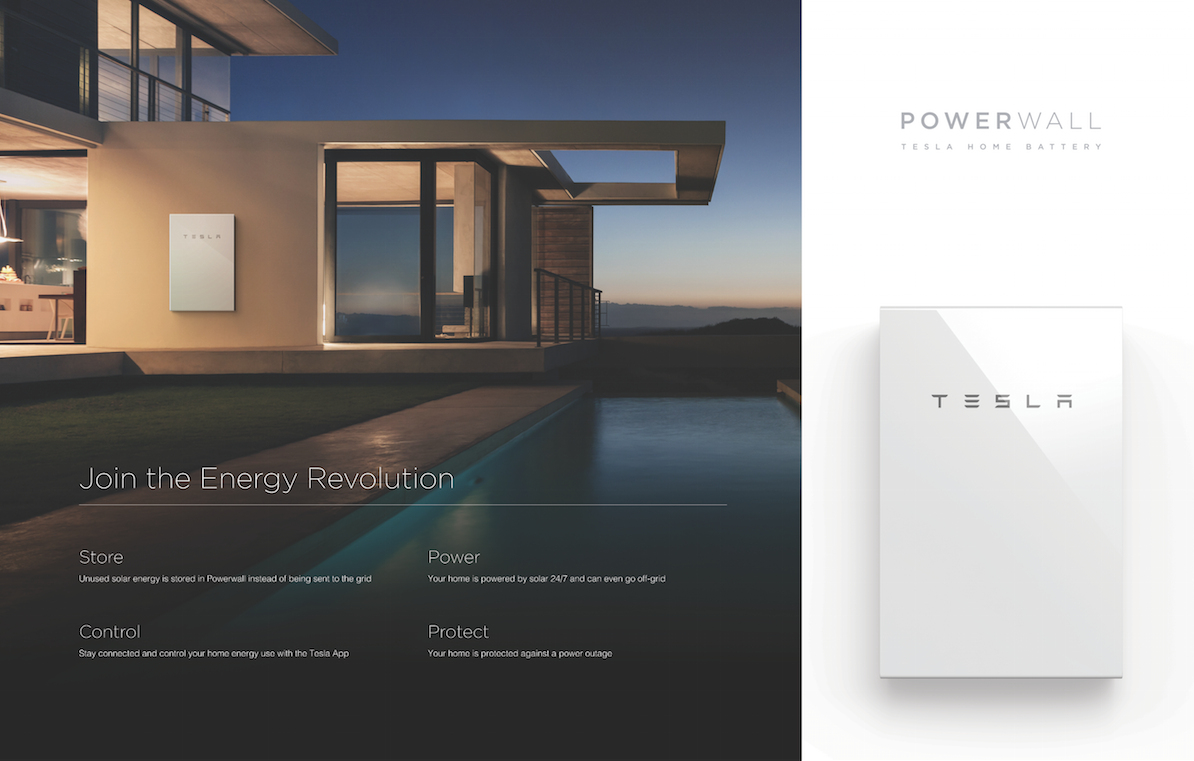 The newly redesigned Tesla showrooms will feature its new rechargeable home battery, the Powerwall 2, and will display graphics relating how its energy products work. Srivats has emphasized throughout his time with Tesla that it intends to create "an information loop from our customers straight into manufacturing and design." The Powerwall 2 has 14 kWh of energy and can provide 5 kW of continuous power. This means it has twice the energy as the previous Powerwall model. Tesla says that the Powerwall 2 is capable of powering the lights, sockets, and refrigerator in a two bedroom home.
The Powerwall 2 is an essential component of a whole Tesla energy package in which solar roof tiles will capture energy from the sun to generate electricity, the Powerwall 2 will store that electricity for non-sunny times of the day, and a Tesla automobile will be recharged onsite.
The move toward an energy-focused retail sector comes as Tesla is opening new stores in key locations in other parts of the world. Back in June, Tesla opened a retail-only store in Sydney, Australia in the heart of the city's Central Business District. Situated in an open air pedestrian mall, the space comprises more than 5,000 square feet with two interior levels. In October, Tesla revealed it will open a 2017 Service-Plus outlet in Dublin, with Supercharging stations in Cork, Galway, and Belfast locations.
As Tesla updates its product catalog at retail locations, the company will focus on markets with the most demand for energy products.