Elon Musk has been open about the idea that Tesla's valuation in the future would likely rely on whether the company could perfect its Full Sef-Driving and Autopilot technology or not. With this in mind, the rollout of FSD Beta and other critical functions to numerous areas across the globe is crucial.
Last March, Elon Musk estimated on Twitter that FSD Beta would likely be available for Europe's left-hand drive markets around Summer 2022, and right-hand drive markets should follow a few months later. Musk emphasized that his estimates for FSD Beta's release in Europe would depend on regulatory approval.
Musk's estimate turned out to be inaccurate, and until today, FSD Beta access is only available in North America. As per job listings in Tesla's Careers pages, however, it seems that the company is laying the foundations for the rollout of advanced driver assist systems in Europe. This was hinted at by "ADAS Test Operator" job openings in Switzerland, Finland, and Denmark.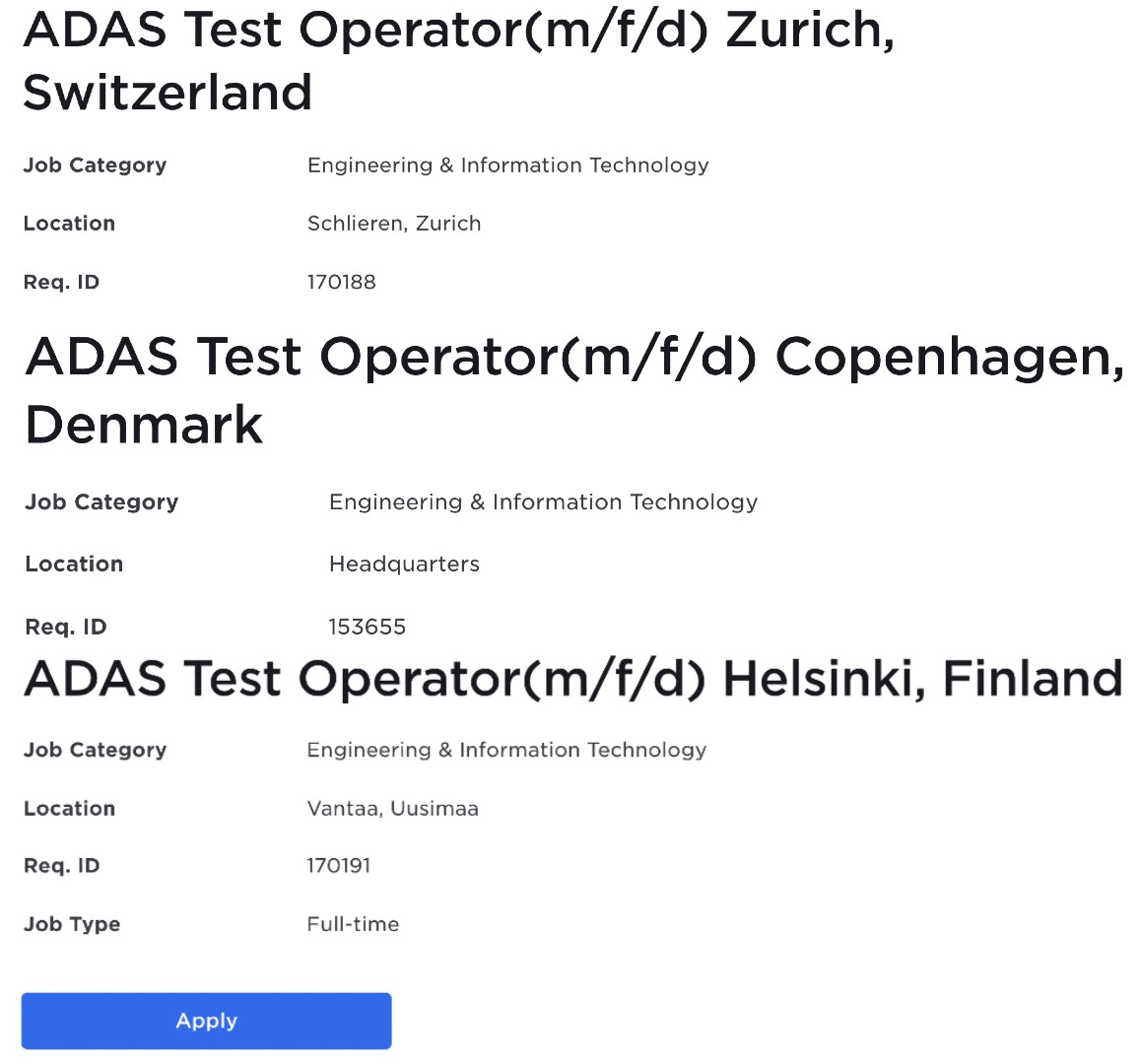 Tesla specifically mentions its work toward Full Self-Driving in its job listings' descriptions. 
"We are looking for a highly motivated individual to accelerate our vehicle-level testing for all current and future Autopilot features on the path to full self-driving. The ADAS Test Operator will be responsible to identify improvements and regressions across software iterations. 
"A strong candidate will be objectively focused when making judgements, highly organized with a great attention to detail, and a self-starter. This role could require the flexibility of traveling to domestic and international destinations as necessary, to test vehicles on public roads, test tracks and proving grounds," Tesla wrote.
Following are the tasks expected to be performed by the company's ADAS Test Operators in Europe. 
Survey the local region and design routes with perspective scenarios for Autopilot testing.

Design test specs and create judgement criteria using tools such as XRAY.

Study and familiarize with the latest Autopilot version and other relevant vehicle features.

Execute real-world testing according to test specifications, as well as providing ad-hoc support for specifically requested scenarios.

Analyze test data, triage software issues and abnormal vehicle behaviors using Tesla in-house designed proprietary software tools.

Communicate with developers and test engineers, be on-call for questions/comments if necessary.

Maintain and document test vehicle condition, coordinate repairs/retrofits as necessary.

Support any other vehicle engineering testing as needed.
Tesla's job listings for ADAS Test operators can be found here. 
The Teslarati team would appreciate hearing from you. If you have any tips, contact me at maria@teslarati.com or via Twitter @Writer_01001101.