Tesla's Gigafactory 3 is still under construction, but sections of the massive Shanghai-based complex are already approaching their operational phase. As could be seen in a recent drone flyover of the site, both the general assembly building for the Model 3 and the southwest substation appear to be nearing completion.
The recent footage comes courtesy of Tesla enthusiast and drone operator Jason Yang, who has been chronicling the development of Gigafactory 3 since its groundbreaking ceremony in January. Since then, the expansive site has transformed from a muddy field with a few pile drivers into a bustling industrial complex, complete with dormitories, offices, a substation, and of course, a giant electric car production facility. 
Looking at the new video, it appears that the installation of around 35 industrial-grade air conditioning units for the general assembly building has been completed. The AC units appear to have been installed on the finished areas of Gigafactory 3, which, as hinted at in the company's Q2 Update Letter, are already being fitted with electric vehicle production equipment.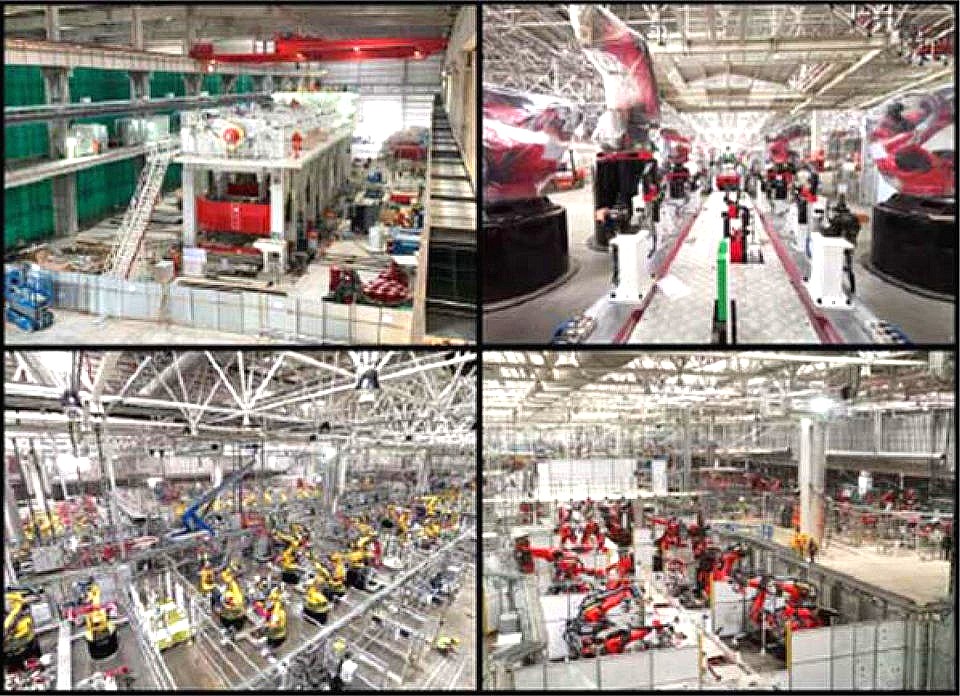 From the outside, Gigafactory 3 looks more and more complete, with more bay doors being installed and large sections that were previously left open being overlaid with walls. The entire roof of Gigafactory 3 is almost fully paved as well, and painted in Tesla's classic, clean white. 
Also notable from the recent flyover was the incredible progress of the southwest substation's buildout. The construction of the building seems to have only hit its stride last month, but since then, the substation has grown into what appears to be a multi-story facility. Similar to large sections of the general assembly building, the walls of Gigafactory 3's southwest substation are now being constructed. 
The progress of Gigafactory 3 has been remarkable, though most of it has remained largely unreported by mainstream media in the United States. Tesla did share some images from the facility's interior in its Q2 Update Letter, showing four sections of the Model 3 production line that are already being built. This was confirmed by fellow drone operator Wuwa Vision, who recently managed to speak with one of the site's contractors working on the Model 3's vehicle production lines. A video of the conversation between the Tesla enthusiast and the Gigafactory 3 worker could be viewed here. 
Tesla is aiming to start the production of Model 3 in Gigafactory 3 by the end of the year,  though reports from Chinese media have suggested that trials runs for the vehicle's manufacturing could start earlier than expected. With the first batch of hires reportedly being told to report to the site at the end of July, Tesla might very well begin trial Model 3 production runs as early as September.  
Watch Gigafactory 3's latest drone flyover in the video below.