Tesla is back with a continuation of its popular "Weekend Social", a series of events aimed at bringing together Model S and Model X owners with product specialists from the company. The series, which began earlier this year, invited owners to "engage with Tesla product experts, learn more about the latest product features and speak with fellow owner enthusiasts", over a light breakfast.
Teslarati went behind the scenes of Tesla's first Weekend Social event which focused on the company's, then, newly released Summon feature.
An email invitation sent today to Model S and Model X owners reveals that the company's newest home battery solution – Powerwall 2 – will be the topic of discussion at the next 'Weekend Social' event. The event will take place between November 19 – 20 across select U.S. States and parts of Canada (Calgary, Vancouver).
We are excited to invite you to this month's Tesla Weekend Social series at your nearest Tesla location. This month we are giving you an inside look into our newly launched Powerwall 2, Tesla's next generation home battery solution.
This exclusive event series is designed to engage our owner community with Tesla experts to learn more about our newest products and features. It also provides an opportunity for you to speak with fellow enthusiasts. We invite you to bring family and friends to the event so they can learn about the benefits of Tesla ownership.
To attend an upcoming event near you, please RSVP below. A light breakfast will be provided. We look forward to seeing you there.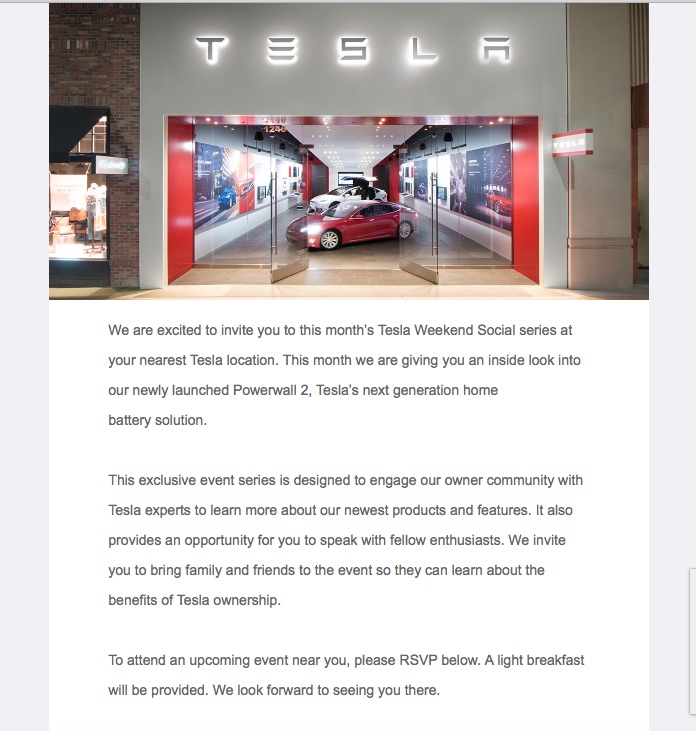 Tesla debuted its second generation home battery storage unit alongside its glass solar roof tiles at an unveiling event last month from Universal Studios in Los Angeles. Powerwall 2 is designed to allow homeowners to store electricity generated from solar, or through the utility grid when rates are low, for later use. The home battery storage unit also allows homeowners to leverage it as a source of backup power in the event of a complete power outage.
The company has announced that a limited edition Red ' Founders Series' Powerwall 2 hand signed by Tesla's executive team and not available for purchase will be offered as a prize in its latest Referral Program.
If you're considering solar for your home or business, we encourage you to get a solar cost estimate first, based on your monthly utility bill and location. The service is being provided by an affiliate partner and fan to Teslarati.