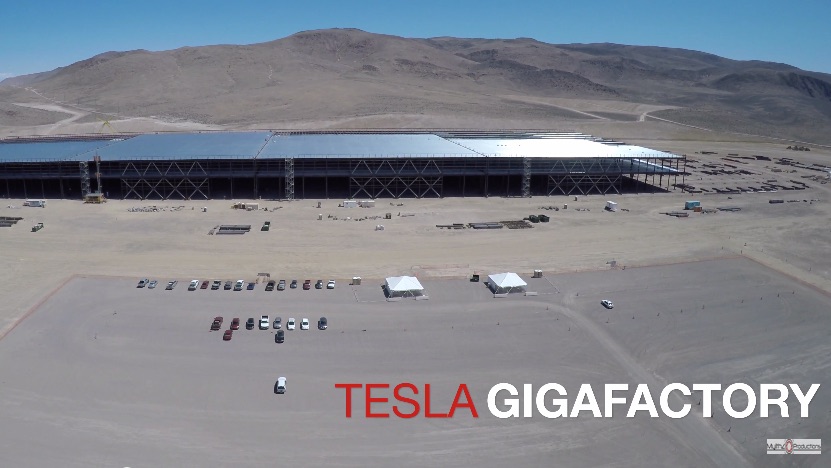 Tesla has taken steps to lock up a guaranteed supply of lithium for the next five years
Bacanora Minerals Ltd. and Rare Earth Minerals PLC, have formed a partnership called the Sonora Lithium Project Partners to mine lithium from clay deposits in northern Mexico which will become a key supplier of lithium for Tesla, at below market rates over the next 5 years. Currently, the United States imports 80% of the lithium it needs, most of it from Bolivia and other countries in South  America.
Tesla will need an assured supply of lithium at a guaranteed price in order to fulfill its pledge to make 35 gigawatt-hours of batteries annually, after construction of the Gigafactory is complete. The mine and processing facility are expected to have an initial capacity of 35,000 tons of lithium compounds which can be increased to 50,000 tons if needed to satisfy Tesla's requirements.
Researchers at the University of Wyoming have identified a large deposit of lithium-rich brine in the Rock Springs Uplift, a geological feature in southwest Wyoming. Tests suggest the 25 square mile area could contain 228,000 tons of lithium. That's enough to meet annual U.S. demand and is almost twice as much as the reserves at Silver Peak in Nevada, which is currently the largest lithium producing area in the US.
>>>> MUST SEE: Drone video reveals newly constructed walls at Tesla Gigafactory
That find might benefit Tesla's domestic competitors. The researchers say the Rock Springs Uplift area could produce lithium at well below current world prices from its geologically rich elements critical to lithium production. Making lithium from brine requires large quantities of soda ash (sodium carbonate). The largest US supply of soda ash is located less than 30 miles away.
In addition, the Rock Springs brine is unusually low in magnesium, an impurity that must be removed before processing can begin. Less magnesium means lower costs. Finally, the brine is trapped deep in the ground, where pressures and temperatures are already near those required by the lithium production process. Normally, the brine must be heated and pressurized before lithium can be extracted from it. Operators might be able to eliminate this step entirely, resulting in significant cost savings.
Industry observers say the transition to electric cars by mainstream drivers likely won't occur until battery prices fall below $100 per kilowatt-hours. Access to less expensive lithium will be a big part of making that happen.
Source: WSJ