Tesla opened up its Model 3 online configurator to employees the day after CEO Elon Musk handed over the first 30 production cars to their new owners at the company's Fremont, California factory.
Screenshots of the newly opened Model 3 Design Studio, posted by a Tesla employee via Model 3 Owners Club, reveal that first employee deliveries are expected to take place sometime between October and December of 2017. Incidentally, this is the same delivery timeframe that has been assigned to non-employees who lined up in the early hours of March 31, 2016 to place their Model 3 reservation.
However, first deliveries come with a caveat. The first tab of the Model 3 online configurator outlines the standard features of the $35,000 base vehicle, along with two selectable options including a Long Range Battery and Premium Upgrades. Combined, the two additional options total $14,000 and increases the price of the Model 3 to $49,000, or 40% over the base price. What's important to note is that below each of the selectable upgrades reads the following fine print: "Required for first production".
That's right. If you're interested in taking early delivery of your Model 3, employee or not, Tesla will ask you to purchase the larger battery, power adjustable front seats and premium audio system as part of the Premium Upgrades package.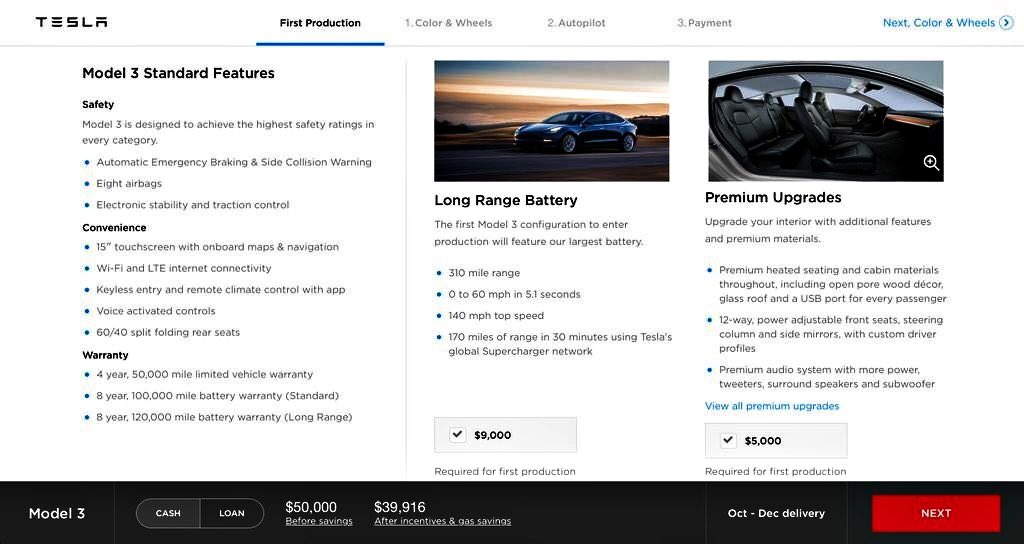 Selecting a color other than Solid Black for your Model 3 will set you back another $1,000. Tesla is offering the following paint choices in the latest Model 3 online configurator.
Solid Black: Standard
Midnight Silver Metallic: $1,000
Deep Blue Metallic: $1,000
Silver Metallic: $1,000
Pearl White Multi-Coat: $1,000
Red Multi-Coat: $1,000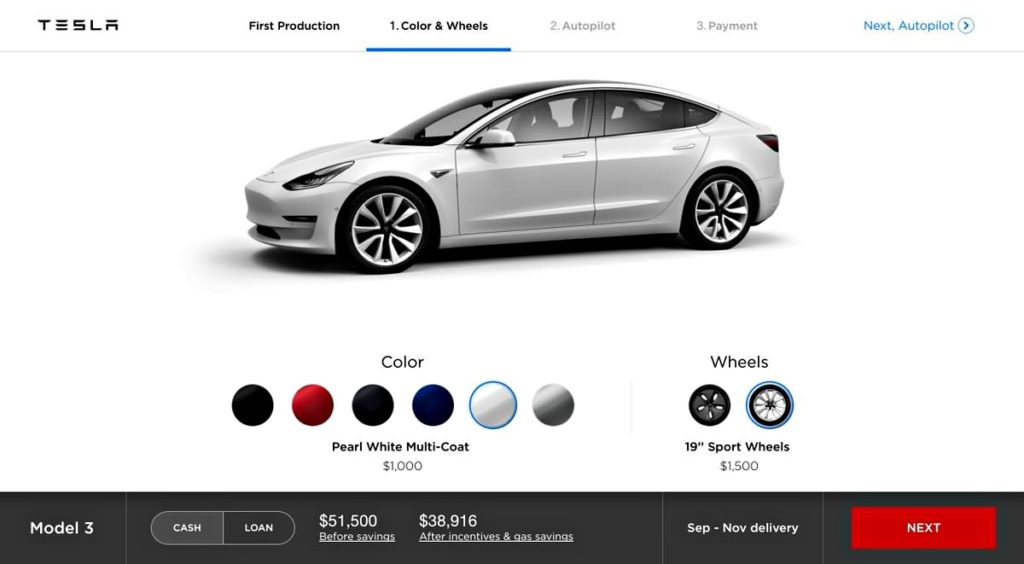 Upgrading the Model 3 wheel from a standard 18″ size to a 19″ Sport Wheel will tack on an another $1,500. A white Model 3 with 310 miles of range, power adjustable front seats and 19″ wheels will set you back $51,500. Mixing in the $5,000 Enhanced Autopilot upgrade into the equation and you now have a $56,500 Model 3.
And if you want Tesla's yet-to-be-released Full Self-Driving Capability, add another $3,000 which will bump the total price of the Model 3 to just shy of $60,000 at $59,500.
And finally when you're ready to place your order, a deposit of $2,500 is required which isn't any different than placing an online order for a Model S or Model X.
Early reservations holders that are existing Tesla owners and registered in California can expect deliveries of the $35,000 "Standard" Model 3 between December 2017 and February 2018, according to Tesla's latest Model 3 delivery estimator.