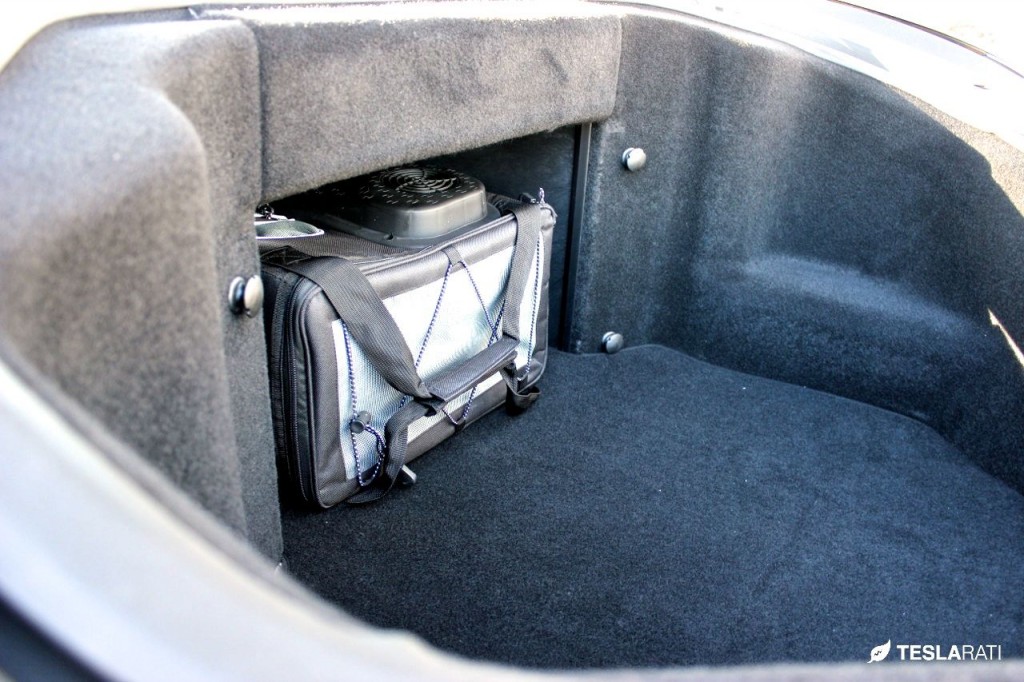 ---
Now that Tesla Motors has officially demonstrated to the world that long distance and even cross-country travel in a Tesla is easily attainable – annihilating the age-old lexicon "EV range anxiety" from everyone's vocabulary – we thought it might be appropriate to review a product that would maintain the quality of perishables during these extended road trips.
We were on a mission to find a container that would be lightweight, portable and provides thermoelectric cooling / heating capabilities and came across the Koolatron Soft-Sided Electric Travel Cooler.
Koolatron 26-Quart Soft-Sided Electric Travel Cooler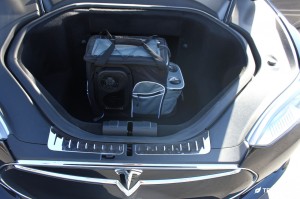 What we really liked about the Koolatron is that it's designed with the everyday traveler in mind. The thermoelectric cooler has a generous 26-quart capacity and outfitted with several compartments, most of which are secured through zippered pockets.
We found that the ergonomics of the soft-sided design combined with the detachable shoulder strap makes it more comfortable to lug around than your traditional hard-sided cooler.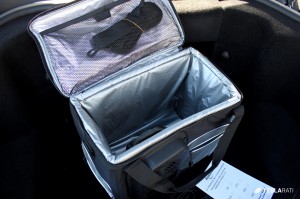 A 12V electric fan is attached to the thick thermo lining and together they ensure that the contents of the cooler are kept at optimal temperatures while you're on the go.
Product Specifications
Soft-sided thermoelectric travel cooler with 12V, cigarette-lighter car adapter
Detachable shoulder strap
Bungee cord holds extra items to the lid of the cooler
External zippered pockets for storage
Mesh interior pocket
2 external beverage holders
Cell phone pocket
Holds 26 quarts or up to 34 12-ounce cans
Cord pocket keeps the 12V cord out of the way when you're on the move
Keeps food and drinks 30°F  below ambient temperatures
Measures 9 by 17.5 by 15 inches; weighs 7 pounds
---
How does it fit within the Tesla Model S?
The first thing to note is that the Koolatron Soft-Sided Electric Travel Cooler
is a good-sized cooler measuring in at 17.5 inches tall. It's definitely not the smallest of coolers, but small enough that it can still be carried around without much effort.  It's perfect if you're looking to take a family of four on an extended Supercharged road trip.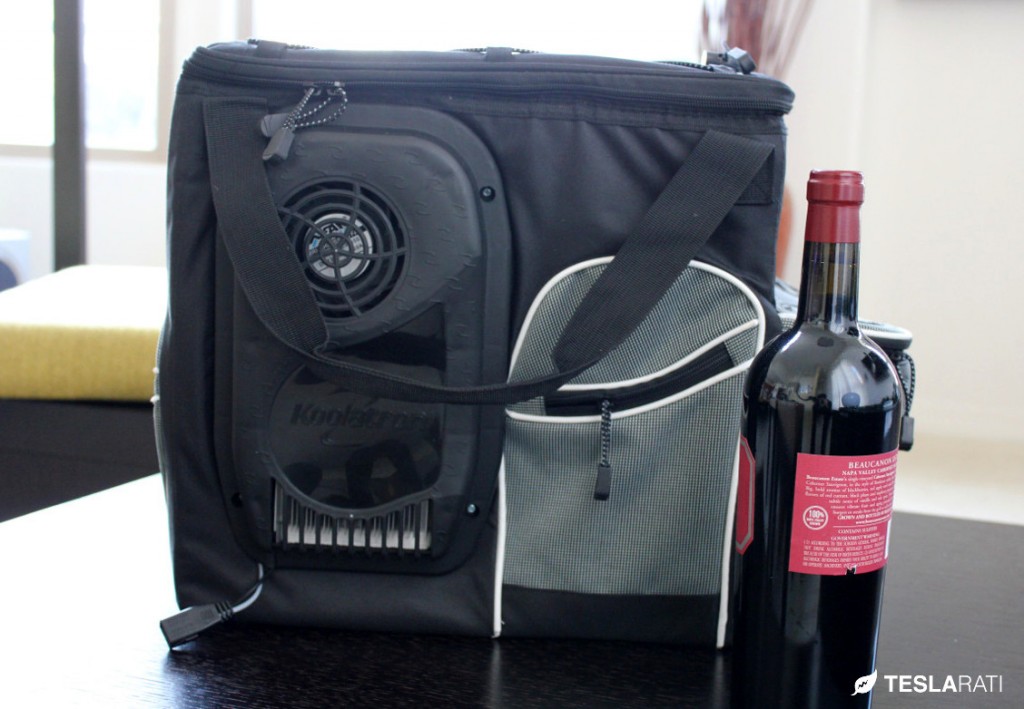 Its 26-quart capacity can easily accommodate a full set of plastic ware and beverage containers.
Despite its tall dimension, the travel cooler fits perfectly within the Tesla Model S front trunk (Frunk),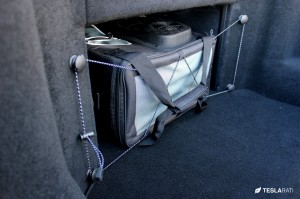 when positioned onto its side, which further validates how great the Model S is when it comes to storage capacity (more on that in a separate article to come). The bungee cords on the top lid can be extended outwards and used as a means to secure the cooler from movement during travel.
Editors' note: The Tesla Model S front trunk cargo net may provide better security in the event of emergency braking.
One notable feature of the Koolatron Electric Travel Cooler is that that it's soft-sided which makes it easy to transport and secure within tight spaces. This is especially the case when fitting the cooler within the interior of the Model S.
The cooler can be placed onto the empty center channel floor once the external beverage holders are folded down. Keeping the cooler between the two front seats means that there's no lateral movement while the car's in motion, kept away from children, and also adds an element of convenient when trying to dine-in-car (à la Bjorn Nyland).
The Koolatron Soft-Sided Electric Travel Cooler fits snugly between the arm rest assembly and touchscreen.
Tip: Those with the optional CCI can either place the cooler on top or along the floor of the 2nd row seating.
---
How does the electric cooler work?
As its name implies, the Koolatron 26-Quart Soft-Sided Electric Travel Cooler is made for travel and not meant to be used as a refrigerator or toaster oven. The electric fan is great for extracting warm air from within, but we found that bringing contents from room temperature to 30°F below ambient temperatures, as marketed, could be a lofty goal.  That being said, it's great at maintaining temperature and contents that are pre-chilled remain chilled for a long time while the cooler is plugged in.
The cooler comes standard with a 12V cigarette-lighter adapter which plugs directly into the Model S center console assembly.  Reversing the orientation of the cable from blue to red will enable the heating capabilities of the travel cooler, making it convenient to keep foods warm.
An 110V adapter
can be purchased separately, but it would have been nice if Koolatron bundled this accessory together as it felt a bit incomplete and less extensible without it.
---
Conclusion
The Koolatron 26-Quart Soft-Sided Electric Travel Cooler
 fits perfectly within the Tesla Model S front trunk and is a convenient way to keep your favorite snacks, drinks and meals cool or warm during your next Tesla Supercharged road trip. 
Its large 26-quart capacity along with its multiple external pockets provides easy access to your belongings while on the move and all for a moderate price of $129.97
.
[tabs slidertype="simple"] [tab]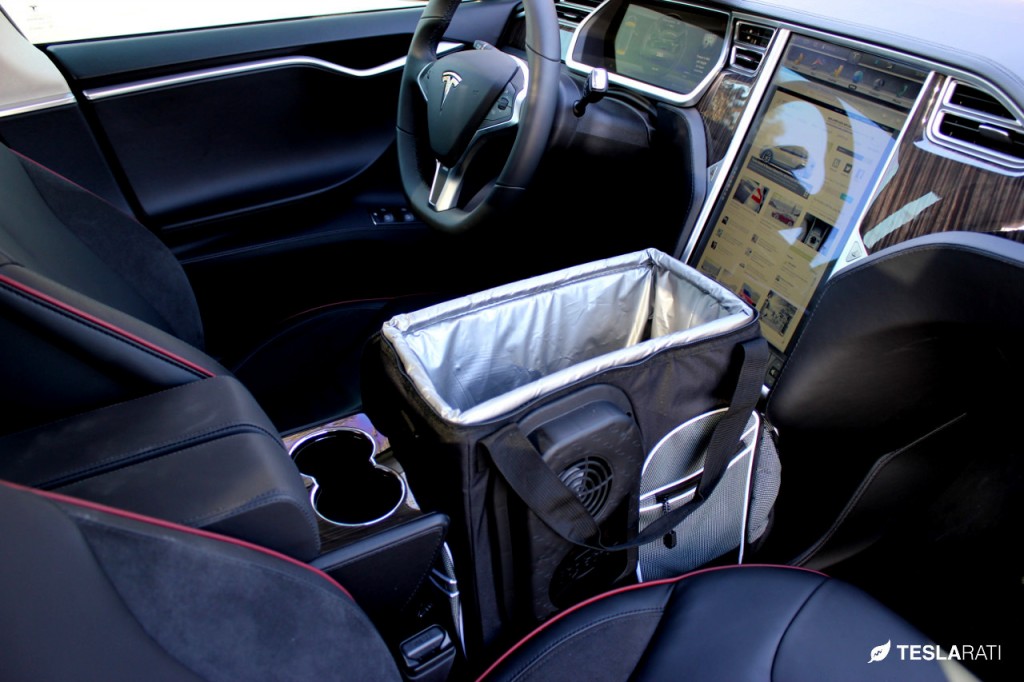 [/tab] [tab]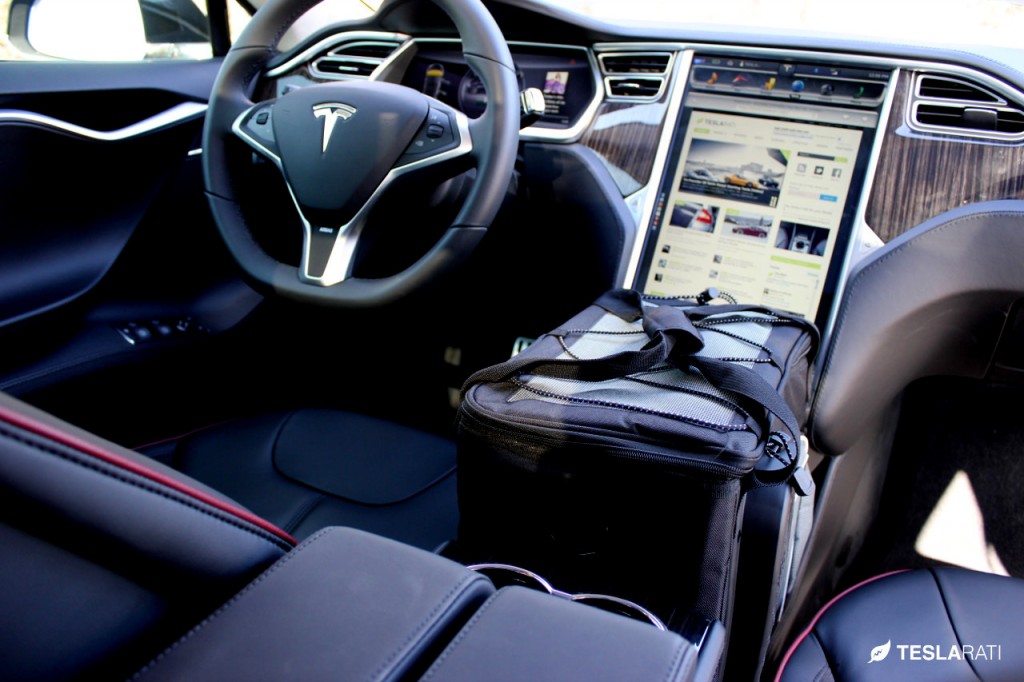 [/tab] [tab]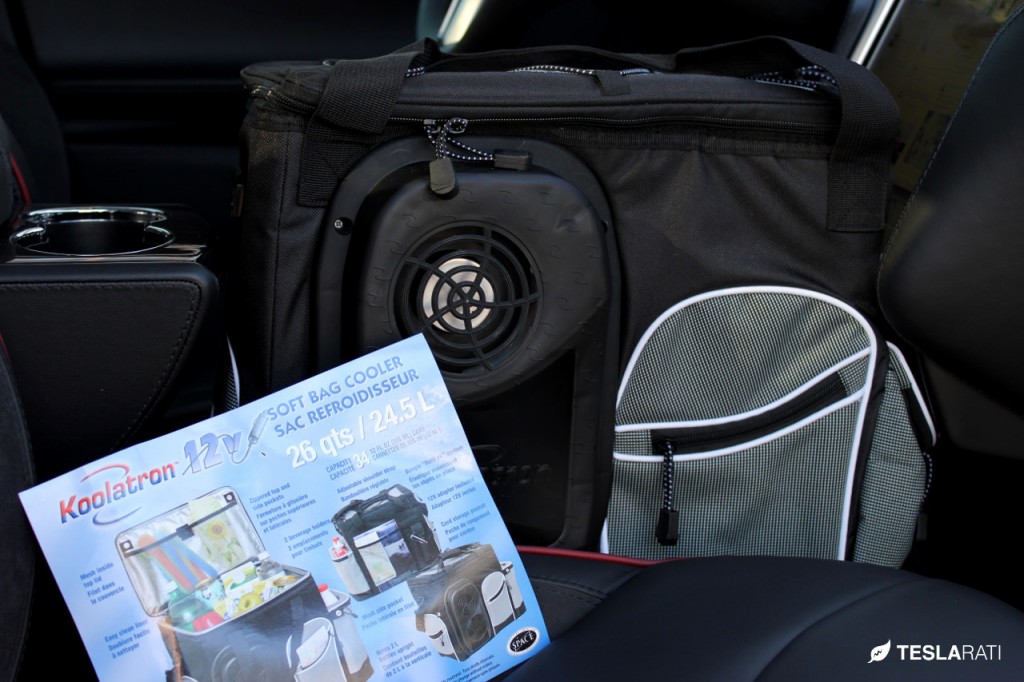 [/tab] [/tabs]
[box type="bio"]TESLARATI provides impartial reviews and is in no way paid by the vendor for the content that is produced.