UPDATE: 8/21/14 – Leaked Tesla Firmware 6.0 Pictures Reveals Keyless Driving
UPDATE: 9/25/14 – Tesla Firmware 6 Reviews
Elon Musk recently paid a visit to Norway where he held an hour and a half long Q&A session in an auditorium full of Tesla Model S owners and fans. Among the topics of discussion was Firmware 6.0, which introduces the ability for Model S owners to gain full control of the air suspension settings.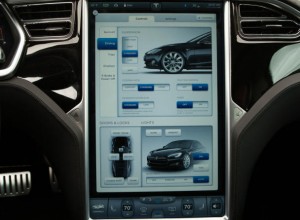 According to Musk, "Version 6.0" is nearly complete and just weeks away from being released to the market. The firmware update will re-introduce the ability for the Model S to automatically lower at a given speed – a hotly debated topic after Firmware 5.8 saw the removal of the feature set which many believed it to be a proactive stance by the auto manufacturer to address the ongoing fire investigations by the NHTSA.
Firmware 6.0 will provide Model S owners the ability to manually set the transition height of the air suspension across a much wider range of speeds. Lowering and raising of the vehicle will be 100% configurable and no longer a guessing game on if and when the automatic suspension will engage.
Aside from the suspension controls, the Tesla Model S Firmware 6.0 will also introduce real-time traffic information thereby making navigation and driving time calculations much more precise. Stay tuned as we provide a full breakdown of the Tesla Model S Firwmare 6.0 features.
Update: Feb 9, 2014
As originally reported, Firmware 6.0 for the Model S should be weeks away, but today's tweet from Elon Musk suggests that it [V6 software] may be arriving any day now.

Related: Tesla Model S Hidden Features, Tips, Tricks & Tidbits