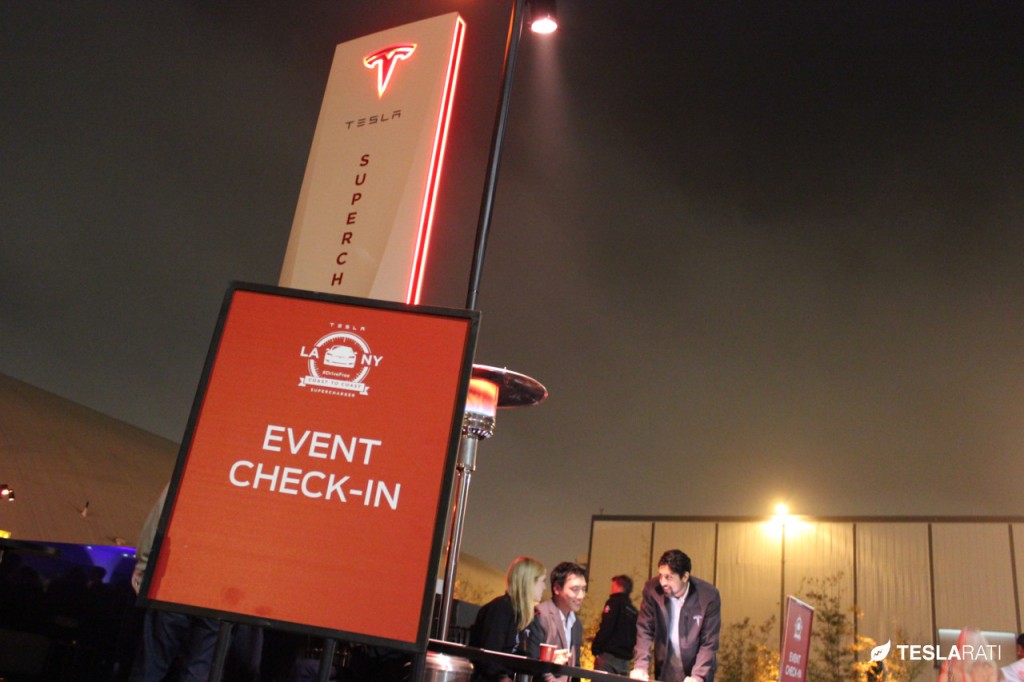 It was shortly after midnight this evening when I watched two Model S' embark on a Tesla cross country cannonball run with a mission
– a mission to set a new Guinness world record for the lowest time of charge by an electric vehicle to travel across the United States. This comes just days after father-daughter duo had set another record  for becoming the first Tesla Model S to drive coast-to-coast using nothing but the proprietary Tesla Supercharger.
This was my first official Tesla Motors promotional event so I really didn't know what to expect. We usually have our team of journalists reporting on these kind of invitational events, but tonight will be a different story – I'm going!  My usual nightly activity of watching re-runs of Breaking Bad can wait for all I care.  Tonight I'll be there to support the kick-off to this momentous occasion, but secretly I'm also there to satisfy an ulterior motive to chat it up with Elon himself.
The Tesla Cross Country Rally Event
The event was held at the Tesla design studio in Hawthorne, Los Angeles which neighbors Mr. Musk's other venture – you've probably heard of it – a little company by the name of Space X.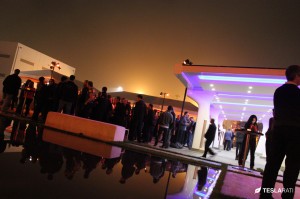 You know, the first private company contracted by NASA that successfully sent a spacecraft to the International Space Station.
As I pull into the venue, the sheer number of people and Model S vehicles that were present immediately takes me aback. For some reason I had this preconceived notion that Wednesday evenings at 10pm+ is a time of rest and relaxation (or re-runs of Breaking Bad in my case), but that wasn't the case here. Dimly lit amber mood lighting line pockets of modern lounge furniture while a DJ spins the tunes of what can only be described as some form of electronic dance music (EDM). I get it. Electronic music to inspire electric vehicles! Right? Perhaps that's the kind of rationale that takes form after hitting multiple rounds of an open bar – EDM for EV. I like it. Now where I can get another beer?
Young and old alike were there to talk Tesla and about the life changing moments derived from their experiences with the Model S. The thrill of piloting a silent rocket ship, never having to pay for your commute, and never having to worry about using an ignition key are just some of the things that Model S owners start to get spoiled by. One Model S owner that I spoke with mentioned that his old Honda Civic has become his weekend ride, but for a reason purely out of necessity – the need to remain grounded and not lose sight that the rest of the world is still driving on 1920's gas burning technology. It makes him appreciate the Model S all that much more and never lose sight of the amenities that most owners have gotten quite accustomed to.
The Send-Off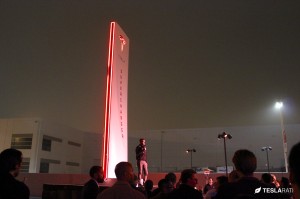 A crowd forms around the towering Supercharger so I instinctively start to gravitate towards it only to find Franz von Holzhausen, Chief Designer for Tesla Motors, perched on the ledge below.  So that's why everyone's there, I think to myself. Cool. It looks like he's about to make a speech. He speaks to the audience about free coast-to-coast travel using the Tesla Supercharger network, and makes mention of John and Jill's historic road trip across America. Franz goes on to explain how the two Tesla Model S teams that are present will attempt to set a new Guinness world record by traveling from LA to NY while using the lowest amount of time charging. The teams will power through all inclement weather that lies ahead and reach NY within three days, or so is the plan.
Franz steps down from the base of the Supercharger and begins to greet fans and friends.  Here is Franz showing us some pictures of his famed electric-blue Model S from his iPhone.
Shortly after midnight, the two teams depart from the design center and make their way down to LA City Hall where they officially start the race. Time: 12:40am PST. Godspeed ahead Tesla Cross Country Rally team!
[tabs slidertype="simple"]
[tab]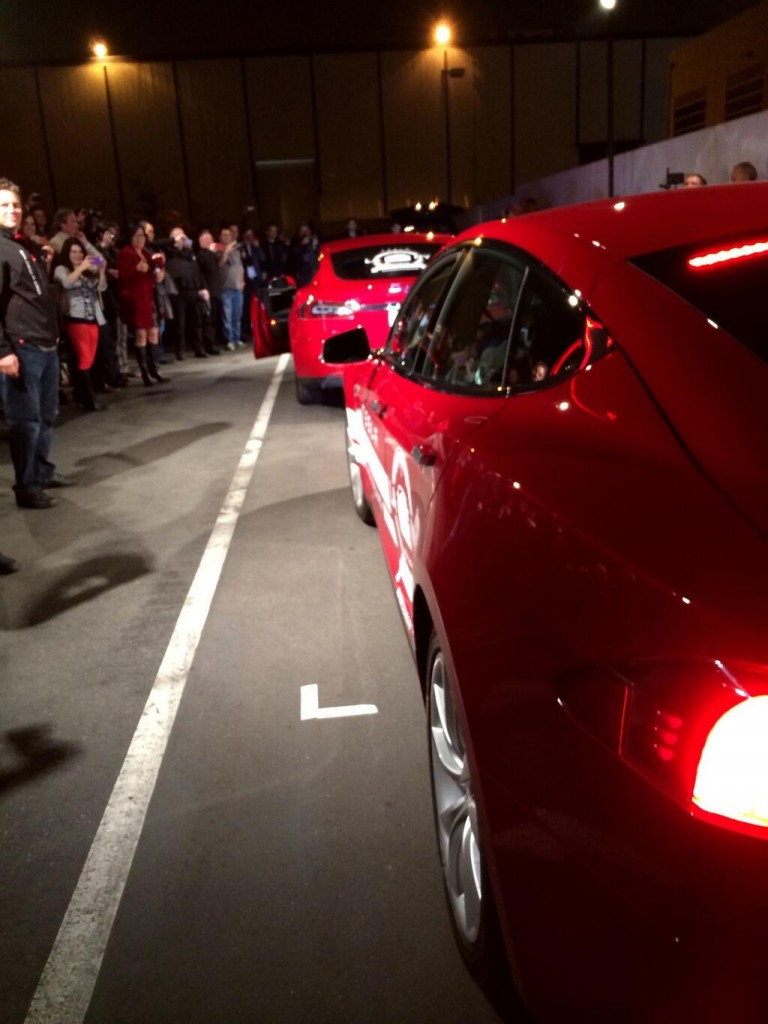 [/tab]
[tab]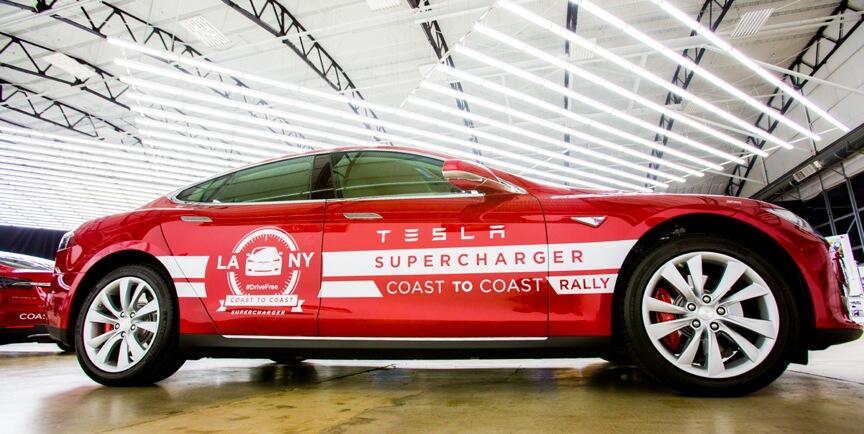 [/tab] 
[tab]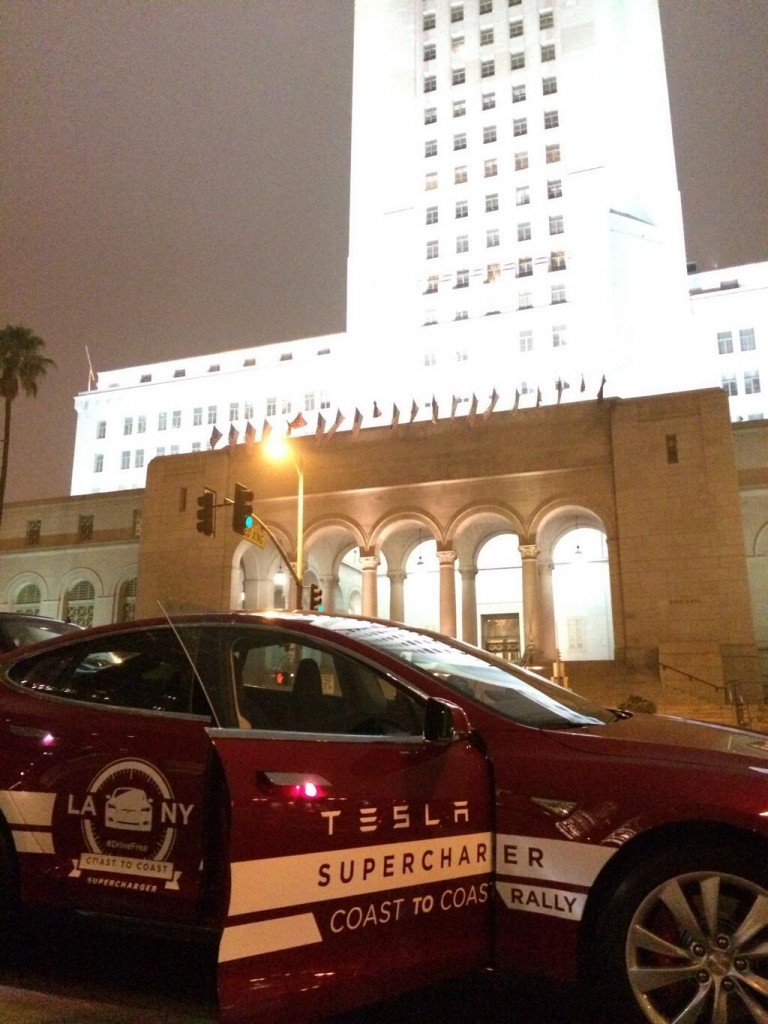 The Official Start Time: 12:40am PST, Jan. 30, 2013 [/tab][/tabs]