Almost a year ago I had my first annual service for my Model S and wrote about the experience here. Given it took me 6 weeks to make the last appointment, this time around I called 6 weeks before the anniversary date and was surprised to get an appointment 2 weeks out. This was great to hear as I've had concerns about Tesla service being able to scale. I had my pick of days so I decided to do it on the same day as the Model 3 launch so I could drop my car off and go wait in line for the Model 3 which was a lot of fun.
The second service brought a number of good surprises and I wanted to share my experience.
Tesla Service Drop Off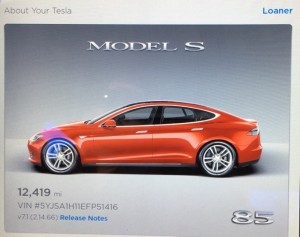 I usually keep a running list of stuff that I want Tesla Service to look at the next time I go in for service (which isn't often). Here's the list of items that I've accumulated:
Seat belt check from the service bulletin – I didnt swarm with the masses to have them checked and just had it checked during this service
Loud jet engine like noise while Supercharging
Exploded lug nut on front left wheel
One of my 2 charger cables (UMC) had some intermittent charges last time I used it
Annual service
As usual they gave me a Model S as a loaner. This one was a S85 like mine only slightly newer and sadly no Autopilot hardware to play with.
Tesla Service Cost
Service was done by the end of the day and I picked my car back up. The list of work they did was long and unexpected, and so was the price — but in a positive way.
I hope I don't get anyone in trouble and that none of this was a mistake as the published prices below are higher, but i'm going to share the experience anyway.
My car was 50 miles short of 60,000 miles and I do not have the extended warranty. I have coverage on the battery and drive unit (unlimited miles/8 years for both) so my total cost for the annual service was $400.00.
My last annual service was 35,000 miles ago. The last time I had it in for service was for a (free) Drive Unit replacement at 43,000 miles.
Here's a plot of my service cost against number of miles driven. The main cost is due to the annual service and then decreases with basic wear and tear maintenance such as replacing tires.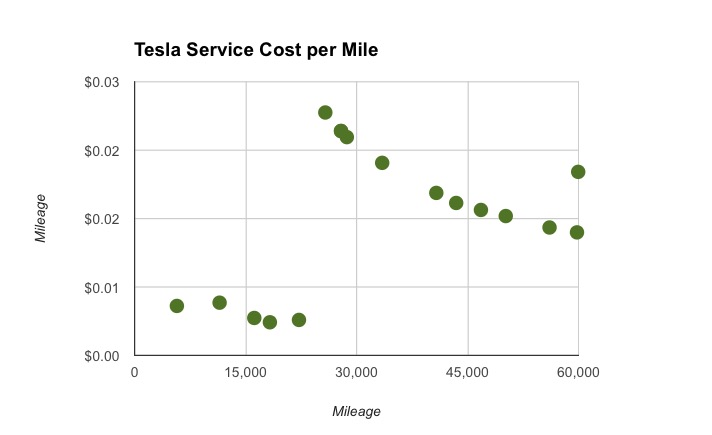 I'm currently averaging $0.02/mile for service cost at 60,000 miles which is the same as my old Acura at the same mileage. The Acura started climbing in service costs right after 60,000 miles, but I'm expecting the Model S to remain flat. Only time will tell.
Should the service cost remain flat as expected, future Model 3 owners will come to realize that the cost of ownership for the vehicle is even cheaper than what they may normally pay with an ICE.
Serviced Parts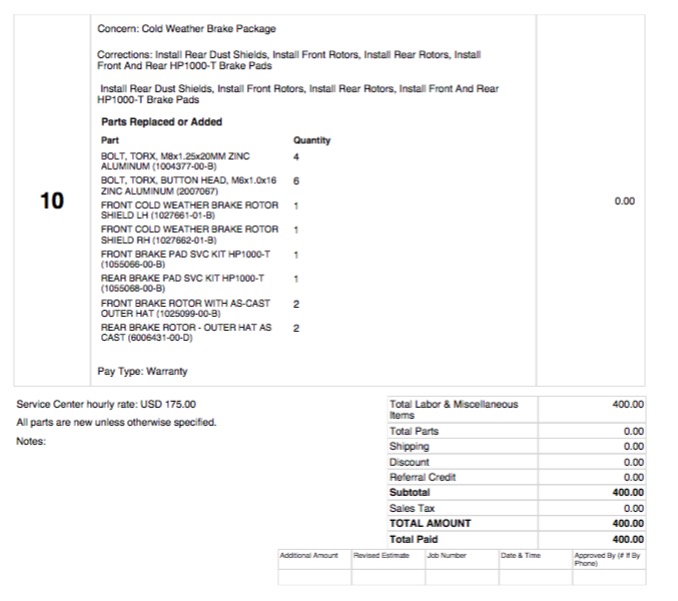 Now for the laundry list of things Tesla worked on:
Inspect Front Seat Belt Pre-Tensioners for Correct Installation – No issue found (as expected)
Replace Battery Coolant Heater Due To Potential Low Isolation
Standard 62,500 mile annual service items:

Check logs for errors
Update to latest firmware
New wiper blades (Boshe)
New key fob batteries (2)
Replace cabin air filter
Top off washer fluid
Check brake/coolant fluids
Check other latches/doors for seals etc.
Rotated tires (they didnt need this but no harm done)

Customer states there is a jet engine sound when Supercharging – No issues found.

Performed thermal test. No abnormal noises heard. Checked cooling fan operation, no motor or bearing issues found. Vehicle performing as intended.
They said it was likely the amount of driving I was doing (I drove to FL and back) and the higher temperatures in FL. None of the other Teslas made the same sounds but everything did work as expected.

Customer states UMC in bag intermittently fails to engage charge port – They gave me a completely new one!

This was my second UMC replacement in 2 years. I have 2 one for home charging and one for travel. The new UMC has a newer design around the charge release button.

Customer states lug nut on front left wheel is damaged – They replaced all 20 lug nuts!
Bolt Contacting Front Suspension Fore Link – They decided they felt like making this better for some reason.
Four wheel alignment – They said they did this verbally but it wasn't on the receipt.
Cold Weather Brake Package – They decided I needed better brakes and replaced everything!

Install Rear Dust Shields, Install Front Rotors, Install Rear Rotors, Install Front And Rear HP1000-T Brake Pads
And of course they provided a free loaner, and charged up my car.
Annual Service Summary
While many joke about how little service they actually have to do on an annual service for the money they charge I think the value I got from Tesla for $400 was tremendous.
With my high mileage driving I essentially "skipped" many of their recommended service intervals and instead of penalizing me for that by adding them up and hitting me with a big bill as other manufacturers would do, they charged me the for the interval that fit the current mileage.
After the service was done I asked the service manager if I could keep doing just the annual services despite my high mileage and he said I could.
Thanks Tesla. See you again at 90,000 miles!