The Tesla Model S Plaid Track Pack is officially out of stock just hours after its release. The long-awaited upgrade promised to significantly improve the physical Model S Plaid vehicle and its software. 
"Designed for the ultimate track experience, the Model S Plaid Track Package delivers high-speed stability, maximum cornering force, and repeatable stopping power during high-performance driving while unlocking a top speed of 200 mph," Tesla described is Track Package. 
The Model S Plaid Track Package features aluminum forged wheels, track-ready tires with brake fluid, new carbon silicon carbide rotors, and one-piece forged calipers with high-performance pads. The package includes a Carbon Ceramic Brake kit and wheel/tire components. The Carbon Ceramic Brake kit can be purchased separately through Tesla's drop-down menu. Tesla's Model S Track Pack costs between $15,000 to $20,000.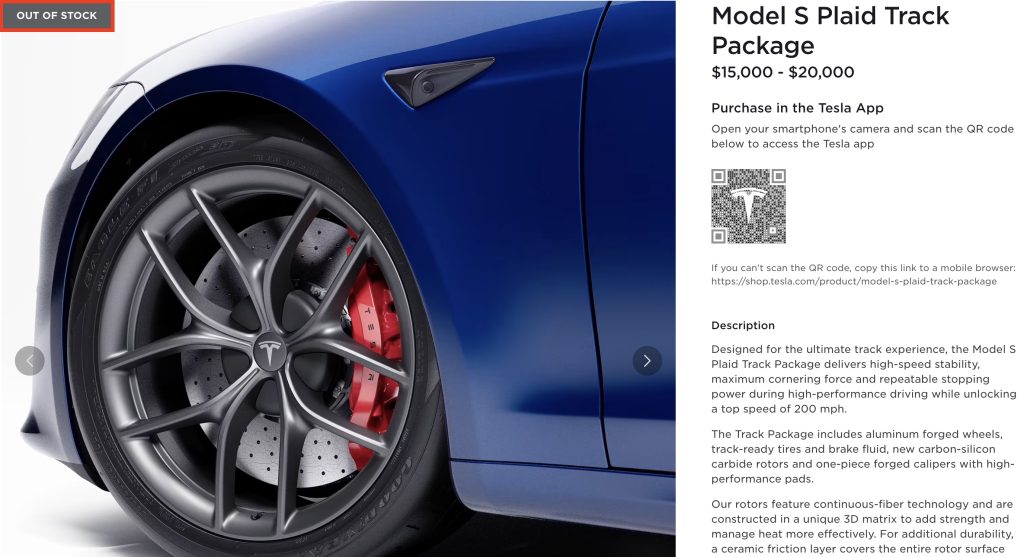 "Our rotors feature continuous-fiber technology and are constructed in a unique 3D matrix to add strength and manage heat more effectively. For additional durability, a ceramic friction layer covers the entire rotor surface to reduce brake dust, corrosion and wear while also improving pedal feel for daily driving," added Tesla.
For more info, check out Model S Plaid Track Pack at the Tesla Shop.
On May 6, 2023, a Tesla Model S Plaid fitted with the Track Pack hit 200mph. The momentous occasion was topped over the weekend with a Model S Plaid with Track Pack set a new lap record for a production EV at the Nurburgring with a time of 7:25:231.
The Teslarati team would appreciate hearing from you. If you have any tips, contact me at maria@teslarati.com or via Twitter @Writer_01001101.