Volkswagen marked the return of its iconic minibus to North America last week with the official launch of the ID.Buzz in the United States and Canada.
The German automaker held the world premiere of the ID.Buzz with long wheelbase last week at Huntington Beach on the Pacific Coast Highway near Los Angeles. Huntington Beach is a well-known surfing spot, a fitting place for the world premiere of the VW ID.Buzz.
After all, Volkswagen's all-electric van is inspired by the company's minibus transporter—the Bulli or T1 Transporter—from the 1950s. Volkswagen vans were quite popular with surfers back in the day. Some might say that the Volkswagen microbus might be the precursor vehicle that inspired van life.
"The original T1 was introduced in late 1949/early 1950s, and with the help of some memorable Volkswagen advertising was becoming popular all over the world. The T1 was produced for around 17 years, so there were plenty of used, more affordable models around for surfers to travel in, live in, and, more importantly, transport their surfboards (either inside or on top)," explains Andrew Burgess from Revolution Campers.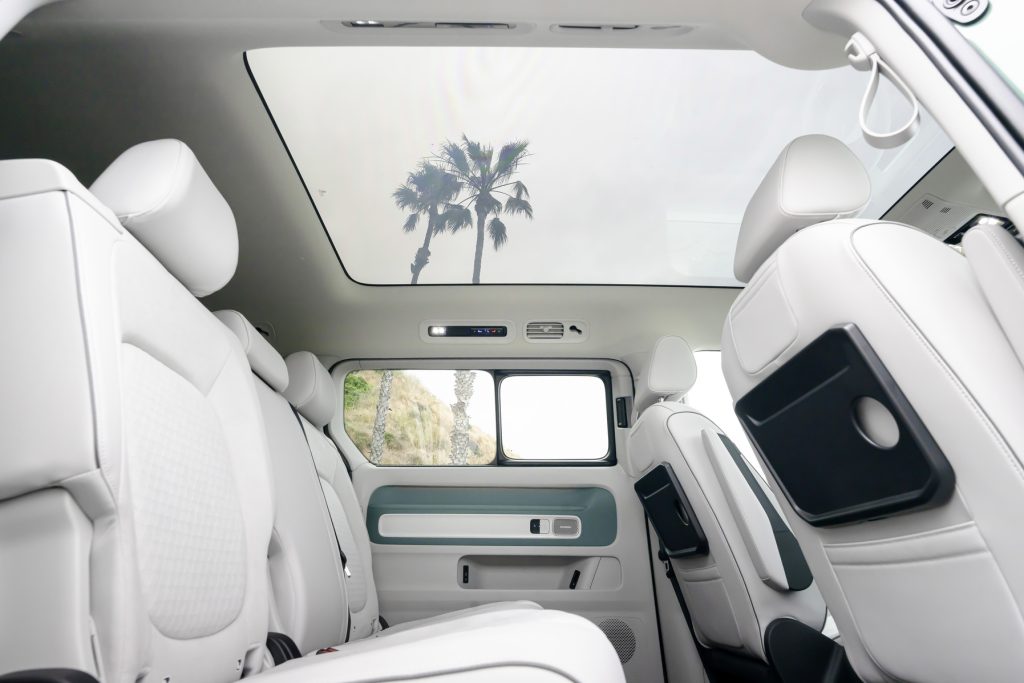 Volkswagen increased the wheelbase of the ID.Buzz with a long wheelbase of 250 mm, providing 2,469 liters of storage space to customers. The extra space gives way to a spacious third row for up to seven seats in the all-electric microbus. The German automaker believes the ID.Buzz with long wheelbase is primed for the North American market. Meanwhile, in Europe, Volkswagen aims to keep customers on their toes by expanding the ID. Buzz' "range of applications."
The ID.Buzz with a long wheelbase has a new heat pump for increased efficiency in the winter. It also is available with a new 210 kW (286 hp) electric drive motor. The VW minibus coming to North America will have an 85 kWh battery pack. As for features, Volkswagen equipped the ID.Buzz with a heads-up display, a next-gen infotainment system, and remote parking with a smartphone. It also has a high-tech panoramic sunroof with smart glass, which can change from transparent to opaque via voice assistant or touch slider.
Volkswagen ID.Buzz vehicles bound for North America get a little extra love since they feature air-conditioned seats and an illuminated VW logo at the front. The German automaker plans to start delivering the first ID.Buzz units in the United States by 2024.
The Teslarati team would appreciate hearing from you. If you have any tips, contact me at maria@teslarati.com or via Twitter @Writer_01001101.