Tesla slashed the price of Model Y and Model 3 inventory units. Some consumers might consider the inventory prices a good deal, considering Tesla delivery estimates. Others might hold out a little longer for custom builds.
The price decreases vary depending on the variant, configuration, and location. Tesla's inventory filters the Model Y and Model 3 units available based on zip code, making delivery quicker and more convenient. For instance, for people living in Alameda 94501, a black 2023 Model Y Dual-Motor Long Range AWD unit is available with a slight price decrease of $560. Initially, the same Model Y unit was priced at $55,990, and now its costs $55,430. 
Tesla's inventory is limited in terms of variants. Most units in stock are base variants, like the 2023 Model Y Dual-Motor AWD. A red Model Y AWD is listed in the Bay Area with a $51,970 price tag. Its initial price was $52,490. Meanwhile, another red Model Y AWD in Central California went from $51,490 to $50,980.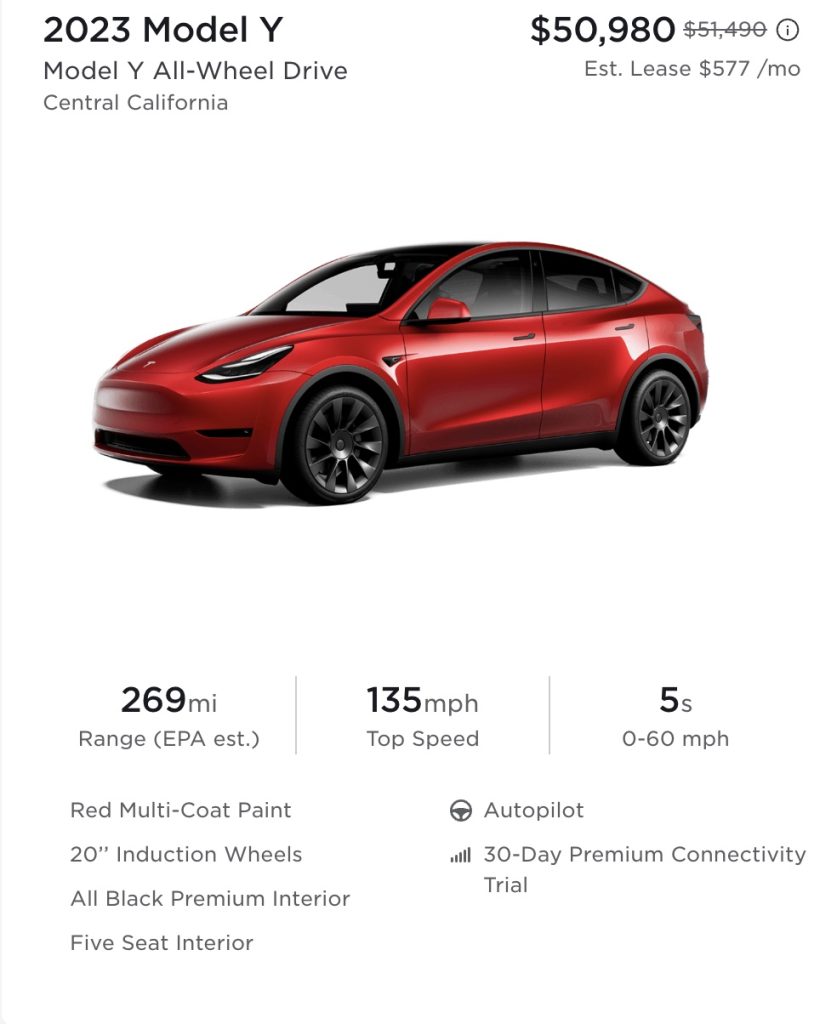 Tesla also slashed Model 3 inventory prices. Tesla Model 3 inventory stock received the highest price reductions compared to Model Y units. There is a red 2023 Model 3 Dual-Motor Performance AWD in Fremont, California, with a $53,590 price tag. Initially, the Model 3 unit's price was $55,240, so it dropped by $1,650. A gray 2023 Model 3 RWD is also available in Tesla's inventory for $39,530. The Model 3 RWD's price dropped from $42,740 for a savings of $3,210.
New Tesla Model Y and Model 3 units are eligible for the federal EV tax credit under the Inflation Reduction Act. Tesla notes that the Model 3 RWD and Long Range qualify for up to $3,750 tax credits, while the Performance variant qualifies for a $7,500 incentive. Meanwhile, all Model Y units qualify for up to $7,500 in tax credits.
As of this writing, custom Model Y and Model 3 orders have a delivery estimate between June and July 2023. The base Model Y Dual-Motor AWD starts at $47,490. The Long Range variant's price is $50,490 before options, while the Model Y Performance starts at $54,490.
Base Tesla Model 3 RWD units have a starting price of $40,240. Meanwhile, the Model 3 Dual-Motor AWD has a $47,240 price tag before options. And the Model 3 Dual-Motor AWD Performance's price starts at $53,240.
The Teslarati team would appreciate hearing from you. If you have any tips, contact me at maria@teslarati.com or via Twitter @Writer_01001101.