A Tesla Model Y has been spotted over 2,400 miles away from Fremont, CA, with an electric car enthusiast capturing a photo and video of the upcoming vehicle in Bay City, MI. Particularly interesting in the recent sighting were some components of the Model Y; namely, its wheels and front air intake.
Previous Model Y sightings have hinted at Tesla's efforts to test its crossover SUV's long-range capabilities. Over the past weeks, a Midnight Silver Model Y with Power Sports Aero Wheels was spotted in WA, and an all-black prototype was sighted in Columbus, OH, over 2,000 miles away from CA. This time around, a red Model Y was spotted in Bay City, MI, a location that is also a very long way away from Tesla's Fremont factory and headquarters. 
Tesla enthusiast and r/TeslaMotors subreddit member u/detroit_kp313 was able to film the all-electric crossover as it overtook him on a long stretch of road in the Bay City area. The Model 3 owner was also able to snap a photo of the vehicle while it was parked at a Supercharger. Through the Model 3 owner's video and picture, several interesting aspects of the Model Y became noticeable.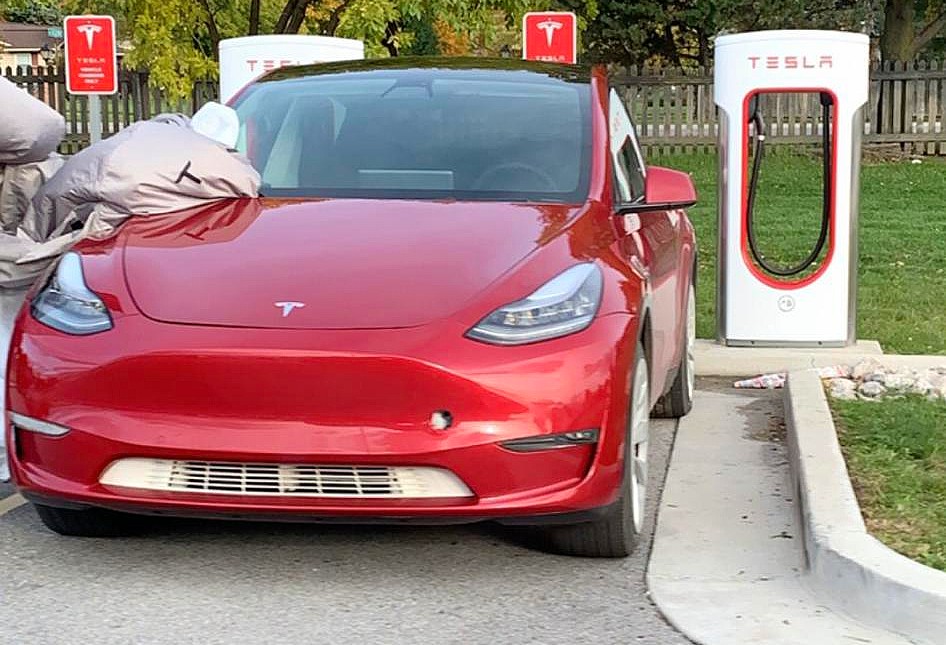 For one, this particular unit was equipped with what appeared to be 19″ Slipstream wheels, which Tesla uses for its flagship vehicles, the Model S sedan and the Model X SUV. This is quite interesting, as the bolt pattern for the Model S/X and the Model 3 (which the Model Y is based on) seem to be a bit different.
While this could simply be due to Tesla using an adapter to fit Model S/X wheels on the Model Y, the presence of the parts in the upcoming vehicle suggests that the electric car maker is looking at different wheel options for the crossover SUV. This should provide some variety for the vehicle, which would likely be appreciated by Model Y buyers. 
Apart from its curious set of wheels, the red Model Y prototype spotted in Bay City was also equipped with a front air intake that features a rather unusual tan color, making it appear almost like it was 3D printed. Of course, the component's unusual color might simply be due to chance, but its appearance goes give the impression that Tesla is also testing different front air intake designs for the upcoming vehicle. 
The Model Y is expected to compete in the crossover SUV segment, a market that pretty much dominates the auto industry today. Tesla has high expectations for the vehicle, with Elon Musk noting during the company's Q3 2019 earnings call that he expects the Model Y to outsell the Model 3, Model S, and Model X combined. The Model Y was initially slated to start production in Fall 2020, though Tesla recently updated this target timeframe to Summer 2020 in its recently-released Q3 Update Letter. 
Watch the Tesla Model Y with Model S/X Slipstream wheels whiz by in the video below. 
Model Y in Bay City MI!!! from r/teslamotors