When leaked images of the open Tesla Cybertruck frunk were shared online, electric vehicle enthusiasts noted that the storage space looked surprisingly small. This was because unlike the Ford F-150 Lightning, whose Mega Power Frunk is universally loved by consumers and critics alike for its size and utility, the Cybertruck has a short nose. 
Yet if a recent set of images is any indication, it would appear that the Cybertruck's frunk is decently spacious, even if it may not necessarily be as massive as the F-150 Lightning's Mega Power Frunk. The images, which were shared on X, the social media platform previously known as Twitter, showed the Cybertruck being unloaded from a trailer. 
One of the Cybertrucks in the trailer happened to have its frunk opened at the time when the photos were taken. Three men were in front of the vehicle, two of whom seemed to be holding the Cybertruck's frunk open. And relative to the three grown adults in front of the all-electric pickup truck, the Cybertruck's frunk actually looks very spacious. 
The large size of the Cybertruck was quite evident in the images, as one could see that the vehicle seemed to be as tall or taller than some of the men standing on the trailer. A look at the wheels of the Cybertruck suggests that the vehicle was not necessarily on its highest suspension setting at the time. Thus, unless the three men working on the Cybertruck's frunk were incredibly short, the all-electric pickup truck looks fairly tall.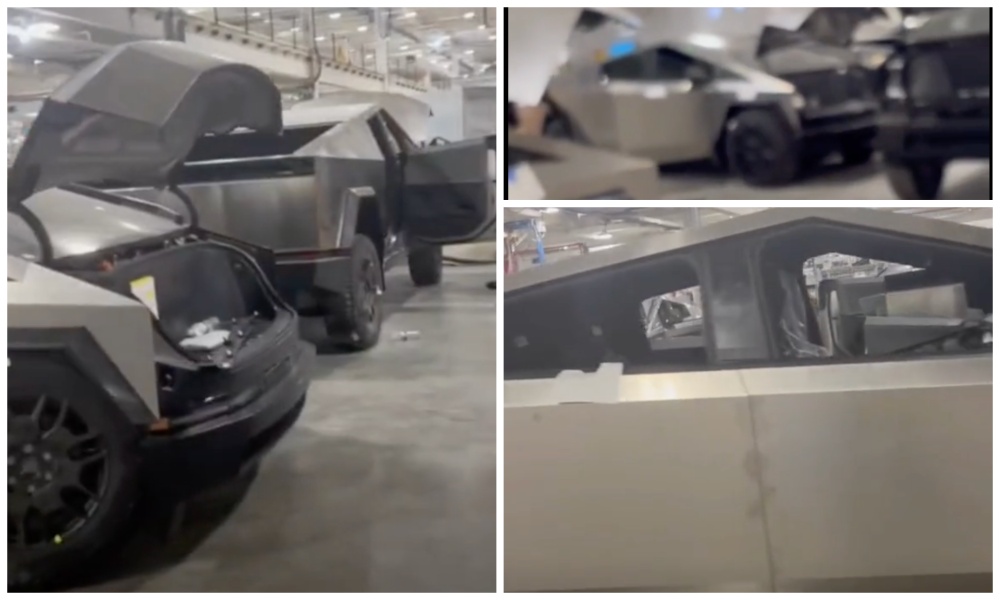 This was not the first time that the Cybertruck's large dimensions were observed by the electric vehicle community. During a recent sighting in Austin, Texas, a Reddit user observed that the Cybertruck, whose suspension seemed raised to its maximum at the time, seemed to be taller than five feet at its lowest point. 
For context, the Cybertruck was listed with a height of 6.25 feet when it was unveiled in 2019. The Cybertruck has seen a slight size reduction since then, but based on the recently shared images, it would appear that the vehicle will still be a pretty imposing presence on the road when it gets released. 
Interestingly enough, a video featuring the Cybertruck's pedestrian noise maker has also been shared online. The sound is similar to what is used by Tesla today in vehicles like the Model 3, but one cannot deny that its futuristic tone fits the Cybertruck very well. 
Don't hesitate to contact us with news tips. Just send a message to simon@teslarati.com to give us a heads-up.