To say that the Tesla Semi ruffled some feathers when it was unveiled last year is an understatement. Prior to the reveal of all-electric truck, questions were abounding about its viability as an alternative to conventional diesel-powered long-haulers. Even after the Semi's specs and performance were announced, the vehicle still attracted a lot of skepticism.
During an event for Daimler's e-Actos electric truck, for example, the company's Head of Trucks, Martin Daum, noted that Elon Musk's claims about the Semi's 300 and 500-mile range are farfetched. Citing limitations in battery tech, Daum stated that "If Tesla really delivers on this promise, we'll obviously buy two trucks — one to take apart and one to test because if that happens, something has passed us by. But for now, the same laws of physics apply in Germany and in California." Jon Mills, a spokesman for engine maker Cummins Inc. noted back in August that while electrification is in the future of the trucking industry, the vehicles are not viable in their current state.  
Since it was unveiled, the Tesla Semi has been spotted traveling across the United States. Tesla unveiled two working prototypes of the Semi – one painted silver and the other matte black – when it unveiled the vehicle, and so far, both have been spotted testing on US roads. Both trucks were also sighted delivering cargo from Gigafactory 1 in NV to the Fremont factory in CA. Most recently, the silver Tesla Semi was sighted in Gigafactory 1, hauling a trailer and seemingly ready to transport cargo.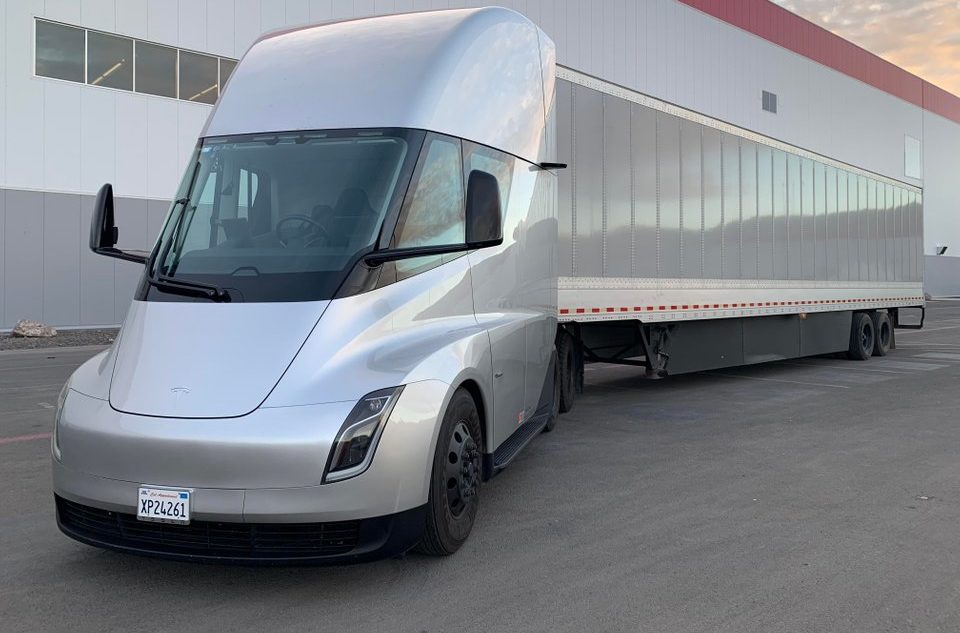 Tesla is not the only manufacturer coming up with a zero-emissions truck. As the transport industry starts accelerating its shift towards electrification, even prominent truck companies are coming up with their own green vehicles. Most of these vehicles exist as concepts for now, but they do give an idea of how veteran truckmakers are approaching the industry's transition to the electric age.
Ford, for one, recently revealed the F-Vision concept, which is loaded to the teeth with cutting-edge tech, including an adaptable windshield that can lower and rise depending on the driver's preference, as well as front lights that can be fully customized. Last month, Volvo introduced the Vera, its next-generation semi-trailer concept. Unlike Tesla and Ford's truck, Volvo's vehicle does not even have a driver's cabin, as it is designed fully for autonomy. Startup trucking companies are also showcasing their offerings. Nikola Motors, for one, made headlines when it unveiled its long-range sleeper hydrogen-electric truck – the Nikola One – back in December 2016, and the company has since teased its next offering, a day cab called the Nikola Two.
There is little doubt that the upcoming electric truck concepts that have been unveiled so far are exciting vehicles in their own right. Inasmuch as this is the case, though, many of these impressive concepts feature technology that is still yet to be developed or refined. During the F-Vision's unveiling, for one, Ford clarified that the truck is strictly a concept for now. Volvo's Vera is a perfect fit for short-haul trips thanks to its 300 kWh battery that gives it a 187-mile range, but the vehicle can't be deployed anytime soon since self-driving tech is still under development (even autonomous tech leader Waymo is reportedly struggling with its fleet's real-world testing). Nikola's hydrogen-electric trucks are powerful and boast long-range, but they would need a network of H2 refilling stations before they can be a viable alternative to diesel trucks. As a result, most zero-emissions truck concepts, including the Nikola One prototype, are yet to be sighted doing real-world tests on public roads. 
This is where the Tesla Semi is different. Among the upcoming electric trucks in the market, the Semi is the one undergoing consistent, intensive real-world testing. The vehicle has been spotted in multiple states since its unveiling, at times even visiting the sites of reservation holders like UPS, J.B. Hunt and PepsiCo. As it conducts its extensive real-world tests, the vehicle undergoes a consistent process of improvement. This was highlighted by Tesla's Head of Automotive Jerome Guillen during the Q2 2018 earnings call, when he stated that several improvements have already been introduced to the electric truck since it was unveiled last year. Elon Musk even teased on Twitter that the Semi would likely have closer to 600 miles of range per charge. With this, it seems safe to infer that the production version of the Tesla Semi would be better than the prototype that is currently traveling across the country today. 
The Tesla Semi balances its features without overdoing it as well. It does not have the cloud-based autonomy of concepts like the Vera or the flashy variable front design of the Ford F-Vision, but ultimately, it does not need to have all these extra bells and whistles to become effective at what it's designed to do. Tesla created the Semi to be a viable alternative to diesel-powered long-haulers, and if recent sightings and its consistent road tests is any indication, it appears that the vehicle is poised to be exactly that.
The Tesla Semi is expected to start production sometime in 2019. Recent reports have indicated that Tesla is planning on "earnestly" producing the Semi sometime in 2020.