Tesla is expected to release the first features of its Full Self-Driving suite with the rollout of Software Version 9. The company teased some of these capabilities in the Q2 2018 earnings call, when Elon Musk and Stuart Bowers, a member of the Tesla Autopilot development team, discussed some of the features that would likely be included in the upcoming update. Among these is highway on-ramp to off-ramp capabilities, automatic lane changes, and Integrated Navigation, to name a few.
It took a long time before Tesla was confident enough to announce that it would be introducing Full Self-Driving features to its fleet. Over the years, Tesla had been gathering data from its fleet of vehicles, and in a report last month, MIT's Lex Fridman estimated that Tesla had acquired around 1.2 billion real-world miles on Autopilot and approximately 7.8 billion miles in Autopilot "Shadow Mode." This translates to an immense amount of data that Tesla has been using to train its neural network. With enough training, Tesla's neural network would be able to, in Tesla AI director Andrej Karpathy's words, gain an "understanding of what is around us and around the vehicle." 
Tesla might not be a prominent player in the self-driving market today, but the real-world data that it has gathered over the years would likely be a difference-maker once it starts introducing Full Self-Driving features to its fleet. Nidhi Kalra, a senior information scientist for the RAND Corporation, previously noted that there is just no replacement for real-world miles like the ones that Tesla's fleet are gathering every day, since simulations like those utilized by Waymo to train its autonomous cars are a "simplification" of the real world.
The information scientist's words appear to be ringing true. A report from The Information recently noted that Waymo's self-driving car program is currently facing some difficulties in Chandler, AZ. Waymo is a leader in the self-driving car race, considering that its autonomous vehicles have driven a total of 5 million real-world miles and 5 billion simulated miles as of May this year. Despite this, reports from residents in Chandler, where Waymo's autonomous cars are currently testing, show that even Google's self-driving unit is having issues training its cars to interact with real drivers on the road.
For one, Waymo's self-driving Chrysler Pacifica minivans reportedly run into problems when crossing a prominent T-intersection close to the company's headquarters. Since the vehicles are programmed to follow all driving rules strictly, the autonomous cars are finding it difficult to deal with human drivers on the road, most of whom do not follow driving rules. In the particular T-intersection, for example, Waymo's vans have a tendency to stop as the vehicle analyzes what it needs to do, making them a nuisance to some drivers in the area. And that's just the tip of the iceberg. Waymo's vans are also reportedly running into some problems with several unprotected left turns onto fast roads, and with merging into heavy traffic. The autonomous cars are reportedly having difficulties in highways when there are a lot of vehicles on the road as well.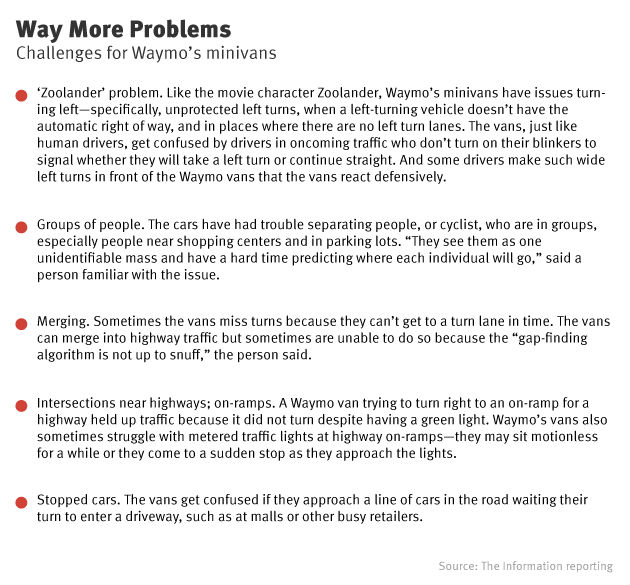 Waymo appears to have been a bit too optimistic about its expectations for its self-driving car program. Last fall, the company announced that it would start rolling out vehicles that do not have safety drivers. As it turns out, this is only true in relatively small residential areas in Chandler, AZ, where there is little traffic. For areas that are more congested, Waymo still utilizes safety drivers. It's just not Waymo, either. According to the publication, even GM Cruise's self-driving Chevy Bolts are regularly taken over by safety drivers in their operations.
For now, Waymo is continuing its attempt at making its self-driving cars even better, highlighting its focus on safety and its experience on the road in a statement to The Information.
"As the only company with a fleet of fully self-driving cars on public roads today, safety continues to be our highest priority. The vehicles are continually learning, and we've developed robust testing and validation processes that will allow us to safely expand our vehicles' driverless capabilities over time," a Waymo spokesperson said.