Tesla corrected a study that stated it only installed 3,000 Solar Roof + Powerwall systems in the United States.
Wood Mackenzie, a portfolio company of Veritas Capital, published an analysis that estimated Tesla installed 3,000 Solar Roofs in the United States with a total capacity of 30 MW. The company concluded that Tesla failed to install 1,000 installations per week.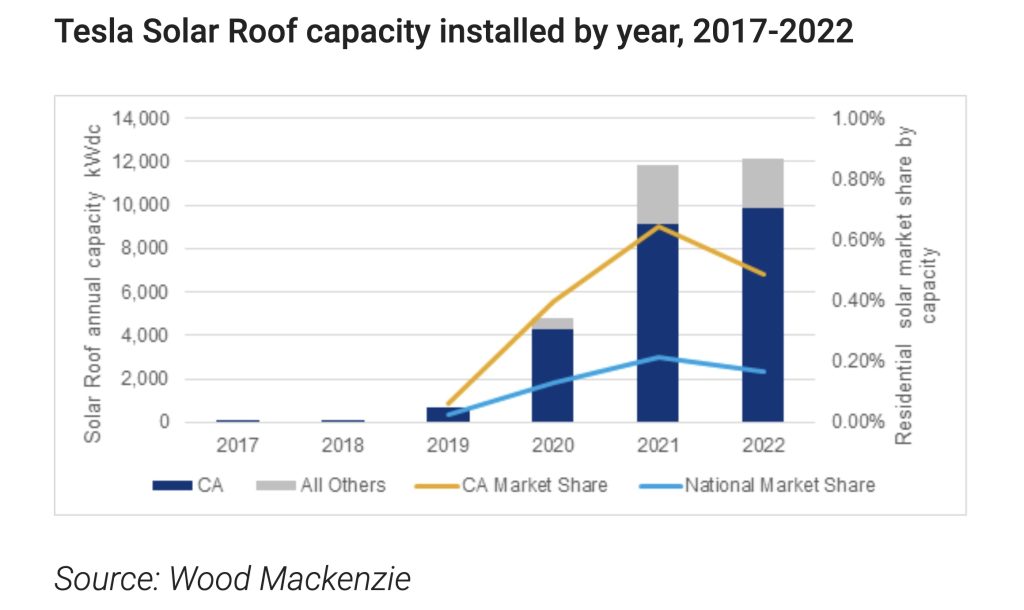 Wood Mackenzie relied on proprietary project-level datasets to analyze Tesla Solar Roof's growth. Its datasets showed that Tesla's average Solar Roof installations in 2022 were 21 per week. Tesla allegedly reached a peak of 32 systems installations per week in Q1 2022. Based on its analysis, Wood Mackenzie concluded that Tesla Solar Roof held less than 0.03% of the total roofing market in 2022. 
The official Tesla Solar Twitter account commented on the Wood Mackenzie study and refuted its analysis. Tesla Solar noted that the study was incorrect "by a large margin."
In its Q4 and Full Year 2022 Shareholders Deck, Tesla shared that solar deployments increased by 18% year-over-year to 100MW in the fourth quarter. Contradicting Wood Mackenzie's analysis, Tesla stated that its strongest quarter in recent years was Q4 2022. Overall, Tesla reported deploying 348 MW of solar last year, its highest since 2017.
Tesla Energy offers three solar packages on its website. First, customers can purchase solar panels— a different product from Tesla's Solar Roof. Customers interested in purchasing Tesla solar panels may also buy a Powerwall battery storage system for an additional cost.
Then there is the Tesla Solar Roof system, which automatically comes with a Powerwall. Wood Mackenzie's study focused on Tesla Solar Roof installations specifically. Lastly, Tesla offers its Powerwall battery storage unit for homes with solar panels already installed.
The Teslarati team would appreciate hearing from you. If you have any tips, contact me at maria@teslarati.com or via Twitter @Writer_01001101.