Tesla has updated the pricing structure for its Supercharger network, including terms for its existing idle fee policy. The idle fee update will impact all Model S, Model X, and Model 3 drivers that utilize the company's high-powered, global charging network, regardless of whether they are enrolled in free unlimited Supercharging or not.
Supercharger idle fees, first introduced in late 2016 as a means to deter vehicle owners from occupying a charging stall when the vehicle has already met its intended state of charge, have been updated to further encourage owners to move their vehicles from stalls and improve the Supercharging experience for all drivers. Tesla has updated the flat idle fee of $0.40/minute to take into account station occupancy, as follows:
Supercharger Idle Fee
(updated September 19, 2018)
Supercharger 50% occupied: $0.50/minute idle fee
Supercharger 100% occupied: $1.00/minute idle fee
Tesla notes in its Supercharger FAQ that drivers will be granted a 5-minute grace period during which time a fee will not be incurred. Once this grace period passes, the driver will be charged for the 5-minutes and each additional minute after that. Vehicle owners will continue to receive reminders through Tesla's app when the vehicle is nearing its intended state of charge.
In-car Payment
Additionally, Tesla has begun to roll out an over-the-air software update (not Version 9) that will include a new in-car payment feature. The new functionality will provide Model S, Model X, and Model 3 owners who leverage pay-per-use Supercharging with the ability to pay from within their vehicle, by inputting credit card information directly into the center touchscreen. The feature will also enable drivers to pay for any incurred idle fees.
The in-car payment functionality is an extension of the credit card section within an owner's Tesla Account page, or previously known as the MyTesla page. Credit card information entered through the in-car payment feature will automatically be registered to the vehicle owner's Tesla account and also serve as payment for any incurred idle fees or Supercharger use fees.
Also introduced in today's Supercharger pricing structure update is a $50.00 cap wherein Supercharger access will automatically be disabled if there's an outstanding balance due for Supercharger fees, either incurred through idle fees or Pay Per Use, and when a credit card is not on file. Supercharger access will instantly re-enable once the balance is paid. Tesla will also have the ability to grant Supercharger access to a vehicle, remotely, in the event of an emergency.
The pricing update and software release are being implemented in North America first, followed by a global rollout.
It's About the Greater Good
Although the latest Supercharger update may be unwelcomed by some Tesla owners that have previously benefitted from the company's good faith gesture to extend its charging network, largely unenforced, to its drivers, the change is an improvement to its policy that has a significant benefit to the overall community.
When the Silicon Valley-based electric carmaker first created its Supercharger network, the intention was to make long-distance travel an enjoyable and seamless experience for all drivers. But as Supercharger abuse became more rampant, combined with a massive increase in the number of Model S, Model X and Model 3 on the roads, being able to institute some sort of Supercharger fair-use enforcement policy became desperately needed. This is in spite of Tesla's continued global scale out of its Supercharger and Destination charging network.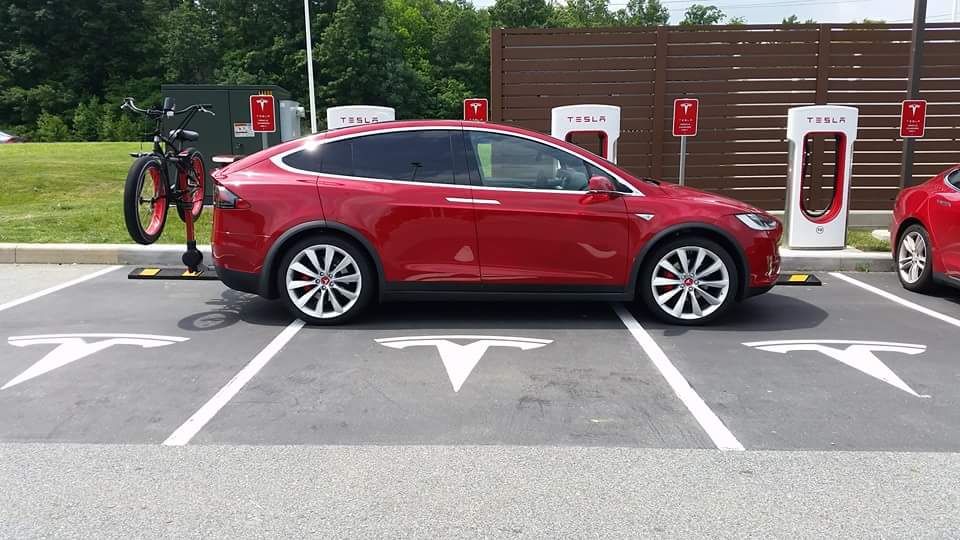 A Model X spotted occupying three Supercharger stalls at the Newark, DE Supercharger station went viral in 2016 after sparking outrage across the Tesla community.
Related: Calling all Tesla Supercharger abusers: Don't ruin it for the rest of us
Today's update to Tesla's Supercharger policy will undoubtedly be one of many in the years to come, as the company continues to adjust and iterate toward a customer experience-focused model that's also financially feasible.
A Tesla spokesperson tells Teslarati, "Based on feedback from the Tesla owner community, we are adjusting the idle fees associated with our Supercharging program to continue providing the best Supercharging experience as the size of our fleet grows. As has always been the case, our Supercharging and associated fees charged on the network are not meant to be a profit center for Tesla, and we hope to never need to bill for idle fees."
More information can be found on Tesla's Supercharger page.