Tesla CEO Elon Musk, unveiled a service program on Friday meant to quell fears about buying and maintaining an electric car and boost sales of the Model S sedan in the long run.
The once unfavorable warranty requirement of having a mandatory $600 annual checkup is now a thing of the past.  Tesla Model S owners now have the option of foregoing a service without having to worry about voiding their warranty.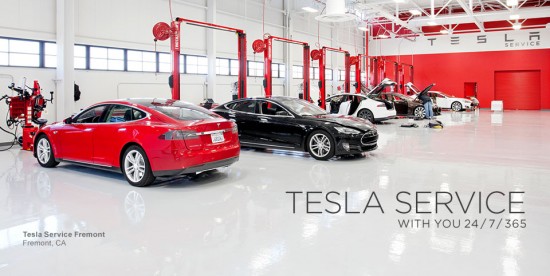 Tesla states in a blog post today that the company took great pains in developing a proper battery and therefore if something goes wrong, it's on them, not the owner.  If needed, the battery will be replaced with a factory reconditioned unit with an energy capacity equal to or better than the original pack before the failure occurred.
Better yet, Tesla also announced a service loaner program in which if an owner's Model S needs to go in for service, the company will deliver a fully decked out Model S as a loaner until the original is repaired. Take a shine to the fancy loaner? No worries, Tesla will let you keep the loaner and pay a price that is lower by 1% per month of age and $1 per mile. As Tesla notes in the announcement, this practice will ensure the loaner fleet is constantly refreshed with new vehicles rather than becoming the equivalent of a rental car fleet.
If nothing else, Tesla and its billionaire founder are becoming very good at playing the media game. This announcement comes just weeks after the company rolled out a new payment plan (complete with a very shady marketing plan) to make the Model S more affordable. And let's not forget Musk just not-so-quietly put up $50k of his own cash to speed up construction on LA's 405 freeway. Why pay for press when you can get it for free?
Tesla Model S Warranty
Fully loaded Model S Performance 85 cars or Tesla Roadsters as loaners
Tesla will seamlessly valet the loaner cars to your location
$600 annual service now optional with no effect on warranty
Unconditional warranty for Model S battery, even for user error
Related: Tesla Model S Service Plan – Is it Worth It?