If you're an owner of a Model S, chances are you've been waiting anxiously for Tesla's upcoming firmware 7.0 update which promises Autopilot capabilities along with a completely revamped user interface.
UPDATE: Elon Musk takes to Twitter and announces October 15 rollout of Version 7
Until recently there's been no official reveal of firmware 7.0 by Tesla however video leaks from Model S beta-testers provide insight on what's in store in this next major release.
Tesla Firmware 7.0 – What we know so far
We know that the Model X will be delivered with firmware 7.0 but Model S owners are still waiting for the official roll out. I'll be sure to provide an in-depth review of each feature once I receive the over-the-air update on my Model S.
Overall the whole look of the user interface (UI) has been flattened which may take some time to get used to, similar to when Apple made the major UI change on iOS. You have a mixed bag of opinions when it came to the new iOS look. Some love it and others seemed to have just gotten used to it, and I expect we'll have a similar experience when firmware 7.0 is released.
Dashboard updates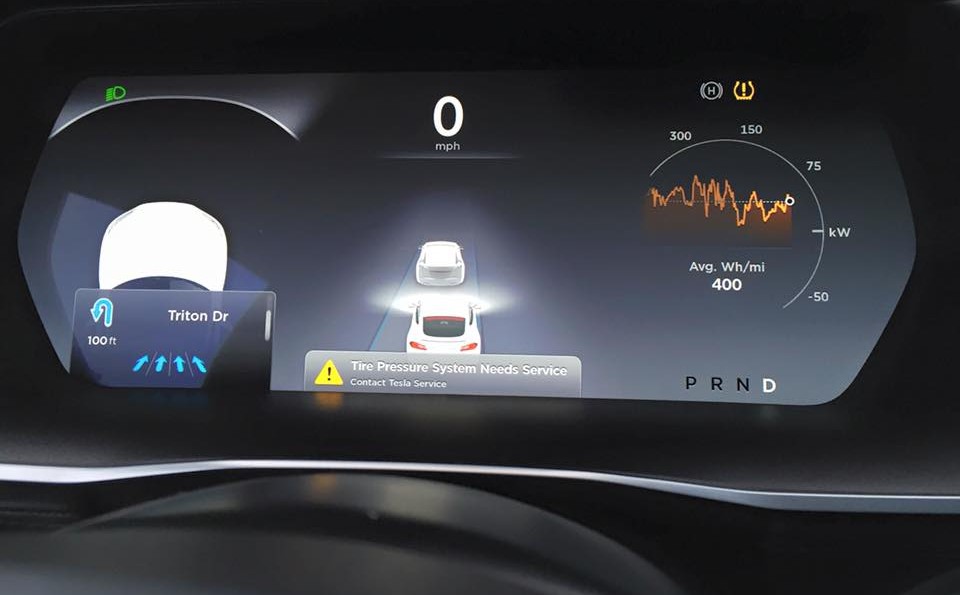 The dashboard display seems to have received the most significant updates in 7.0 and include the following features.
Center Display
The speedometer (center portion) is completely gone and replaced with new elements.(see questions below for non-autopilot cars)
The driving speed is now displayed as a large number and replaces the analog display.
The cruise control symbol appears near the speed when activated.
Range has been moved from the center display to the bottom left.
Driving mode (P, R, N, D) is displayed on the bottom right of the screen.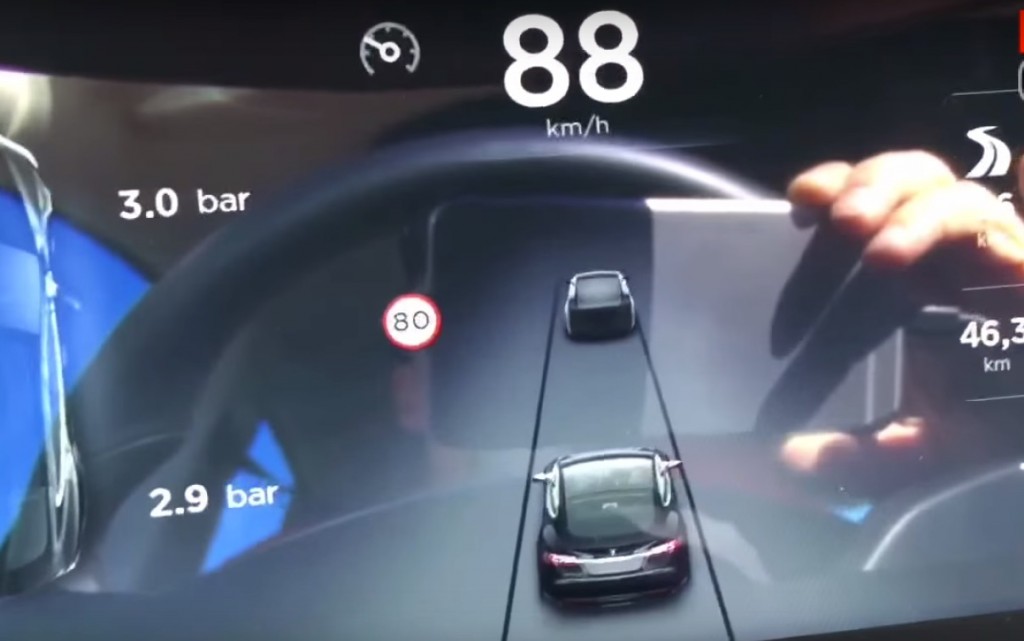 A major new element that appears on screen is an image of your Model S towards the portion of the center display (see video below). The image adjusts according to the following statuses:

Blind spot warning indicators
Lane keep assist indicators
Traffic Aware Cruise Control indicator
Standard indicators like turn signals, hazard indicators, brake lights, headlights
Speed limit warning indicator
Collision warning indicator

Headlight, high beam and auto high beam indicators still appear on the top left.
There's a new tow indicator when you have something attached to the Model X hitch.
Hill hold is much improved and there's a special hill hold indicator on the dash now.
Left and right side widgets:
A clock widget is now available but, without activating this, there doesn't seem to be any other indicators of time and date from the center display.
An updated energy graph is present. This widget also pops up when power is limited.
The trip widget received a major UI update and displays the since last charge and trip meter (A), but removes the second trip meter (B). The second trip meter is still accessible but only through the 17″ center touchscreen display.
There is a "Car Status" widget which displays a real-time in-context view of the vehicle's current state (seat belt warning, parking and proximity sensor indicators, .. etc). Among the statuses being displayed is a tire pressure readout for each corner. Tire pressures are displayed while the vehicle is in motion.
17″ Screen Updates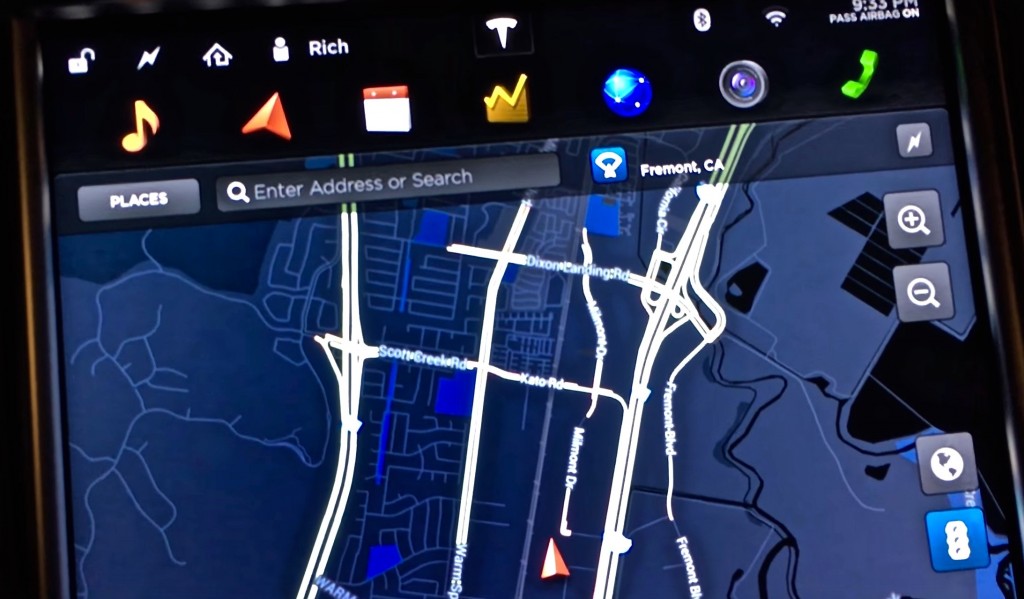 The 17″ touchscreen received relatively minor updates when compared with the center display. Most of the updates appear to be cosmetic with little refresh of the existing apps. Limitations of the onboard Navigation system, slow browser problems, and previously found issues seem to persist in firmware 7.0.
The few improvements we've seen so far are found in the version for the Model X
Controls for opening/closing driver/passenger doors
Visuals for the new doors
A bioweapon defense mode control
A cool overlay when an automatic door is open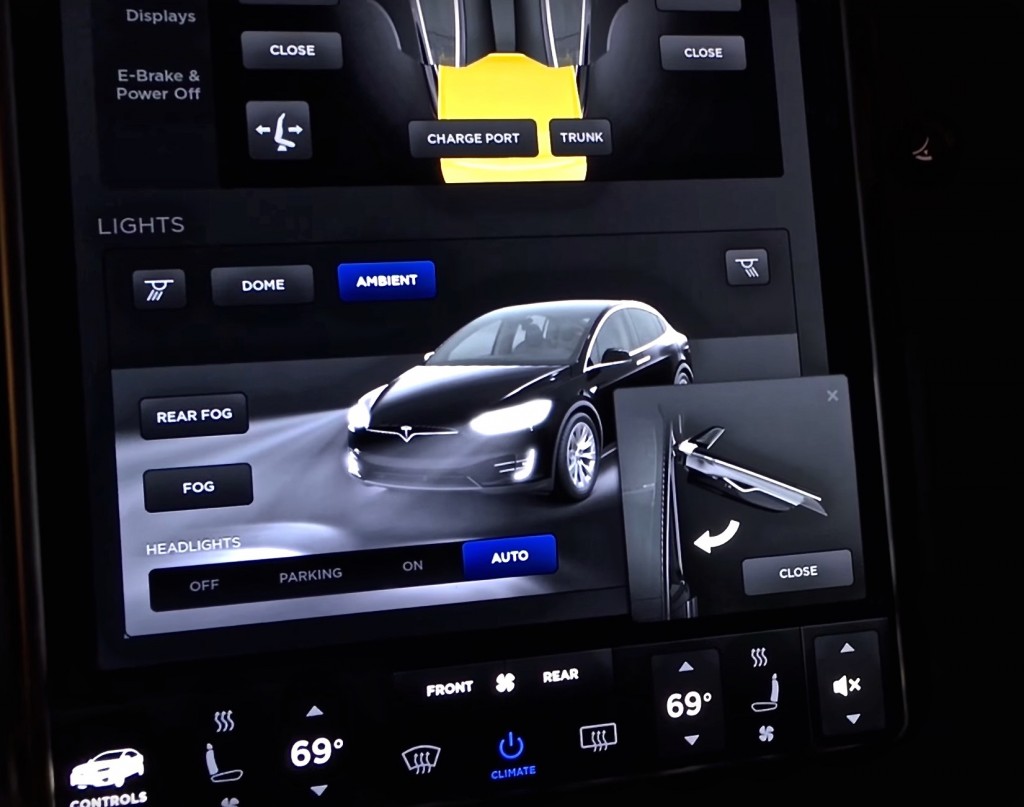 What's obviously missing
Some key features are still obviously missing from 7.0 for most people — basically everything related to self-driving has yet to come.
Auto park
Auto steer
Automatic lane change
I've seen very few pictures and videos of these features across YouTube and various outlets. There's a TMC forum thread which discusses the 7.0 release notes.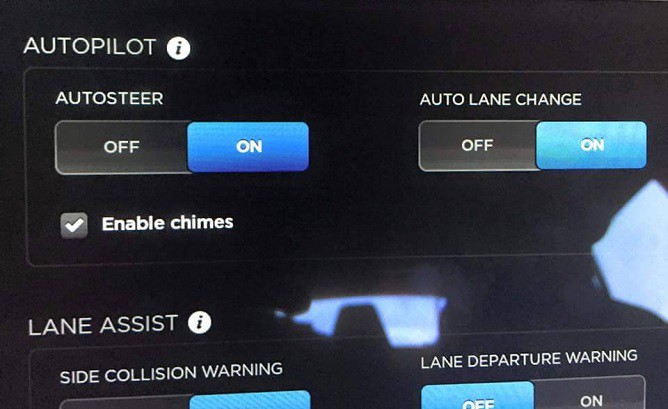 What we don't know
There are a number of unanswered questions surround Tesla firmware 7.0.
How is the set cruise control speed shown? (not cruise enabled but the speed I have it set to)
How is limited regeneration shown? Is it only through the pop up energy widget?
How is limited power (acceleration) shown? Is it only through the pop up energy widget?
Do non-autopilot Model S' get the same center display? It seems like a pretty big waste of space since there's little to show in that real estate for cars that do not have the autopilot hardware.
Will all cars be able to show the tire pressure readings or will the feature be limited to certain models that perhaps have updated sensors?
Did any of the 17″ screen widgets receive improvements (Navigation, I'm talking about you)?
Will there be different displays for autopilot vs non-autopilot cars? There's been differences spotted between dashboard displays as seen in our first report of firmware 7.0 and a more recent video captured by a Model S beta-tester in Europe (enable closed-captioning in English).
Timing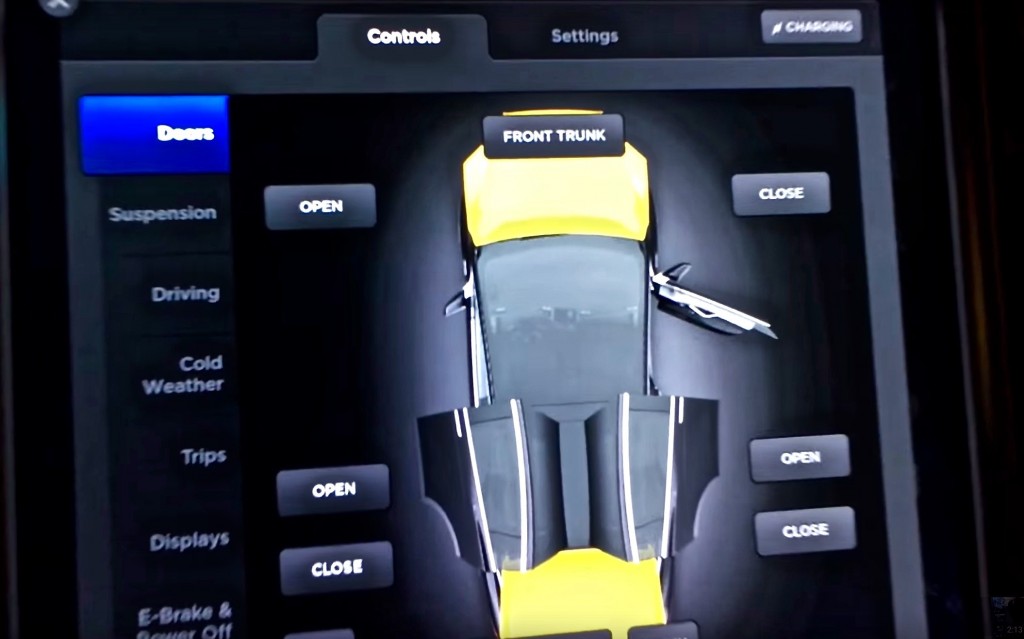 We know that lucky Model X owners in North America are already out and about using version 7.0, but it appears to be a slightly different variation than what Model S owners will receive.
The beta auto-steering functions appear to be enabled for only a small number of people with 7.0. Any 7.0 caught in the wild is still considered a beta or pre-release version.
UPDATE: Elon Musk has since announced via Twitter that Version 7 will go to 'wide release on Thursday' (Oct 15, 2015)
Some exciting news this week: Tesla Version 7 software with Autopilot goes to wide release on Thursday!

— Elon Musk (@elonmusk) October 11, 2015
I expect that we'll start seeing a roll out of firmware 7.0 to Model S owners sometime in November, timed with the deliveries of Model X throughout North America. But as most people know, Tesla's release dates are increasingly difficult to guess at.
I hope that beyond the interface changes, autopilot features will be included with the upcoming software release. I suspect there will be angry discourse among the Tesla social community if this feature is omitted.
Summary
I'm still not sure what I think about version 7.0 but in general I'm a fan of the flat and cleaned-up look.
A lot of information that I've gotten used to will no longer be on the dash display. My guess is that the overall dash display will be a lot less busy. There's also going to be a lot of empty space reserved for displaying information that my pre-autopilot Model S isn't capable of capturing. My hunch is that firmware 7.0 will be a bit of a disappointment for early Model S adopters that lack the autopilot hardware. On the other hand, Model S owners with autopilot will likely welcome the plethora of information that will be presented on the center display.
If you have hands-on experience with firmware 7.0 on a Model X or you're a Model S 7.0 tester looking to share some more insight, leave me your thoughts in the comments below.