It is quite common today to see vehicles on the road beside you with some kind of dash or windshield mounted cell phone mount. As the use of smart phones has grown, so too has the idea of using them as a GPS and navigation device.
Tesla has a fantastic navigation system built into the huge center touchscreen which might leave little reason for using a mobile device as your main source for navigation. However, many Tesla owners augment their onboard Nav with a windshield mounted mobile device powering Waze, a popular app that provides real-time crowd sourced traffic data. A phone mount also secures your mobile device while the vehicle is in motion, and can be placed at a convenient eye level.
Today I'll be reviewing the Montar Air cell phone holder with built-in industry standard Qi wireless technology.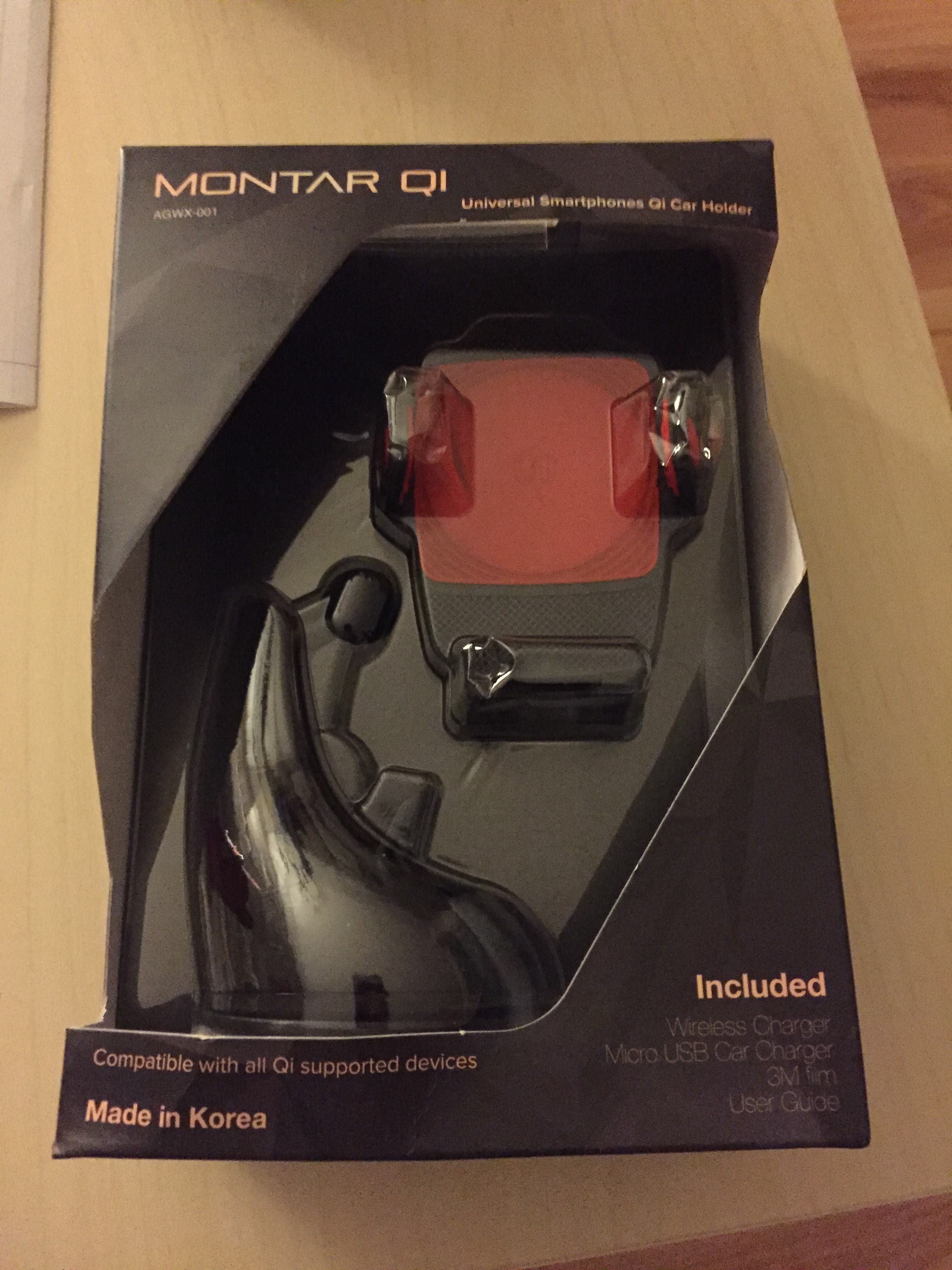 Holding
For this purpose, the single most important thing in a phone mount is that it sticks to the surface you want it to – be that your windshield glass or dashboard. The Montar Air Qi Wireless Charging phone mount excels in this area. The suction cup itself is made of a gel-like material that has a bit of a stickiness to it before the suction even comes into play. Initially, this caused a bit of alarm that the cup would leave a residue on our Tesla's as yet unscathed black leather dash. After one brief use, it did not. Similarly, it left nothing of note on the glass windshield, which it also stuck to nicely.
The next important thing I wanted to test was that it worked with a variety of phones. It held my iPhone 6 with ease, as well as my bulky and thick Kyocera Torque. The Torque is meant to be very rugged and as a result is nearly 14 mm thick! That's about double the iPhone 6. The phone mount held them both securely. The mount has one component that looks like a pair of feet. These feet, so to speak, click out to a customizable length to accommodate many phone sizes and easily retracts back in with the push of a release button on behind the mount. This same method is employed by the side arms that hug your phone. That release is on the top of the mount rather than on each side since unlike the feet, the arms are two separate pieces.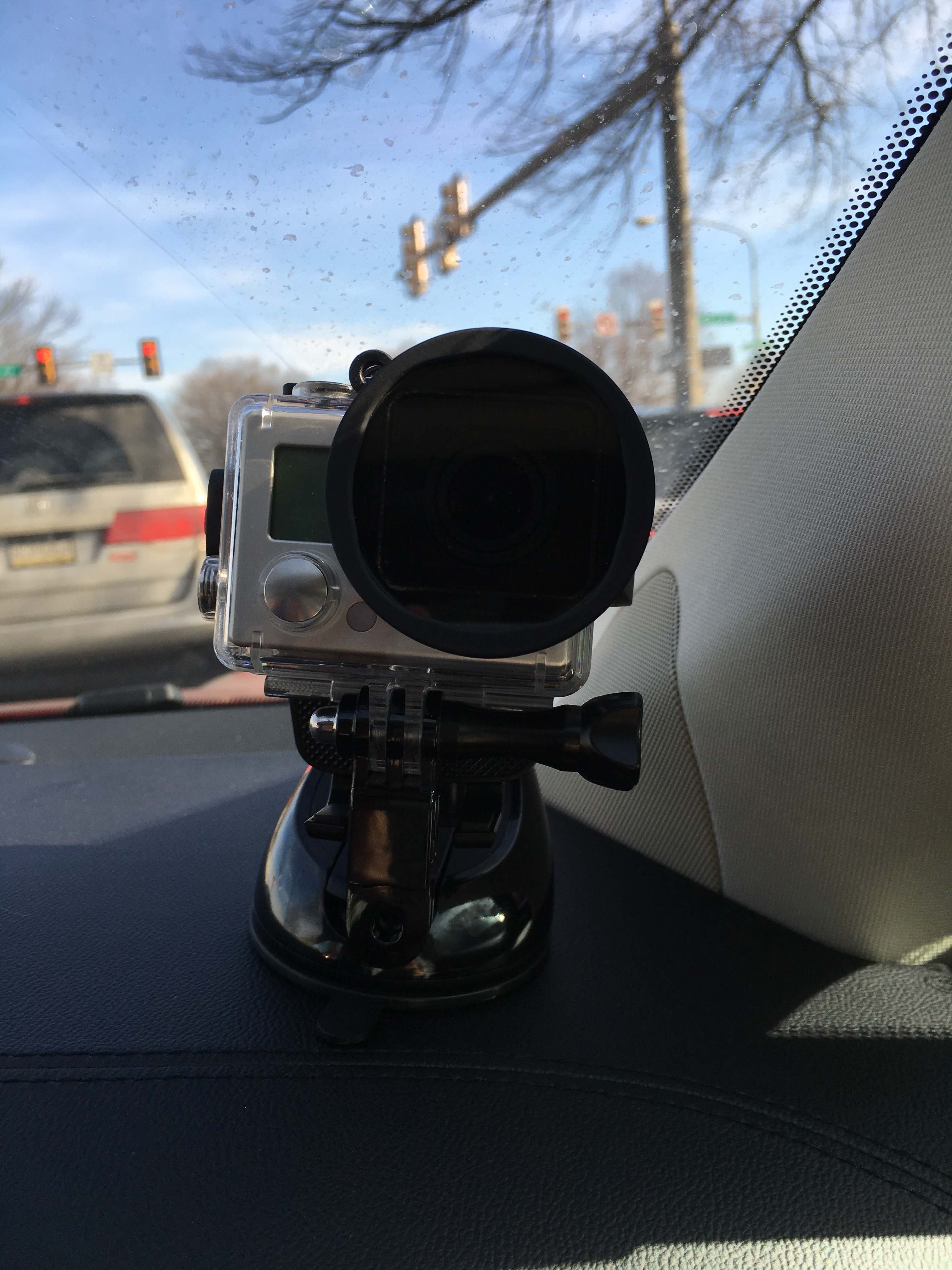 For testing sake, I tried to use this mount with a GoPro camera. These cameras are very small and without a case, the mount did not hold it. The mount does not claim to be able to accommodate a GoPro. I also tried this with a case on the GoPro, which makes it a bit larger. I was able to successfully hold the camera but not securely enough to record a video with an acceptable level of steadiness. With that in mind, it could probably take a photo if you desired to take a photo with a small action camera in this mount. Though with today's high quality phone cameras and front-facing capability, I imagine one would rather just use this mount and take any needed pictures or videos with a smart phone.
Charging
What makes the Montar Air phone mount unique is that it also charges your phone. That is to say, you charge it and it charges your phone wirelessly assuming your phone is compatible with the Qi wireless charging protocol. This eliminates the need to plug in and unplug your phone itself if you desire a charge while on the road. I find that idea very convenient especially when uses such as GPS are so battery intensive. Note: this charging is only appropriate for phones equipped with Qi wireless charging capability. Since neither the Apple iPhone nor the Kyocera Torque will charge this way, I sought out a popular phone model that would: The Samsung Galaxy S6 Active. At a current state of charge of 39%, the phone screen estimated and displayed that it would take 2 hours and 12 minutes to charge. As expected, the mount adjusted easily to accommodate a snug hold for this phone model. A nice unexpected twist, however, was that the portion of the mount charge cable that plugs into your car lights up blue.
Ease of Use
The mount itself, once assembled, is very easy to use. The buttons on the rear of the mount that control the adjustable "feet" and "arms" work as intended without much pressure. They are placed in discreet yet reachable places. The mount itself is also made of a seemingly high quality and sturdy plastic, which gives me the impression that it will last. The ability to rotate the phone 360 degrees (assuming your placement accommodates it) is a nice bonus and the rotating mechanism is smooth yet provides enough resistance to keep the phone locked at your desired position. Every part of the product as a phone holder met or exceeded my expectations.
What's Not So Great
Be it the fault of the mount itself, the size of phones today or a combination of both, I did not find a way to mount my iPhone 6 in portrait view on the dash without the windshield getting in the way. In order to accommodate that orientation, only a windshield mounted position worked.
Also, the instructions that came with the mount were fairly terrible. The product came in the box as two pieces but did not make mention of how to get the two together. Fortunately, I figured it out in a reasonable amount of time but there is no reason the small instruction packet should not have included it. You needed to remove a round gasket from the portion where the ball joint would be inserted in order to fit in the ball joint, then re-secure the gasket. Perhaps this would have been more obvious to some but I find failing to direct a customer on the most basic action required to being using a product is inexcusable.
Verdict
This substantial base makes this mount sturdy and reliable, plus the smooth plastic gives it a sleek and high quality look. The charging capability works as advertised and the blue glow of the plug was nice, even if it did contrast with the red coloring of the mount's phone base. At a retail cost of $99.99, this product is priced higher than other Qi capable car phone mounts but for its price you get a product that looks to be more sturdy than those that may cost 20% less. If I were a frequent user of my phone as a GPS unit I would certainly want the mount to be of a high quality and sturdy, but would only choose this one if my phone was compatible with the wireless Qi charging.