What we know about Atieva would fill an entire paragraph — maybe two. We do know it is based in California and has hired a number of former Tesla engineers to help it create a new electric car line. Other than the usual "We're gonna change the way the world thinks about electric cars" mantra so popular with companies like Atieva, NextEV, and Faraday Future, the company has been keeping a very low profile.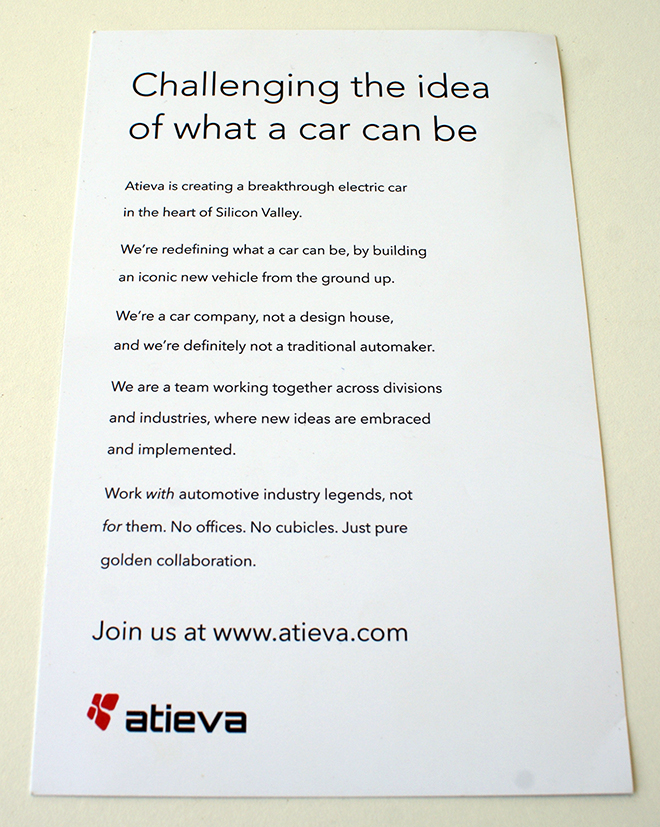 Atieva's vice president of design Derek Jenkins and chief technology officer Peter Rawlinson say Atieva plans to put a premium electric sedan on the road in 2018, followed by a pair of luxury crossovers by 2021. Jenkins is the designer responsible for the latest Mazda Miata, and Rawlinson was deeply involved in the development of the Tesla Model S.
Atieva has put its prototype powertrain into a Mercedes commercial van, which it calls Edna. The van has been used to drive around the San Francisco Bay area while the development team tweaks the motor and battery control software. Recently, the company put Edna up against a Tesla Model S and a Ferrari California in a drag race. Since you are reading about it here, you can probably guess who won.
Nothing is known about where the race was held, how long the track was, or the configuration of the Model S. Atieva says its two motor powertrain cranks out 900 horsepower and that Edna is able to gallop to 60 mph in a tick over 3 seconds. The Mercedes van weighs approximately the same as the Model S.
At least Atieva has a functioning test mule. Faraday Future also claims to have test mules on the road, although no one has ever spotted one in the wild. But it is hard to see how a company with one tester can possibly hope to begin production in 2018. It hasn't even started construction of a factory yet.
If a blistering 0-60 time is all that's needed to enter the electric car sweepstakes, Atieva is in fine shape. Certainly, videos of Teslas destroying everything from exotic sports cars to polo ponies in races helped create the aura of excitement that surrounds Tesla Motors. China's BAIC bought a controlling interest in Atieva last December, so an actual car company could emerge eventually. Just don't place any bets on being able down to your nearest Atieva dealer in 18 months and drive one home.