The Chevrolet Blazer EV's production is not fully ramped yet, but some General Motors (GM) dealers are already putting extensive markups on the all-electric crossover SUVs. Some Chevy Blazer EVs have received such substantial markups that they are closing in on the price of a Tesla Model X, a larger flagship SUV from Tesla.
While markups are quite expected at this time since the Blazer EV is still pretty rare today, the market adjustment that some GM dealers are asking for above the all-electric crossover's MSRP is eyebrow-raising. This is quite interesting of course, especially since the Blazer EV is not necessarily marketed as a luxury electric crossover — certainly not above the Cadillac Lyriq.
Yet, as observed by publications such as Cars Direct and CarScoops, some GM dealers have applied a markup of up to $10,000 for a Chevy Blazer EV RS. And considering that the MSRP of the vehicle is listed at $60,215 on the dealers' websites, the grand total of the Chevy Blazer EV RS before taxes and dealer fees would be $70,215.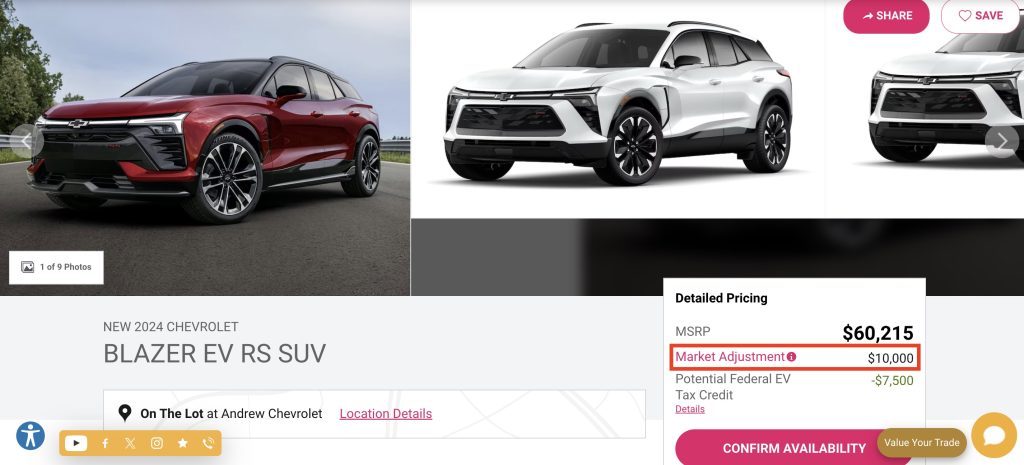 That's far above the $52,490 starting price of the Tesla Model Y Performance, a vehicle regarded as the Blazer EV RS' direct competitor. It's fairly close to the $79,990 starting price of the Model X, a larger flagship vehicle that's loaded to the teeth with the best tech that Tesla has to offer. 
Considering its markups, the Chevy Blazer EV could easily become more expensive than the Cadillac Lyriq, a luxury all-electric crossover that starts at about $62,000 and which reportedly gets sold frequently at MSRP. Granted, the Blazer EV is a newer model, but one might be hard-pressed to argue that it would be a better buy against the Lyriq. Of course, the $43,990 starting price of the Model Y RWD becomes very compelling as well since it is a vehicle that will never have a dealer markup.
The Chevrolet Blazer EV seems to be a decent offering from the veteran automaker. Its appearance as a hero vehicle in the highly-acclaimed Barbie movie was entertaining, and its specs on paper are quite impressive. Unfortunately, those who wish to buy the vehicle today might need to navigate the tricky trenches of dealer markups before they could acquire a Blazer EV. 
Don't hesitate to contact us with news tips. Just send a message to simon@teslarati.com to give us a heads up.