General Motors (GM) has released its 2022 US fourth quarter and full-year sales report for the US, and in it, the veteran automaker highlighted some of its key milestones during the past year. GM deserves quite a lot of credit in 2022, considering that the American automaker was able to reclaim the US' top spot in overall auto sales from Toyota Motor Corp, one of its strongest rivals. 
As per GM's Q4 and FY 2022 US sales report, it was able to post a total of 2,274,088 sales in the United States in 2022. This corresponds to a 3% year-over-year rise. The company also posted a strong comeback in the fourth quarter, with US sales rising up 41% year-over-year to 623,261 units. Toyota, on the other hand, posted overall sales of 2,108,458 units over the year.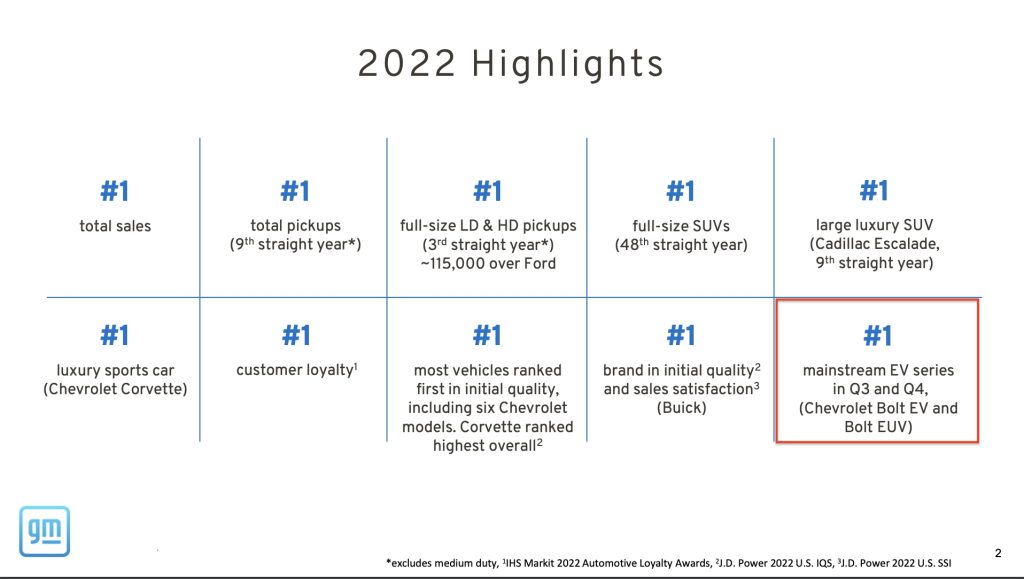 Considering its accomplishments, it was no surprise that General Motors listed several of its "#1" milestones in 2022. The company specifically listed some of the vehicles behind its "#1" accomplishments in 2022, such as the Cadillac Escalade, which was the number one large luxury SUV for the 9th straight year; and the Chevrolet Corvette, which was the number one luxury sports car. Interestingly enough, GM also listed the Chevrolet Bolt EV and Bolt EUV as the "number one mainstream EV series in Q3 and Q4."
GM did not specify what it meant by "mainstream EV series" in its report, though it should be noted that the Chevrolet Bolt EV and EUV's Q4 sales of 16,108 units in the United States are quite conservative, at least compared to some of the country's most popular battery electric cars. In the third quarter, for example, Counterpoint Research listed the Chevy Bolt EUV with a 4.8% sales share in the US, while the Tesla Model 3 commanded 20.4%.
GM did highlight that the Chevrolet Bolt EV and EUV had their best sales year to date with a 53.5% increase to 38,120 units, but a notable part of this gain was likely due to the fact that the vehicle's numbers were throttled last year due to a global recall. In a way, however, the Chevy Bolt EV and EUV did have a pretty impressive comeback story in 2022, considering the challenges GM faced with its battery issues that ultimately resulted in a production halt for the vehicle. 
Also, GM appears to have a lot of plans with its EV segment in 2023. These are listed below.
Chevrolet Bolt EV and Bolt EUV production expected to increase to more than 70,000 units this year to meet strong global demand
Three Chevrolet EVs launching in the industry's most popular segments
Cadillac LYRIQ production continues to increase to meet strong customer demand
GM's first Ultium-dedicated assembly plant – Factory ZERO in Detroit and Hamtramck – slated to resume production this month. GMC HUMMER EV SUV planned to launch mid-2023
BrightDrop Zevo 600 production is underway at CAMI, Canada's first full-scale EV plant, with Zevo 400 manufacturing slated to begin later this year
GM's Q4 and FY 2022 report can be viewed below. 
Q4 YE22 Sales Release 2 by Simon Alvarez on Scribd
Don't hesitate to contact us with news tips. Just send a message to simon@teslarati.com to give us a heads up.