You've spent days if not weeks and months searching for the perfect Tesla. Whether it's a rare Final Edition Roadster Sport 2.5 in atomic red, or the perfect "Classic" Model S P85 that's being sold by a private party or through Tesla's Certified Pre-Owned (CPO) program, you've done your research, saved up, and ready to take the plunge into Tesla ownership. That's exactly what Nicholas Dutko founder of Car Shipping Carriers did before he became the proud owner of a gorgeous Certified Pre-Owned 2013 Tesla Model S.
For Nick, growing a business focused on the transportation of vehicles was not only a passion of his, but a goal instilled by beliefs that shipping a car should be simple to handle, affordable and come with peace of mind that it'll remain safe during its journey. The last thing any anxious car buyer wants is having to worry about finding the perfect transportation service that will haul the car and fear that it won't show up in once piece. So how does one go about shipping their Tesla?
We'll break down the process into a few key areas to consider before shipping.
Who should I use?
It's all about trust
Referrals, referrals, referrals. With thousands of transportation companies available to choose from, consider a company that's been referred by a friend or through someone that has had a direct positive experience with the provider. Being a Tesla owner himself that worked with a contracted hauler to deliver his prized possession, Nick knows the importance of having great communication with the service provider. "We know how important it is to have a customer's vehicle transported safely, securely and with a reliable auto hauler." Not only does open communication instill confidence that you've selected someone that cares about your vehicle, as much as you do, but it's also a good indicator of how things will be handled once you go into business with the provider.
"This is not a normal 9 to 5 industry, yet many of my competitors treat it as such.", Nick of Car Shipping Carriers tells Teslarati. "I offer my cell phone number to my customers so they can contact me whenever they need me. If a questions arises at 8pm or an issue needs to be handled at 10 pm, I am able to get things cleared up in an instant."
Experience
To date, Car Shipping Carriers has transported over 250 Tesla vehicles and counting in the last 3 years, and delivers roughly 1,500 vehicles nationwide each month. Being an owner of a CPO Model S and all-around Tesla fan, Nick knows how to best care for Tesla's fleet of vehicles. This includes the type of hauler to choose from depending on ones needs.
There's a wide selection of transporters available ranging from single-car open flatbed trailers to the more common double-decker trailer often used by Tesla when delivering vehicles directly from the Fremont factory. In Nick's case, he opted for a more personal touch when transporting his own Tesla by using the company's top-of-the-line enclosed trailer.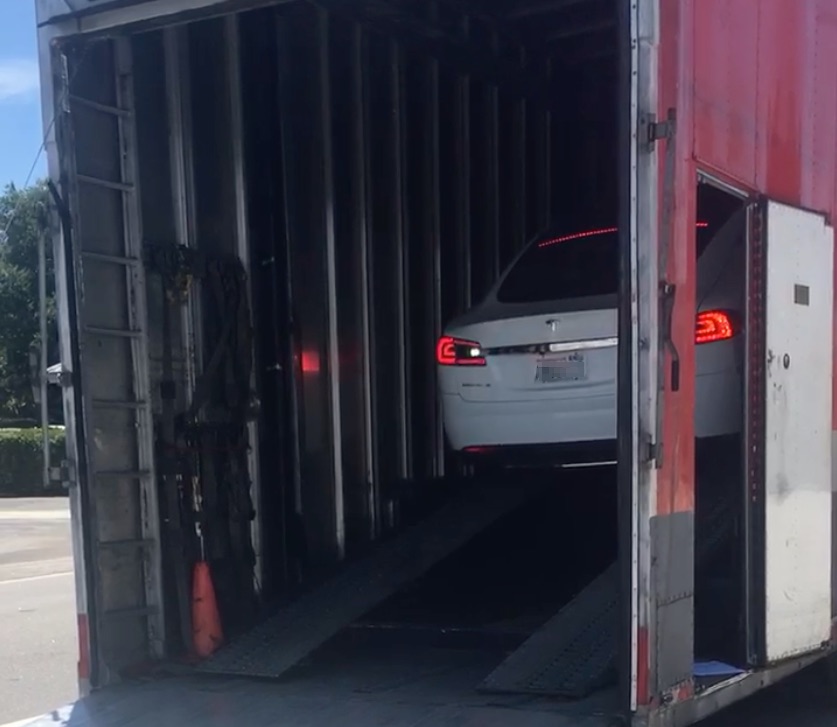 "We have the best open car and enclosed car shipping service so whichever you choose will be a great fit for any Tesla vehicle.", says Nick.
Get a quote
How much?
Figure out a rough budget that you're willing to spend which will likely be determined by the type of transporter you choose, and also your level of patience. Generally, the faster you want to take delivery, the more expensive it'll be. Using a multi-car transporter will typically be the cheaper alternative since these types of haulers typically make multiple drop offs across their cross country and coastal journeys.
Conversely, using a single-car flatbed or private enclosed hauler will cost more, but with the added benefit that you'll be behind the wheel of your Tesla sooner than later.
According to prices provided by Car Shipping Carriers, who obtains quotes through its network of transportation sub-contractors, a typical cross country journey from Los Angeles to Miami would register under $1,000.
Typical costs per routes:
Los Angeles, CA to Miami, FL — $995
Seattle to Atlanta, GA — $1200
Dallas, TX to New York City, NY — $800
Detroit, MI to Phoenix, AZ — $1000
Nick tells us, "Many businesses within this industry have set deposits and profits they need to make per order. One difference between Car Shipping Carriers and our competitors is that we do not change a customers' quote. We will take a lesser deposit/profit if a trucker is requesting a larger fee than we expected."
Prices will also vary depending on the market price of fuel – longer distances equals more fuel consumption.
How long will it take before I get the car?
Perhaps the most agonizing part of purchasing your beloved Tesla is the wait time. The type of hauler you choose and the distance your Tesla needs to travel will determine your delivery time. Typical delivery times as provided by Car Shipping Carriers are as follows:
Less than 500 miles will be 1-2 days for delivery.
500-1500 miles is 4-5 days for delivery.
1500-2000 miles is 6-7 days for delivery.
2000+ is 7-9 days for delivery.
Rules set by the U.S. Department of Transportation regulate the number of hours a trucker can drive per day. Please note that truckers are able to drive up to 12 hours per day, so please be patient and understanding when pushing for a quicker delivery timeframe. Aside from the driving time, truckers must stop and rest, eat, gas up (until Tesla Semis become available), and assist with the physical pickup and unloading of the vehicle(s).
Booking Transportation
You've selected the type of hauler to use, secured a quote and ready to go through with the booking process. Here's what you do next.
First, be sure confirm the amount of insurance coverage your auto hauler will carry. In the case of Car Shipping Carriers, each truck carries a minimum of $250,000 in insurance for smaller 2-3 car haulers and can go up to $1,000,000 in coverage. Once a hauler has been selected, agents work with the trucker on scheduling before presenting this back to the customer – you.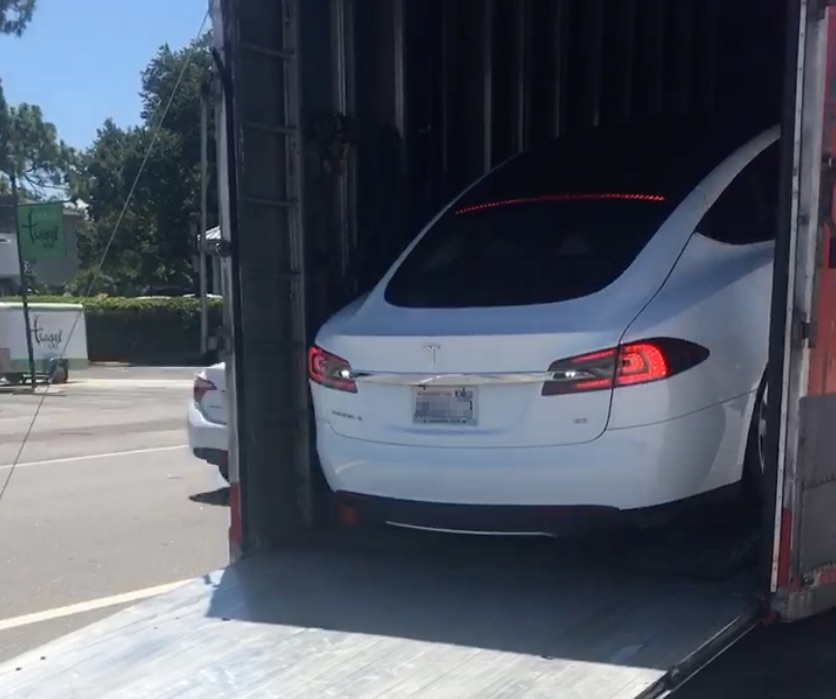 Once the customer accepts the schedule, they're asked to complete a contract that locks in the price for the service and also a date.
Tip: Keep in mind that trucks and haulers likely won't be able to turn into a small residential street so be sure and let your agent know well in advance the location to where your Tesla will be delivered. Meeting your trucker at a large open parking lot is generally preferred.
Once a location for pickup or drop off is determined, a deposit will be placed to secure the service. The remaining balance will be paid upon delivery of the Tesla. That's it.
Here's a few additional helpful tips to follow when transporting a Tesla.
Helpful Tips
If you're a seller, always do a pre-shipping inspection by yourself and with the trucker, while noting any existing chips, scratches or damage. Buyers on the receiving end should also perform a thorough post-shipping inspection.
Secure all loose items within the car before it's transported. Ideally, the car should be kept clean and have a minimal amount of items in it while in transit.
Lastly, get excited and be happy with what's to come!
This post has been sponsored by Car Shipping Carriers.
The views expressed in this article are those of the sponsor and
do not necessarily reflect those of this site or affiliated companies.