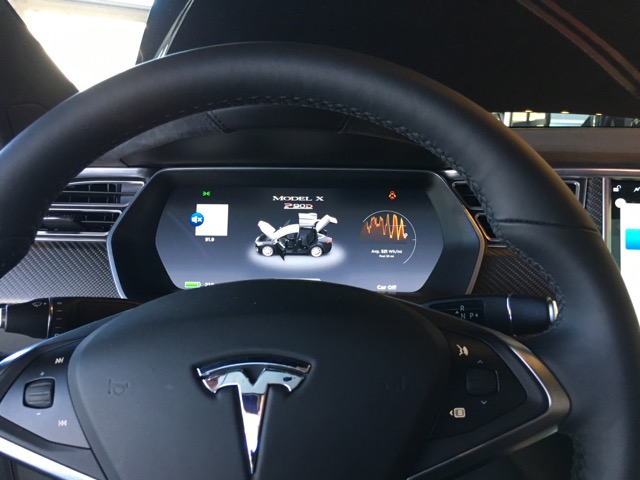 It's been almost a year since I put down a deposit on the Model X and equally as long since the time I spent hemming and hawing around what to do if I did get the vehicle. My first choice for a Tesla was the Model X but as the date of the car got pushed further and further back, I ended up purchasing the Model S instead.
My recent visit to the Meet Model X event was the first opportunity I had to go test drive the new electric crossover and experience the remarkable vehicle first hand.
Meet Model X Test Drive Event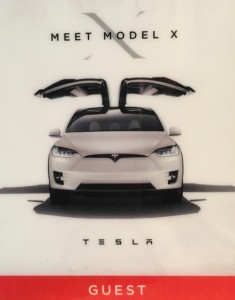 The event was held at a local Tesla store which had limited its guests to recipients that managed to RSVP to the test drive event. The focus of the event was 100% on the Model X. There was coffee and tea available, some snacks, and a whole bunch of Tesla employees there to greet and tend to guests waiting for test drives. Every attendee received a guest pass which really wasn't needed but it added an element of exclusivity to it. Attendees were also given a special "20% off Model X apparel online" coupon.
The test drives were scheduled at 15 minute intervals apart for each group with three separate Model X test drive groups cycling nonstop. The Tesla employee I spoke to said they had 40 test drives scheduled for that day and over 40 for the second day of the 2 day event.
There was a Model X displayed the showroom with the frunk, trunk and all doors open. The 17″ touchscreen was functional however all seat and door controls were limited to "showroom mode" meaning they were locked down. This was annoying as you couldn't get the feel of seats in various positions or play with the doors until it was time for the test drive.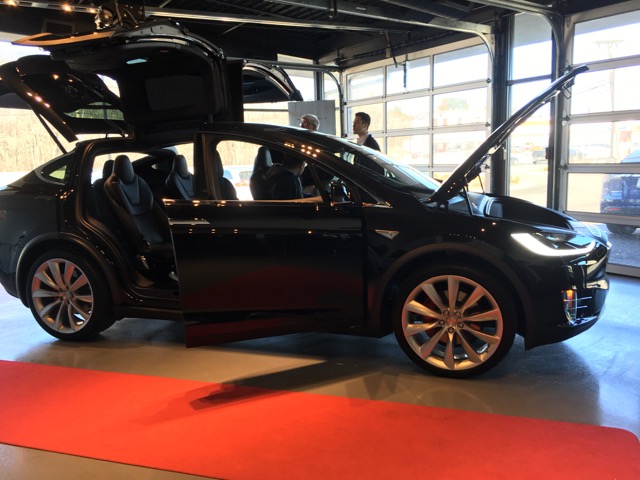 There's been countless reviews around the Model X so my focus here will only be on other areas of the vehicle that may not have received as much attention.
Model X Front Fascia and Frunk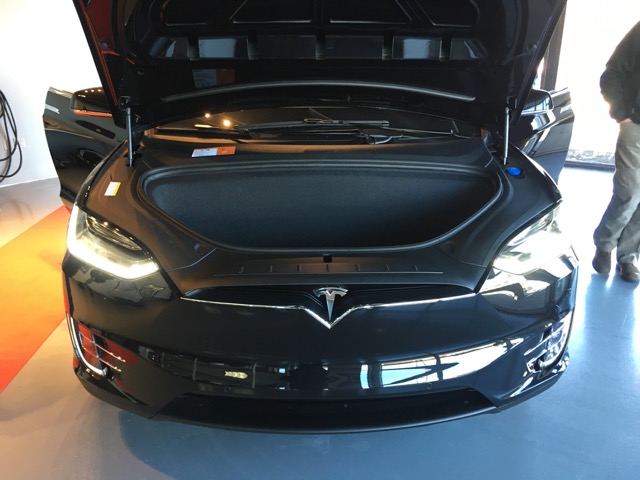 I spent a lot of time analyzing the front design and front trunk (frunk) of the Model X as I found them to be quite different from the Model S. I've seen pictures of the front of the Model X in white, but this was the first time I was able to see it in person and in a different color. I must say, the front looks a lot better to me in a non-white color which I otherwise find to be too pronounced and exaggerated. I also really like the design of the Model X headlights and bottom air dam which elegantly hides the front radar from view.
The space behind the Tesla logo on the other hand is odd to me. It's at a place you're going to see and it's a big open area that collects air. One problem I see with this design is that it will likely end up being a big collector of bugs, snow, sand, ice, and miscellaneous road debris. And I surely hope this open space is non-functional since it'll be packed full of crap and obstructed from airflow during the winter months of New England.
The frunk itself was very spacious and while it lacked the "microwave" area that my older Model S has, it definitely has at least the same amount of storage space, if not more. It's a shame Tesla didn't build in a feature to auto open and close the frunk, but I understand there are probably local laws that prohibit that from becoming a reality.
Model X 2nd and 3rd Row Seats
I know there's also been much written about the Model X seats but since they're integral to how I feel about the car I'm going to cover them here as well. The Model X seats are different from the "next generation" Model S seats as these ones are made in house by Tesla. For the short time we sat in them they were much more comfortable than my first generation seats and very luxurious.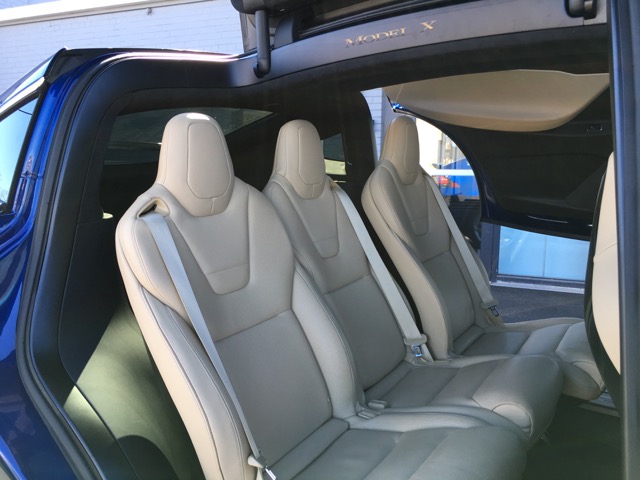 These newer seats did away with the little front pouch found on my Model S. In my older generation car there's only one pouch on the driver's seat. In newer Model S there are pouches found on the front of each of the front seats. I use that pouch all the time to store my mobile device.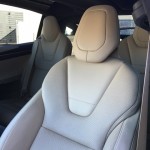 What it lacks in little front pouches, the Model X gains in having plenty of storage space available in the form of door pockets.
The headrest on the front seats auto-lowers and raises based on how far back the seat is declined. This is a clever way to avoid having to add another adjustment control while still making sure the headrest is at the correct height for safety.
The seat backs are done in glossy black plastic and thus covered with fingerprints everywhere. I was hoping the glossy seat back was a "feature" of the Founders/Signature Edition cars, but that's not the case.
My wife, at 5'0″ found the middle seat of the second row very uncomfortable. It doesn't seem like the seat back angle can be adjusted and her feet didn't reach the floor when seated. She found the middle seat to be totally uncomfortable. As the driver I found it difficult to see through the rear window with the second row middle seat in place. Tesla had both 6 and 7 seat configurations available for us to check out, but no 5 seat configuration. Despite already knowing beforehand that the second row seats don't fold down, it nevertheless still felt like a huge disappointment to witness this in person.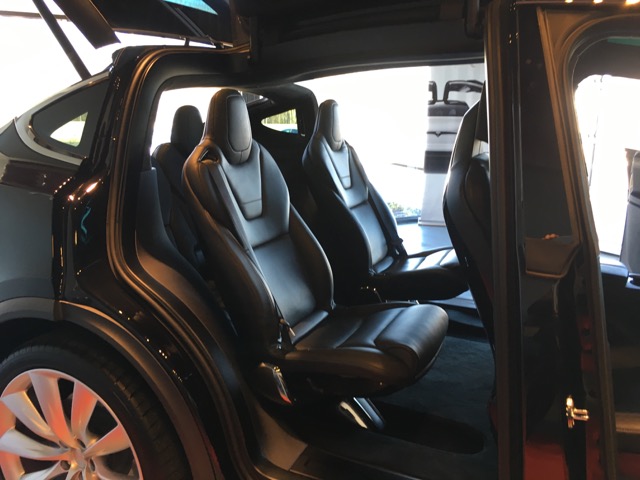 If we did end up ordering a Model X, there's no question we would order the 6 seat configuration. The aisle between the middle row seats is really convenient and having the third seat creates visibility problems.
With a 6 seat configuration the third row seats are tight but still has more room than my Acura MDX. In addition to having more knee space and leg room, your feet can actually slide under the seat in front of you giving you even more space to stretch. For people under 6′ theres plenty of headroom and legroom is reasonable. However this wasn't the case with the 7 seat configuration. With the middle seat in the second row in place, the third row seating felt substantially more cramped to the point I felt there wasn't enough room for even short adults.
There are many stories across the Tesla forum community of people coming to similar conclusions.
Model X Self-Presenting and Falcon Wing Doors
Before we had the test drive we were told by the sales person to only use buttons when opening and closing the doors. We were also told to be careful getting into the Model X because of the self-presenting front doors. As soon as you step on the brake it closes all the front doors which may surprise you and those around you.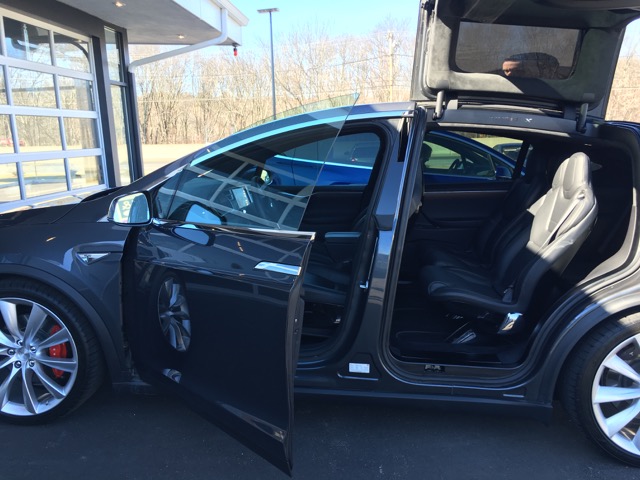 The button you press on each of the door handles is limited to the very center. Pressing near the edge won't open the door. It's a small push button covered by a long piece of chrome. I found the design poor and unintuitive. Also, pressing a button and then stepping back to let the car do its thing is cute at first but quickly became annoying by the end of the event. I understand Tesla had a number of problems with the auto-presenting Model S handles (I never had any trouble on my car), but doing away with it doesn't feel like a much better solution.
The falcon wing doors (FWD) worked well and did its magic of opening in tight parking spaces. As a test, I initiated the falcon wing door to open and then intentionally didn't get out of the way only to find the door sensing my presence and opening only partially. That was cool but keep in mind that the current software doesn't allow you to continue the opening process from here even once you get out of the way. You have to climb into the front seat and hold down a button to clear the FWD obstruction warning message before continuing.
Miscellaneous Model X Things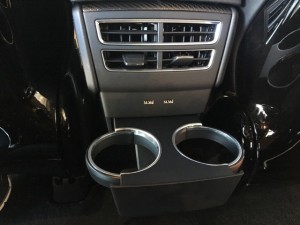 There are a number of small but great upgrades in the Model X. A nice new touch to the Model X interior which should have been on the Model S to begin with is the addition of rear seat cupholders and USB charging ports.
The updated climate controls on the 17″ screen are very intuitive and well designed. The controls allow you to adjust the front and rear settings independently of one another including seat heating and cooling.
Having room under the middle row seats will be really helpful for those lugging stuff around. It won't be long before some aftermarket manufacturer comes up with under seat storage bins for the Model X.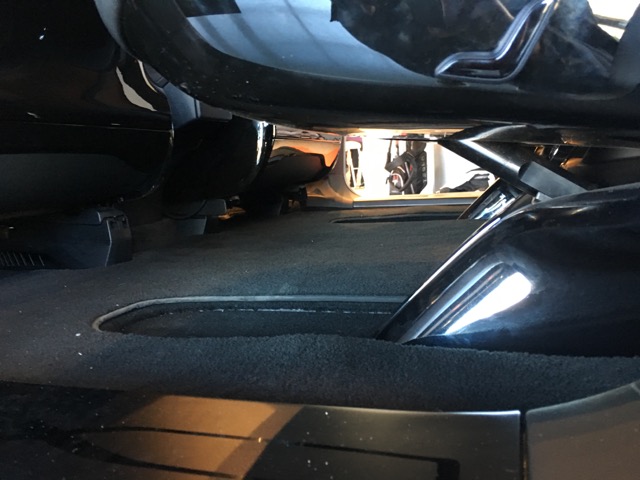 Tesla came up with really innovative sun visors that recess into the side pillars of the Model X when not in use and swing out when needed. The visors secure themselves to the rear view mirror through magnetic contacts.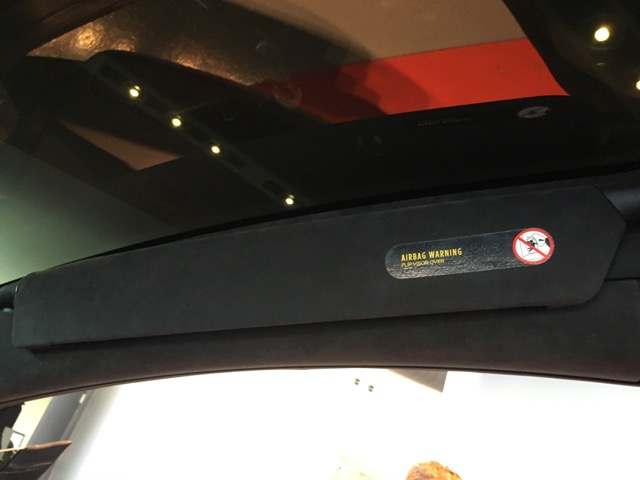 The problem with these sun visors is they're new, very long and you have to manipulate them. This means they need to be able to take a lot of force and be very study and stable. I've heard stories of Model X owners already having multiple repairs performed on the sun visor. I got a chance to see the issue first hand with the Model X on the showroom floor where the whole sun visor was coming apart near the hinge.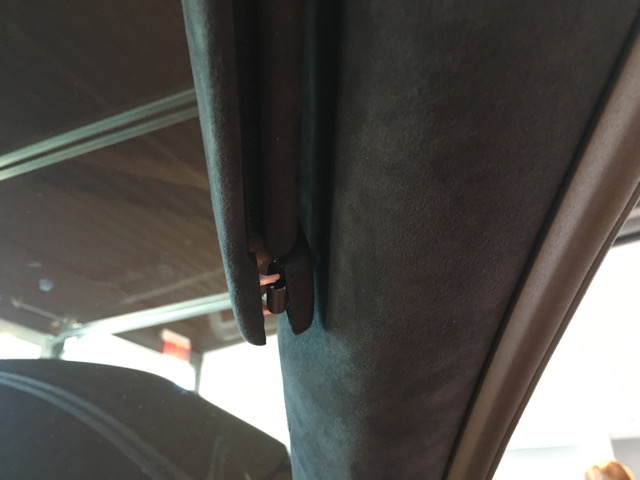 Along with the complex doors the sun visors look like they will be another troublesome area for the Model X.
The figured ash wood trim is a unique offering to the Model X which isn't available on the Model S. We liked the look of it even more than our obeche matte wood trim on my Model S.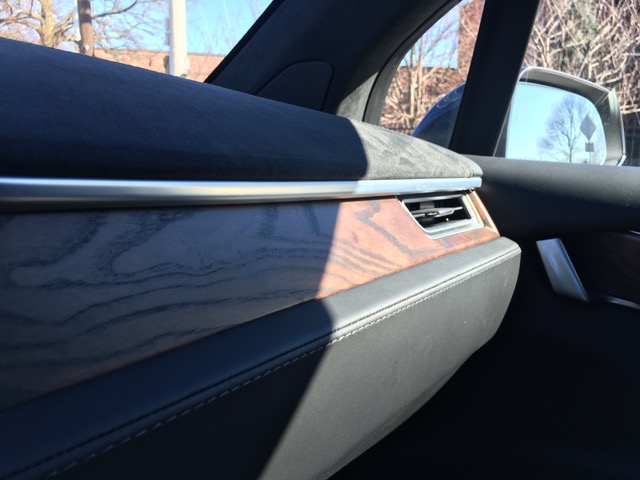 Model X Pros and Cons
I'm going to summarize my impressions here, but before I do keep in mind my point of reference — I'm a happy Model S owner that was seriously considering a swap to the Model X. These pros and cons are relative to my experience as an existing Tesla owner. If I was on the market for a SUV and debating between a newer Acura MDX, Mercedes SUV or the Model X, then the choice of a Model X would be a no-brainer.
Pros
The seats are much more comfortable than those in my Model S and possibly better than Model S next generation seats
Cooled seats would be really nice in the summers
AWD and Autopilot
Much improved fit and finish. The car seems much better built than my early 2014 Model S which is less than 2 years old.
6 seat configuration provides ease of access to the second and third row seats
Large frunk
Ride height is great
Visibility out of the panoramic windshield and the views
Comes with a nice front center console
Cons
Quirky front door and falcon wing doors
Lack of folding second row seats
Middle seat in second row is poor in many ways
Glossy seat backs
Delicate sun visors
Sun glare at times thanks to the new windshield
Width – this is a very wide car, wider than a Hummer, and the Model S was already wide
Looks – While a sharp car, I think the Model S looks better
Requires air suspension (90D and above)
Lost the front pocket on the seats
Open gap behind Tesla logo on front prone to bugs, debris, and weather elements
Front arm rests at bad height (for me) and silly cupholders in them
The Model X Test Drive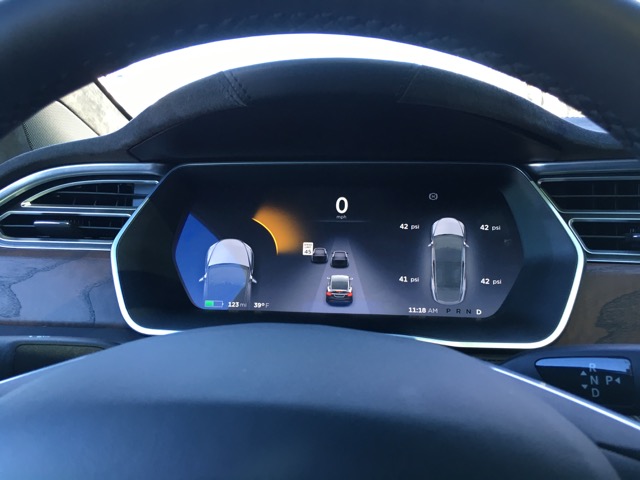 The test drive was rushed. They wanted you in the car, driving, then out and back in the showroom. The drive itself was out of the lot, a U-turn, then onto I-95, up 2 exits, then off, and back down I-95 and back to the showroom. It was maybe 10 minutes long of which 95% of it was highway driving. You couldn't get a real feel for the handling of the car in that time, let alone be able to experience the impact of sun on the windshield at different angles. There simply wasn't enough time to give you a test drive with anything of substance.
The P90D had plenty of pickup as I expected and it was much quicker than my S85 but, at least for the short time I got to drive it, it seemed to be too sensitive on the accelerator. It was going faster than I intended and earlier than I intended. The regenerative braking also seemed to be less powerful than the Model S, possibly because of the increased weight of the car itself, but again I didn't have a whole lot of time to experiment with it or even check the settings.
Since we were just doing highway driving, and the X isn't really much different than the S in that regard, I took the time to play with autopilot a bit. This was my first experience with autopilot and overall it was a great experience. It did choose (safe) positions in the lane I wouldn't have which would take some time to get used to, but overall I loved the autopilot displays, traffic-aware cruise control (TACC), and how easy it all was to operate it all. Autopilot is really nice.
Sitting in the Model X you feel higher up but not enormously so. The panoramic windshield is really nice, but we were driving on a sunny day and the sun was in the top right of my vision making it a bit bothersome. The sun was above the area that could be covered by the sun visor. I'm not sure I'd like that experience in the long term. Also, my wife pointed out that these showroom cars had no salt, bugs or road scum covering that large expanse of glass, but expect to see a lot of that in the real world.
The Hard Sell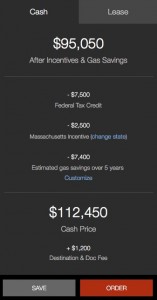 At any normal dealership after a test drive I'd be prepared for the hard sell but I didn't expect to also received that from Tesla. After the test drive the sales guy had us go to a computer and login to the MyTesla site with our login and configure a Model X the way we'd want it. It would have been easier (I have a rather ridiculous and difficult password that I don't often remember) and more friendly if you could have configured the Model X as a guest just to discuss options/pricing as you do in a normal Model S sales cycle.
Going through the configuration quickly revealed that Tesla has made some changes since I last logged in — the hidden second charger option is no longer hidden (finally!), they killed the 85kW battery option (essentially increasing my potential price as I wouldn't have wanted the 90kW upgrade) and you can save your configuration now so you don't have to reconfigure each time you go back in. There were a few other tweaks but nothing else major stood out.
After we configured the X and spoke a bit about the options, the sales associate was asking us why we weren't ready to press the order button. They were clearly driven to get as many orders entered as possible from these events but you can't expect people to make an on-the-spot $100,000+ decision after a brief 10 minute test drive and have only seen the car in person for the first time. People may want to go talk about it, think about options, discuss it some more. This portion of the event could have been executed better in my opinion but I'll chalk it up as either inexperience of the person handling the process or perhaps Tesla corporate is pushing staff to get that order button pressed.
Anyway, for us, the car and the drive all reconfirmed what I've been thinking — if I get another Tesla now it would be a newer Model S and definitely not the Model X.
I explained this to the sales guy and he perked up a bit to hear that I'd like to test drive a new Model S 90D perhaps thinking he could salvage an order this time with a Model S. He said he'd try to make the Model S test drive happen, but despite there being over a dozen corporate Model S' at this location they couldn't get me into one so we left after a half hour of them scrambling around. I'm scheduled for a 90D test drive in a couple weeks.
Conclusion
Many people looking at the Model X are coming from an ICE SUV or minivan and are looking to keep the size and utility while going electric. The Model X has many things that make it a great choice over other SUVs — it's all electric, it has a fantastic user interface for controlling everything from that 17″ touchscreen, it's super fast, and has easy access to second and third row seats.
For me the comparison is quite different. I'm coming from one of the best cars made, my Model S, and looking for something better. While the Model X has many things I'd like to have that my Model S doesn't, it also has things I definitely do not want. The doors are completely quirky. The seats are a mistake in a number of ways. Also, I suspect that, while impressive, the panoramic windshield will be another problem.
I would love to have all wheel drive, upgraded seats, autopilot, a heated steering wheel, front door pockets, heated and cooled seats, and a few other things I don't have today. Most of those can be had on a newer Model S. It can't tow large cargo or haul more than 5 people but I don't really need those things.
The Model X isn't for me, not because it's not a great car, but because I'm not in the target audience for it.
Thoughts, comments? Drop me a note in the comments section below. Also I took many additional pictures which are available over on Flickr.