There are several legacy automakers coming up with vehicles designed to compete against Tesla in the premium electric car segment. Among them, the company that appears to be putting the most effort into its EV push is Porsche, as the automaker is now setting the stage for the release of its first all-electric car — the Taycan, formerly known as the Mission E sedan.
Initially unveiled as a stunning concept car at the 2015 Frankfurt Motor Show, the Taycan instantly attracted a lot of attention and interest among electric car enthusiasts. Unlike other car manufacturers like Jaguar and its impressive I-PACE compact SUV (which does not have a dedicated charging infrastructure), Porsche is putting a lot of effort into making sure that the Taycan becomes a viable alternative to gas-powered vehicles when it gets released. One of these initiatives is the IONITY network, an ultra-fast charging solution being developed with other legacy car companies like Volkswagen and BMW.
In a recent update on its official website, Porsche revealed that it would be rolling out its own dedicated fast-charging solution for the Taycan and its other upcoming all-electric vehicles. The article, which involved an interview with Otmar Bitsche, Director of Development Electrics, Electronics, Electromobility at Porsche and Michael Kiefer, Director of High-Voltage Systems at Porsche Engineering, featured some interesting insights into the company's efforts at developing Charging Parks, a system that does not seem very different from the Supercharger Network being utilized by Tesla.
Bitsche notes that with the current charging systems in the market, "complicated payment modalities and extremely variable energy prices is a real barrier to the acceptance of electromobility." This creates an inefficient charging system that becomes a nuisance for electric car drivers. Kiefer described Porsche's solution to this problem in a statement.
"Someone who wants to drive from Munich to Hamburg in an electric vehicle today needs multiple cards with which they have to authenticate themselves at the charging stations. Porsche eliminates this authentication rigmarole for customers by establishing contracts with all of the charging station operators, so the customer only needs one charging card that is accepted everywhere. And they can also count on a guaranteed electricity price that applies throughout the entire country. Customers of the Porsche charging service ultimately receive just one transparent bill from Porsche," he said. 
Porsche's response to long-distance charging challenges, apart from its participation in the IONITY network, is the Charging Park. Porsche notes that the Charging Park concept is designed to make charging effortless for electric car owners, in the way that they are placed in strategic locations and are available 24/7. The legacy automaker also mentioned the ChargeBox, a charging solution that could be installed in cities and areas that could not accommodate a Charging Park. 
"We have invested a great deal of effort in the issue of user-friendliness. Our charging stations even look different than the predominant ones seen today. They aid the customer through a design that guides the cable cleanly. We've also designed the overall system for the lowest possible power loss. That pay-off in terms of operating costs and the potential operator of the Park stands to save a lot of money.
"We have two different variants, the Charging Park and the ChargeBox. The Park is designed for locations with more available space in which a very high volume of charges is to be expected, 24 hours a day, seven days a week. With a small compact station, however, a charging park is possible in the city as well, for example in a residential area. For all areas with extreme space constraints, there is our second variant, the ChargeBox with an integrate battery. It can be connected to the normal low-voltage grid and enables fast charging in spite of its compact dimensions."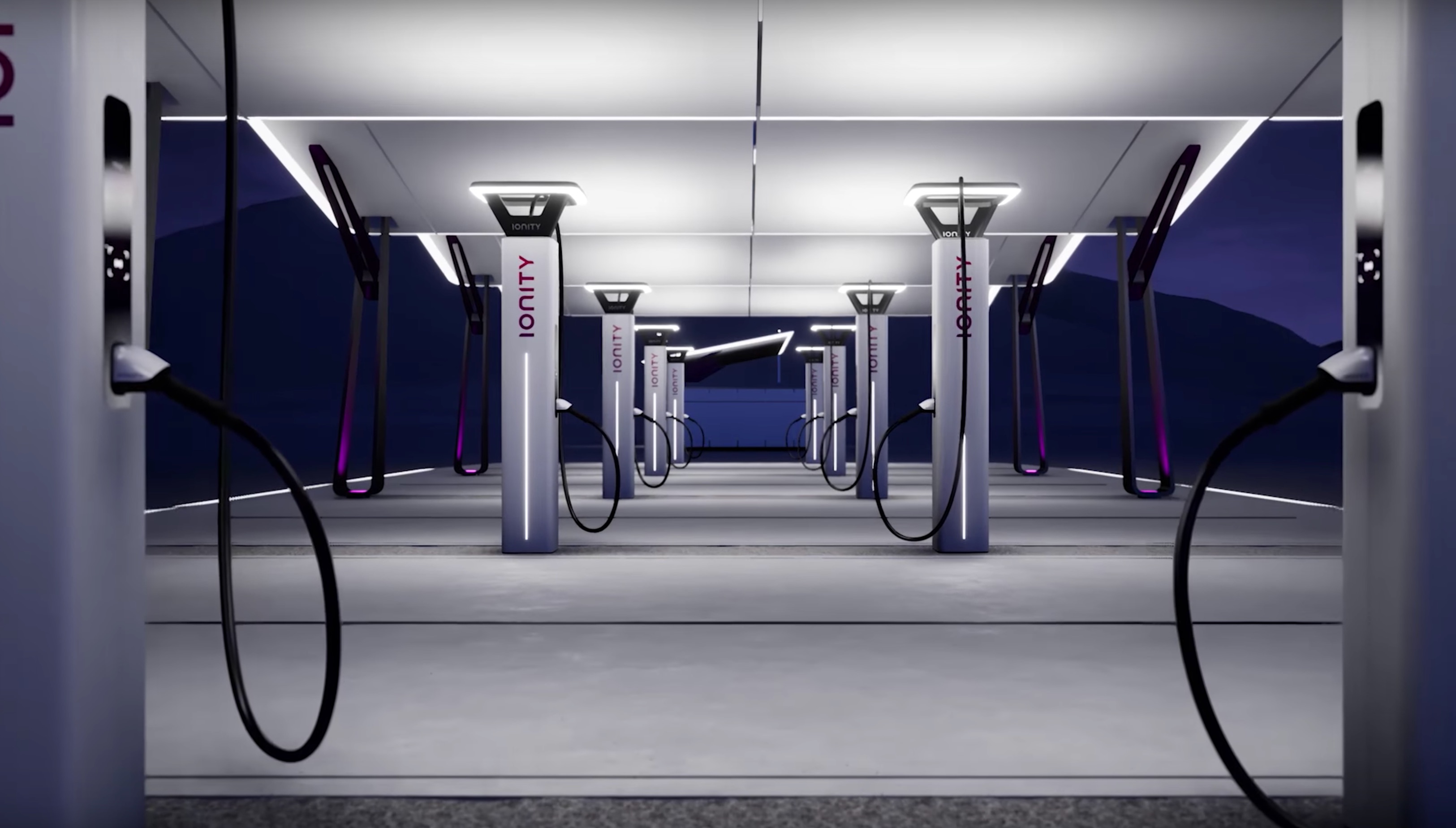 In true Porsche style, its electric cars' charging system is designed for speed. With the Taycan, for example, the complany plans to equip the vehicle with an 800-volt battery optimized for ultra-fast charging. The Taycan could recharge at speeds of up to ~350 kW through the IONITY network and similar systems, far beyond the ~120 kW offered by Tesla's current-generation Superchargers.
Overall, Porsche's decision to focus on a charging network to support its upcoming electric vehicles is a strategic move that can pay off in spades. A dedicated charging system, after all, makes a big difference in the ownership experience of electric cars. Model S, X, and 3 owners, for one, would point to the Supercharger Network as one of the biggest benefits of owning a Tesla, considering that the system enables true long-distance travel. With this in mind, it is quite encouraging to see legacy automakers such as Porsche adopting a rather similar concept for their own vehicles. 
Porsche expects to start the production of the Taycan to begin sometime in 2019, though pre-orders for the vehicle could now be filed in the United States and other selected territories. Production of the electric car is expected to be held at the company's Zuffenhausen facility in Stuttgart, Germany, where it manufactures the Porsche 911, 718 Boxster, and the 718 Cayman. The company plans to roll out 20,000 Taycans per year when the vehicle enters production.