The Porsche Taycan is arguably one of the most highly-anticipated electric cars this year, and for good reason. The Taycan is Porsche's first modern all-electric car, bred with racing DNA and technology honed in the track from hybrids like the 918 Spyder and the 919 Hybrid Evo. It is then incredibly pertinent for Porsche to ensure that the Taycan, particularly its top-tier "Turbo" variant, will not disappoint in any way.
A recent review of a Taycan Turbo pre-production prototype suggests that the top-tier variant of Porsche's electric car could live up to its name, and then some. During a ride-along, Car Magazine European editor Georg Kacher was able to get up close with the upcoming vehicle as it tore through the streets with Porsche's chief engineer Stefan Weckbach.
Equipped with a 96 kWh lithium-ion battery that weighs 650 kg (1,433 lbs), a 215 bhp/221 lb-ft powerplant on the front axle, and a 402 bhp/406 lb-ft motor at the rear, the Taycan boasts 649 lb-ft of peak torque. That's enough to propel the car from a dead stop to 60 mph in just over 3 seconds and into 124 mph in less than 10 seconds. It's not just acceleration, too, as the vehicle is capable of cruising at 162 mph for miles without its battery overheating. Couple that with standard air suspension and a regenerative braking system that is controlled through the steering wheel, and the Taycan becomes an EV that is made from the ground up like every other Porsche: a car that is simply fun to drive.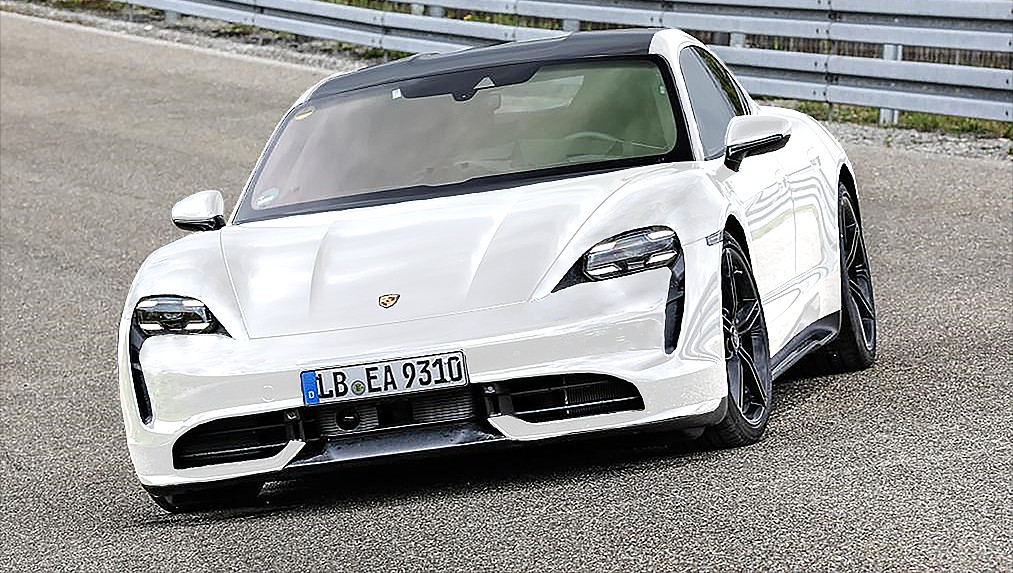 Porsche notes that the Taycan can perform ten full-throttle 0-62 mph and four 0-124 mph launches without seeing a decrease in performance. The vehicle does enter a "limp mode," but only when the distance to empty reads zero. With a 96 kWh battery and a claimed 320 miles of range per charge, Taycan drivers would likely enjoy a lot of spirited driving before they need to recharge their vehicles. Porsche admits that the Taycan is not as quick off the line as a Tesla Model S Performance with Ludicrous Mode, but the company noted that the repeatability of peak performance would be the difference-maker.
It is then interesting to note that the Taycan, which is designed from the ground up to be a high-performance electric car, will likely be competing mostly with the Model 3 Performance, Tesla's track-capable electric sedan. In a way, this would be fitting as the Taycan's 2910 mm wheelbase is closer to the Model 3's 2,875 mm than the Model S' 2,959 mm wheelbase. This is the same for the interior of the vehicles as well, as shown in a review of a Taycan prototype which revealed that the Porsche's back seats are notably less spacious than a Model S.
From its wide tires to its low profile and its sports car seating, the Porsche Taycan seems intent to capture the crown of the auto industry's best track-capable EV. This would put it in direct competition with the Tesla Model 3 Performance, a vehicle that has been developing a reputation for competing and winning against the world's best track-capable sedans like the BMW M3. As shown in Top Gear's test, the Model 3 Performance could do quick work of the BMW M3; but with the Taycan as a rival, Tesla's track competitor would likely be facing a completely different animal.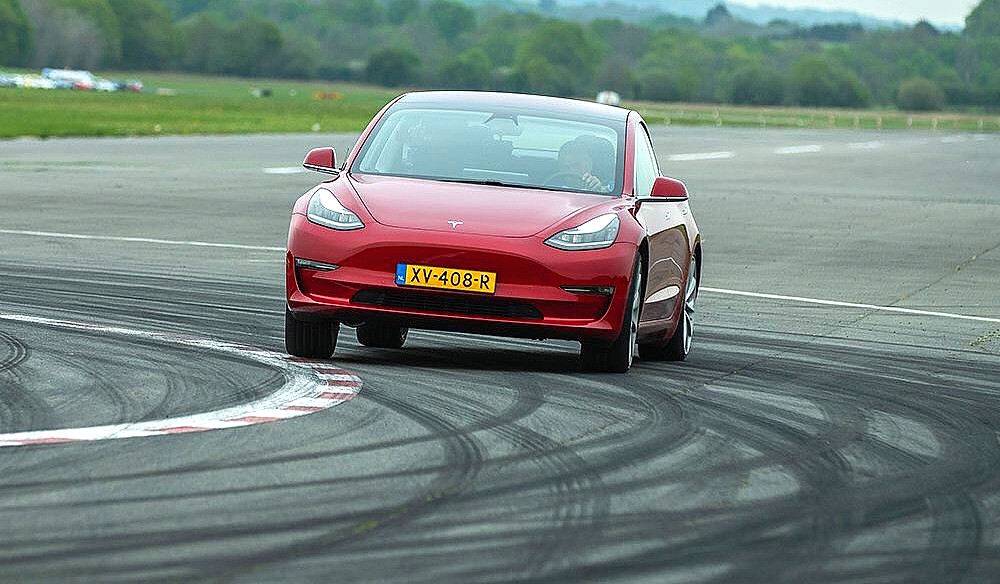 What is rather interesting is that the Model 3 Performance and the Taycan share some similarities. When the Taycan gets released later this year, for example, the vehicle will be capable of charging up to 250 kW at an 800-volt charging point. The car is compatible with 350 kW charging, but that would come by 2021 at the latest. The Model 3 Performance also charges at rates of up to 250 kW using Tesla's Supercharger V3 network.
If there is one thing that the Taycan and the Model 3 Performance share no middle ground in, it would be their price. The Taycan is a Porsche, and it is priced like one. The base Taycan will be RWD only, and it will come with an 80 kWh battery pack and a choice of 322 bhp or 376 bhp motors, as well as a low ~$90,000 starting price. The mid-range Taycan Carerra 4S, estimated to be priced in the high ~$90,000 range, will be fitted with a 96 kWh battery pack and offer 429 bhp or 483 bhp.
The Taycan Turbo, which is also equipped with a 96 kWh battery, is expected to cost around £120,000 ($149,000. That's almost 50% more expensive than a Tesla Model S Performance with Ludicrous Mode, which currently costs just below $100,000. An even more potent Taycan Turbo S with 724 bhp and an RWD Taycan GTS are also in the works. In comparison, the Model 3 Performance is currently priced at less than $55,000 with basic Autopilot as standard.