Believe it or not, one of the major concerns I had when buying my Model S was about storage. While the Model S has a TON of storage for luggage and larger items, storage for your everyday items is extremely limited. I started looking for storage solutions before I took delivery of my Model S and have finally settled on one.
Space Challenged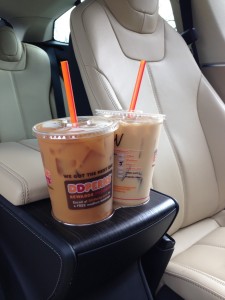 I'm not one for clutter although I do like being prepared. I have toolboxes, extra charge cables (UMC and extensions), tire inflation kits, extra clothes, more windshield fluid etc. all stowed away throughout the car.
Despite having great storage capacity for larger items, I found the Model S lacking in compartmentalized storage for smaller items and basic creature comforts. This started with the cup holder situation. I knew there were only two cup holders in the Model S versus the eight I had in my Acura MDX, but there were other challenges:
The arm rests are unusable when the cup holders are in use
Drinks are hard to reach
The spacing makes it hard to fit two large drinks
Even with smaller drinks they're too close and can pop each others lids off
I actually took my Dunkin to the Tesla store and did a "fit" test before taking delivery. Ok, perhaps that was a bit overkill.
There's a cubby under the big 17" screen which is just large enough to fit a pair of sunglasses and a wipe cloth that I use for cleaning the touchscreen. There isn't a lot of room so anything you place there has the potential to stick out and be in plain view.
The Model S glove box isn't large so items placed within it will generally fall out when it's opened. Your passengers end up having to open it since there's nowhere else to put a tissue, an extra charge cable, an umbrella, etc. Every time it rains and I have to reach for that umbrella I cringe knowing things will fall out as I extract it.
My coins (for meters) ended up in a coin pouch in the glove box totally out of reach of the driver. I could have put them in the door but they'd rattle. In the little pouch of the drivers seat and they'd scratch my phone, and in the cubby, they'd consume too much space.
The Search
Tesla announced a center console solution around the time I ordered my Model S which was back in March of 2014. I quickly got on the waiting list for one but to this day I'm still waiting for it.
While waiting anxiously for it, I came across the EVannex Center Console Insert aka The CCI which other Model S owners had great things to say about. The CCI was about the same price as Tesla's factory console solution and looked somewhat similar in design, and for those reasons I didn't feel very compelled to cancel my order and make the switch. So, I kept waiting for the "official" Tesla one.
As each month passed and with no center console in sight, I felt my patience begin to wear thin. That's when I began looking for an interim center console storage solution that was inexpensive yet effective. There are many Tesla owners that have come up with their own creative solutions for a center console but each of them had issues which I couldn't overlook. Even something as affordable as a $10 center console solution didn't seem worthwhile to me.
Meanwhile some Model S owners began receiving their factory Tesla center consoles in 2014 but ultimately were unhappy with the build quality. This made me second guess whether the factory solution was something I truly wanted to wait for.
As I waited, I saw more and more owners purchasing the EVannex CCI which prompted me to take a closer look at the differences between the two.
Tesla Center Console Comparison
Just to be clear I'm comparing vaporware that has no anticipated delivery date (Tesla's center console) to the EVannex center console which is immediately available. You can't even call your local Tesla store to see a Tesla console – they don't have any to show you (at least here in New England they didn't).
I started looking at every picture and video I could find online of the consoles and read through forum discussions around them. This led me to compile a comparison table of the two Tesla center console inserts side by side as follows:
Features that were common across both consoles were intentionally left out of the comparison (ie. having the ability to hold 2 beverages). Tesla's factory center console and the EVannex CCI are also comparable in price at around $650 so that wasn't considered in the comparison either.
I'll go into a more detailed look at the CCI below but if I were to highlight the two main differences between the two consoles it would be around the styling. The main benefit I saw in the Tesla console was that it had a nice and clean look when all of the compartments were closed where as the EVannex console has some spaces that are always open – mainly the main cup holder and the phone charging compartment. I wish the CCI design had a good way to hide these when not in use which frankly was what held me back from selecting it for quite a while.
EVannex CCI Packaging and Features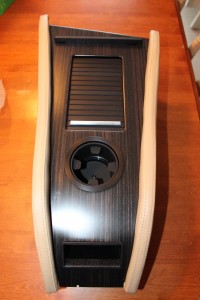 The EVannex CCI comes well packaged in a simple cardboard box. Included with the CCI is a quick start guide and other helpful documentation.
In addition to the quick start guide EVannex refers to an online installation video that I also found helpful.
The CCI offers 3 main storage spaces:
A phone storage and charging area
A cup holder
A covered storage area
PHONE STORAGE
The phone storage area is an opening where you can place your phone (or other items) that you want easy access to. There are provisions to route cables into that area.  I struggled the most with this area for the following reasons:
Its an open space (which I don't like)
Its at a very odd and inconvenient angle to put your phone into
The cable when not in use tends to take up a lot of the space. While you can push it back into the space that's time consuming and not practical.
I also really like the pocket on the front of the driver's seat for storing my phone and rarely need to charge my phone in my car. Overall I'd prefer that this space had a cover so I can use it for hiding a coin purse, Chargepoint card, etc. Right now I don't really use this space but to be fair, I probably wouldn't have used the space dedicated for a mobile device in Tesla's center console either.
CUP HOLDER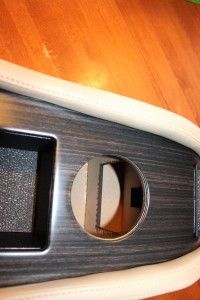 Each cup holder is sized to accommodate large and small drink containers. There's a rubber insert with flanges that provide a firm grip on smaller beverage containers. I always get large drinks and found the rubber inserts and flanges to get in the way and grip too much. Fortunately those are easily removable so I've removed them both.
Now that it's removed, where do I store it? I found I could remove the entire cup holder to reveal a dead space within the interior of the CCI which very conveniently holds the rubber inserts when they're not in use:
STORAGE AREA
The storage area has a nice sliding cover with a magnetic latch. It's well made and the magnet is strong. The main storage area will store quite a bit of stuff and is lined with a rubber pad towards the bottom that helps prevent your belongings from shifting around.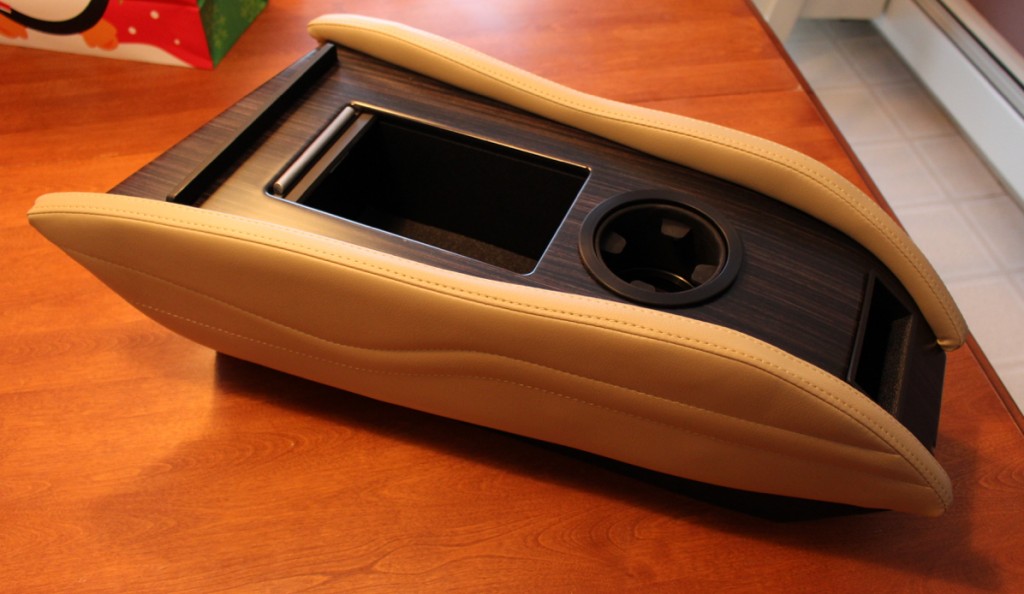 A second cup holder can be slid into the main storage area of the CCI but keep in mind that this will take up about 60% of the main compartment.
When the second cup holder isn't needed you can still close the covered storage area to hide it from view. It is also easily removable, however my one gripe is that it's not very secure. Your drinks wont spill but when you pull the drink out of the second cup holder, the cup holder itself will want to come out with it even with the rubber insert removed. It also shifts around in the space. I'm wondering if I got one with a bad fit since the instructions made it sound like the fit would be tighter for that insert.
Matching Tesla's Interior Trim
One of the main drivers for the CCI over the Tesla console right now is that it is available in a variety of trims that matches the Model S interior trim. In my case I have the Tan leather interior with the Obeche Matte Wood trim.
The CCI was delivered to me within four days of placing my order which I found stunning especially having waited nearly a year (and still waiting) for the factory Tesla center console.
Before installation my CCI I held it up to my dash in order to get this comparison photo. I was shocked at how exact the CCI trim matched my factory Model S trim.
I'm very particular about fit and finish but my wife is the ultimate judge when it comes to color matching and she had nothing but glowing praise for the EVannex CCI. That's when I knew we really had a keeper.
Installing the EVannex Tesla Center Console Insert (CCI)
Following the approach outlined in their video and quick start guide, I inserted the CCI into the empty space between the two front seats and below the dash. There is a trick to inserting it so be sure to review the guides. It is a press-fit so fitment is left intentionally tight.
You should think about what cables (if any) you want to route to the phone caddy area before installation although you can always do it later just by lifting the CCI from its resting area.
I found the fit to be tight and very secure once installed. The CCI does not block the cubby space under the 17" screen so you still have full unobstructed access.
The 2 USB ports and the 12V power port was also easily accessible. I still have a memory stick plugged into one USB port, a USB charge cable plugged into the other and a 12V to dual USB adapter (with cables plugged in) into the 12V power port. If you have devices that stick out a lot you may run into a fit issue but there are many solutions that work around that.
When I first installed the CCI I noticed a gap between the CCI and my storage rails: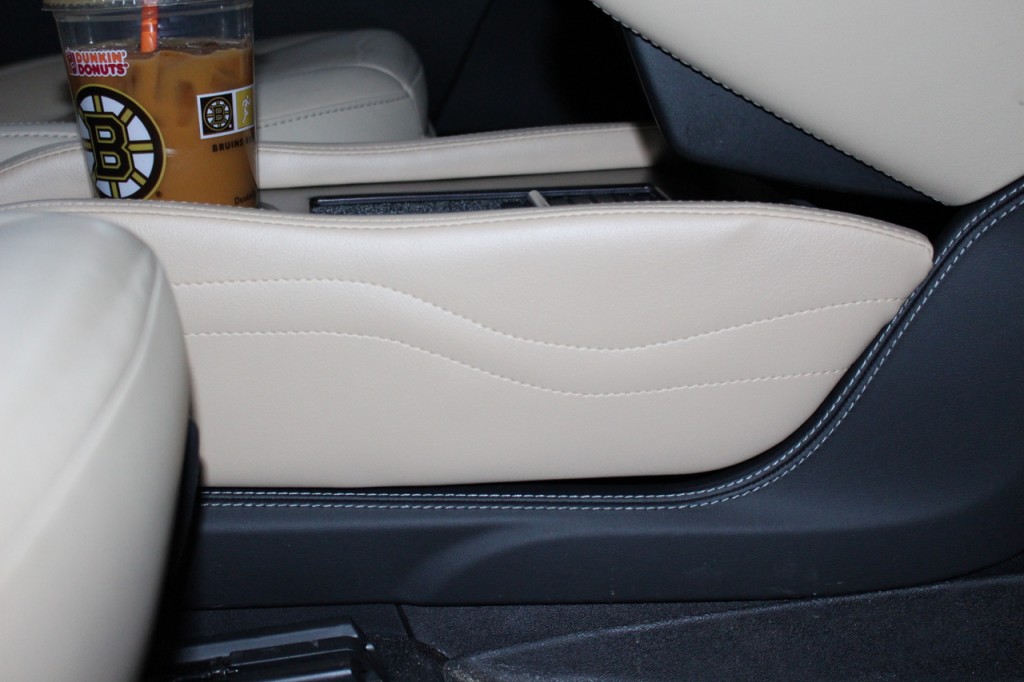 I found that sliding the CCI forward just a bit (there's a little give to do this but you have to apply a bit of force) closes up that gap for a nice clean look.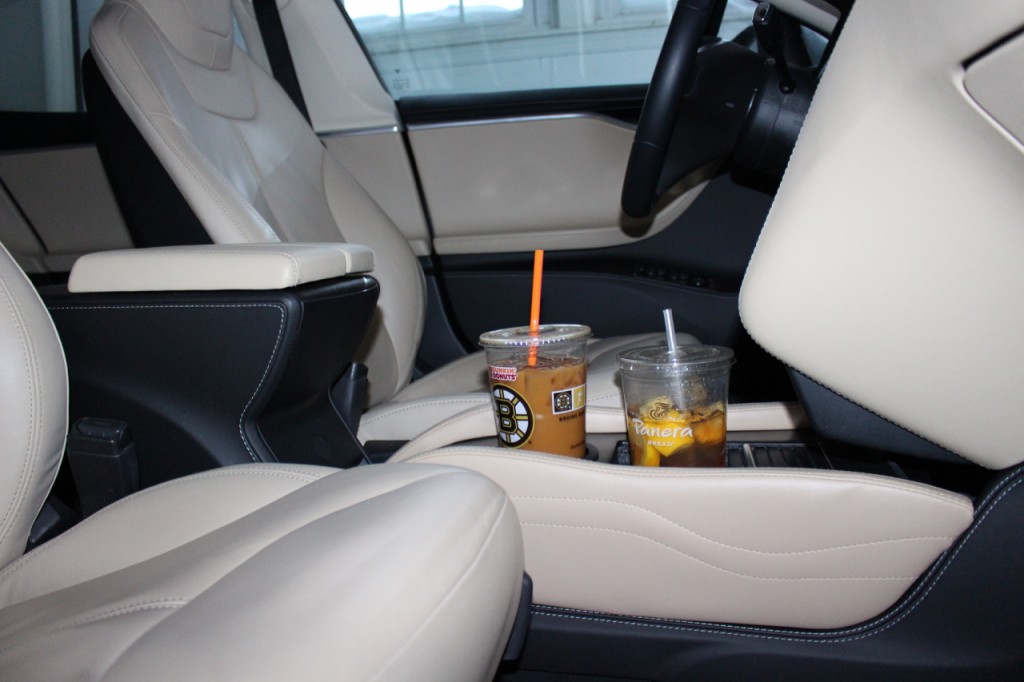 The CCI is very removable and I wouldn't think twice about taking it out if I needed to. It is also very secure once installed and I've had no movement driving through snowstorms and over potholes and frost heaves. The Model S is tough and the CCI is designed to match that toughness.
Using the CCI in the Real World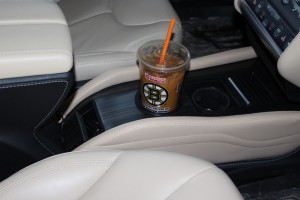 I use the CCI every day. The main cup holder is my go-to spot for my daily Dunkin Donuts fix which sits in a much better location now.
When I have a passenger with a drink they use the second CCI cup holder. Nobody likes to lose their armrest or contort themselves to reach the Tesla cup holders. For short people the second CCI cup holder can be a bit of a reach so it often leads to some discussion over who owns the closer cup holder.
When there's 3 or 4 drinks in the car, we make use of the factory Tesla cup holders. They're the fall back plan for now but it at least allows back seat passengers to rest their beverage container somewhere.
RELATED: Premium Tesla Model S Rear Seat Cup Holders (PARZ) Review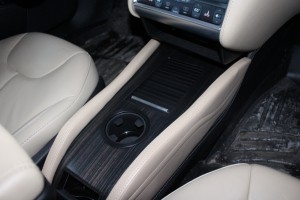 Even with the second cup holder installed I still have napkins, a coin purse and other miscellaneous items placed in the CCI storage area. There's more space there than you'd think, even with that second cup holder installed.
I'm starting to think about how I can use the phone caddy space for haven't decided on something just yet.
EVannex if you're listening: a drop-in that provided a cover would be cool. Perhaps a real coin holder?
The CCI has a great clean look from every angle. It's shorter than you'd expect and your knees won't bump into it.
There are times when you have paperwork, a wallet or some other items that you need to set down. Thanks to the slightly raised side rails of the CCI, you can safely place your items on top of the storage cover without having to worry about the items sliding off the sides. Be very careful not to scratch the surface though. Since the sides of the CCI are raised above the surface, (unlike the factory Tesla center console) you can use it as a stand for your laptop (when parked of course).
Summary
The CCI has surprised me in how well-made it is and also how effective it's been in solving my internal storage problems. I find it amusing that Tesla is so keen on keeping space clean and uncluttered yet they decided to leave people with the hard choice between an open center section or a permanently installed factory Tesla center console. With the EVannex CCI you can have your cake and eat it too. Put it in when you need it; take it out when you don't.
Ultimately, three things convinced me on the CCI:
It's immediately available.
It's easily removable and requires no modifications to the Model S.
It has consistently good reviews among Tesla owners versus mixed ones for the factory Tesla center console.
Sounds good to me.