Rivian's electric trucks are equipped with a suite of active and passive safety features, among them being a number of airbags for the driver and the vehicle's passengers. Airbags have long been proven to protect occupants in a crash, but as Rivian noted in its recent patent, titled "Airbag Arrangement for Protection in a Far-Side Vehicular Crash," there are still improvements that can be made to the placement of airbags. This is especially true for vehicles that are equipped with captain seats. 
While captain seats are incredibly comfortable, they usually result in gap between the seats where there is space for "excessive movement of a person in the vehicle in the event of a crash." With this in mind, providing additional support and protection in the center space would likely improve the outcomes for passengers involved in an collision, particularly those in a far-side collision.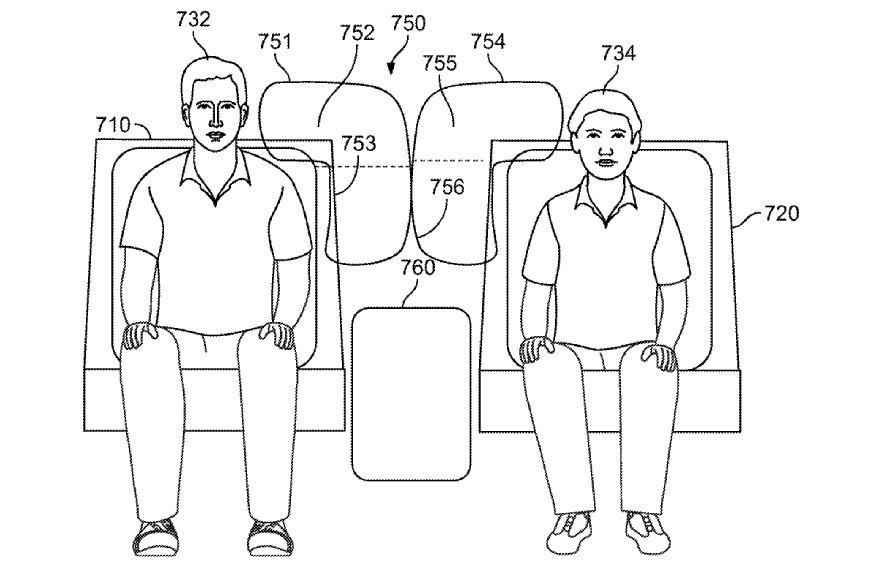 This is where Rivian's newly published patent application comes in. The patent involves a pair of airbags that are designed to fill the gap between the seats of a vehicle. These airbags could be deployed in several shapes and arrangements, and could be used in different vehicle interior designs. With these airbags in place, passengers could be supported better in the event of a collision. 
Rivian describes its center airbag patent in the section below. 
"An arrangement of a pair of airbags is described herein to improve safety for occupants of a vehicle involved in a far-side crash. A pair of airbags may be deployed to fill an interior space in a vehicle to support persons in a vehicle that is involved in a side crash, particularly, a person facing a far-side crash. In general, an airbag inflating into an open space, such as an empty interior space, may have supportive limitations because the airbag may not be braced by a physical structure and can lack a reactive surface.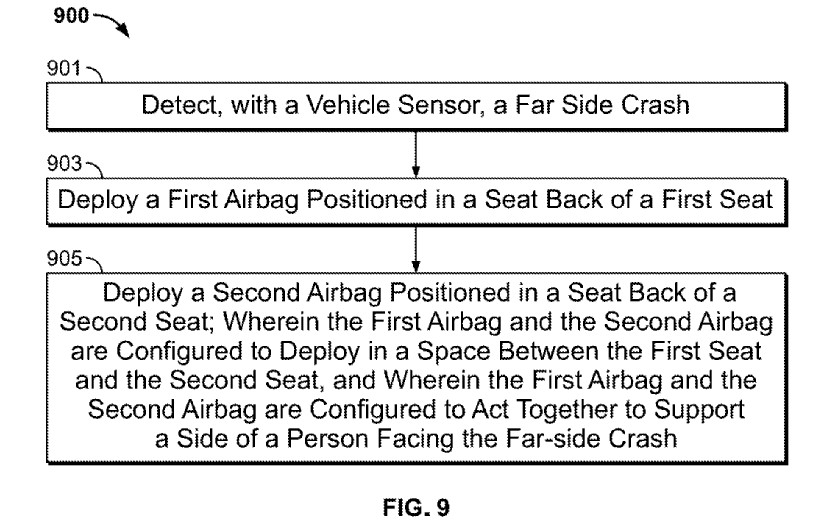 "The pairs of airbags described herein may be deployed in a number of shapes and arrangements and be used in different vehicle interior designs, such as those having particular pillar designs, instrument panel shapes, seat designs and other configurations, in an interior space between vehicle seats where a single airbag may be insufficient for supporting and protecting a vehicle occupant… In some scenarios, the first airbag and the second airbag are configured to act together to support a side of the vehicle occupant on a near side of the crash so that the person is contained from the other person facing the far-side crash."
The full text of Rivian's novel center airbag patent could be accessed here.
Rivian's R1T electric truck and R1S SUV have been received incredibly well since their unveiling last year, thanks to their all-electric design and their uncompromising off-road qualities. The production of the company's first pickup truck, the R1T, is expected to begin next year. As Rivian heads towards its production stage, the company has received a notable amount of support from investors, from Ford to Amazon, whose CEO Jeff Bezos recently announced that the e-commerce giant is ordering 100,000 electric vans from the startup automaker as part of its initiatives to go green.