Rocket Lab's recent flawless return to flight mission nicknamed "I Can't Believe It's Not Optical," set the company up for loftier goals in the latter half of 2020 in a big way. Returning to operation after an in-flight anomaly and subsequent investigation is a massive accomplishment for any launcher. Returning to flight and debuting a pathfinder satellite developed and built in-house, however, solidified Rocket Lab as a full end-to-end space systems company.
For good measure, company founder and chief executive officer, Peter Beck, hopes to round out the year by activating two more Electron launchpads – one of which will be the launcher's first US-based launch location dedicated to supporting missions for the United States government. Furthermore, following Electron's seventeenth flight, Rocket Lab hopes to recover the expended first-stage booster – and perhaps more importantly, a mountain of data – as a stepping stone to launch vehicle reuse, a practice pioneered and solely dominated by SpaceX.
A return to flight and an introduction to space systems
Just eight weeks after Electron's ill-fated thirteenth flight resulting in the loss of a second stage and all customer payloads due to an in-flight electrical anomaly, the next Electron was raised at Launch Complex 1 in Mahia, New Zealand. The fourteenth flight of Electron was a dedicated mission for San Francisco-based information services company, Capella Space. Initially announced, the mission deployed a single microsatellite called "Sequoia" to an approximate 500km circular orbit. Peter Beck later confirmed the mission also secretly featured the successful deployment of Rocket Lab's first in-house designed and built satellite called "First Light."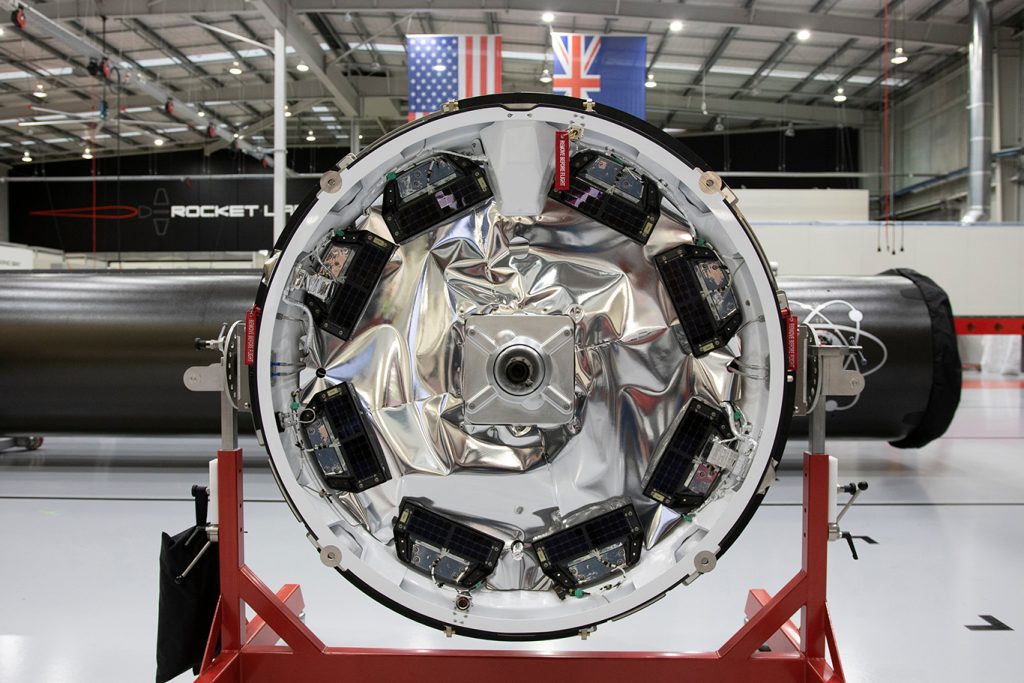 "First Light" is a pathfinder spacecraft based on Rocket Lab's configurable Photon satellite platform. According to Rocket Lab, it exploits Electron's Kick Stage, "a nimble but powerful extra stage on Electron designed to circularize payload orbits." The Kick Stage is designed as a satellite bus with extended capabilities to transition into a satellite – Photon – and performing an independent standalone mission. This is exactly what occurred with "First Light."
Following the deployment of the "Sequoia" microsatellite, Rocket Lab teams signaled the Kick Stage to enable the standalone Photon capabilities. The command transitioned the spacecraft from a delivery vehicle to a fully functional satellite for the very first time. "First Light" serves as the testbed of many upgraded components including improved management systems for power, thermal, and attitude control.
in a statement provided by Rocket Lab Beck said, "Launching the first Photon mission marks a major turning point for space users – it's now easier to launch and operate a space mission than it has ever been. When our customers choose a launch-plus-spacecraft mission with Electron and Photon, they immediately eliminate the complexity, risk, and delays associated with having to build their own satellite hardware and procure a separate launch."
Eventually, the extended Photon capabilities of the Kick Stage will be used to support lunar and interplanetary missions. Beck has gone on record many times stating that Rocket Lab is working toward funding a private mission to Venus with a more robust version of the Photon platform which will deploy a probe to collect information about the Venusian atmosphere.
Counting down to Electron's first launch from Virginia
On September 17, just two weeks after introducing the world to "First Light," Rocket Lab announced the final successful Electron wet dress rehearsal at its new Launch Complex 2 (LC-2) at the Mid-Atlantic Regional Spaceport in Wallops Island, Virginia.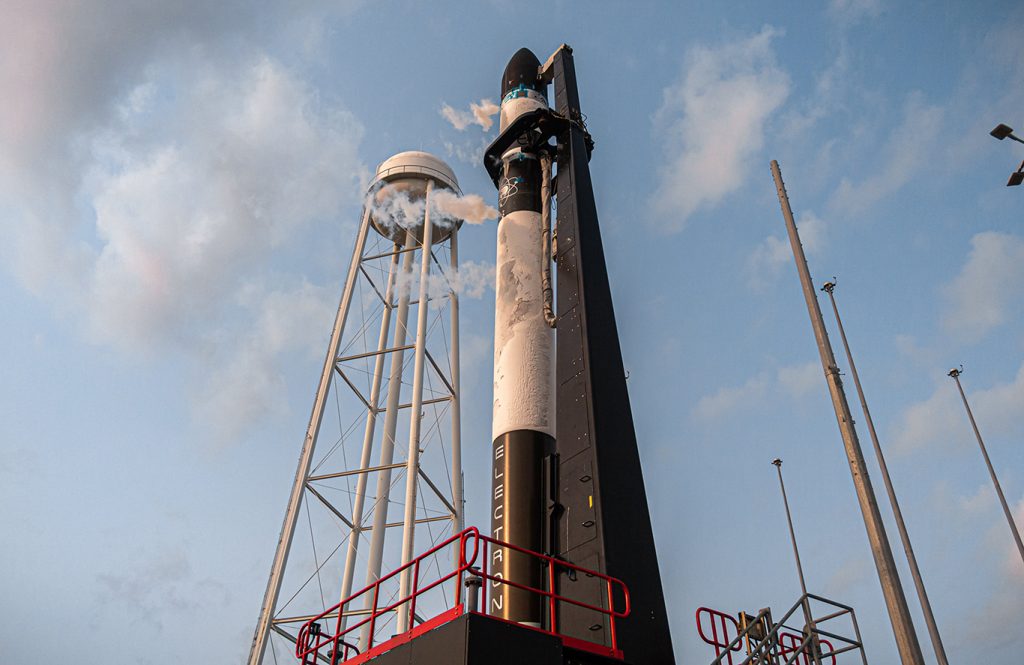 The wet dress rehearsal is a standard preparatory practice of raising the rocket vertical on the launchpad, fueling the rocket, and conducting a practice run of all countdown systems and procedures ahead of a launch attempt. This gives launch teams the opportunity to ensure that the rocket is prepared for flight and work out any kinks that may arise ahead of sending the vehicle to space. The countdown is carried down to T-0 and then the vehicle is emptied and safed.
Recently, Rocket Lab was granted a five-year Launch Operator License by the Federal Aviation Administration for the LC-2 site enabling the space systems company to support up to ten Electron missions a year from U.S. soil. The new operator license combined with the one previously procured for Launch Complex 1 in New Zealand allows Rocket Lab to support up to 130 flights of the Electron rocket globally per year.
It was speculated that Electron's next flight – and the first launch from LC-2 in Virginia – would be the dedicated STP-27RM mission coordinated by the U.S. Space Force's Space and Missile Systems Center. The first from Virginia will launch a single microsatellite for the Air Force Research Laboratory's Monolith program. However, the first mission from Virginia is still waiting on a debut date to be identified.
In order for Electron to fly from Virginia, NASA must first certify Electron's Autonomous Flight Termination System (AFTS) – a protective measure that will automatically destroy the rocket in a safe manner should anything anomalous occur during first stage flight. Electron's AFTS has already previously flown numerous times from New Zealand. The first flight from Virginia, however, will be the first time a vehicle will launch from the Mid-Atlantic Regional Spaceport with an AFTS.
15 launches, 3 launch pads, and a booster recovery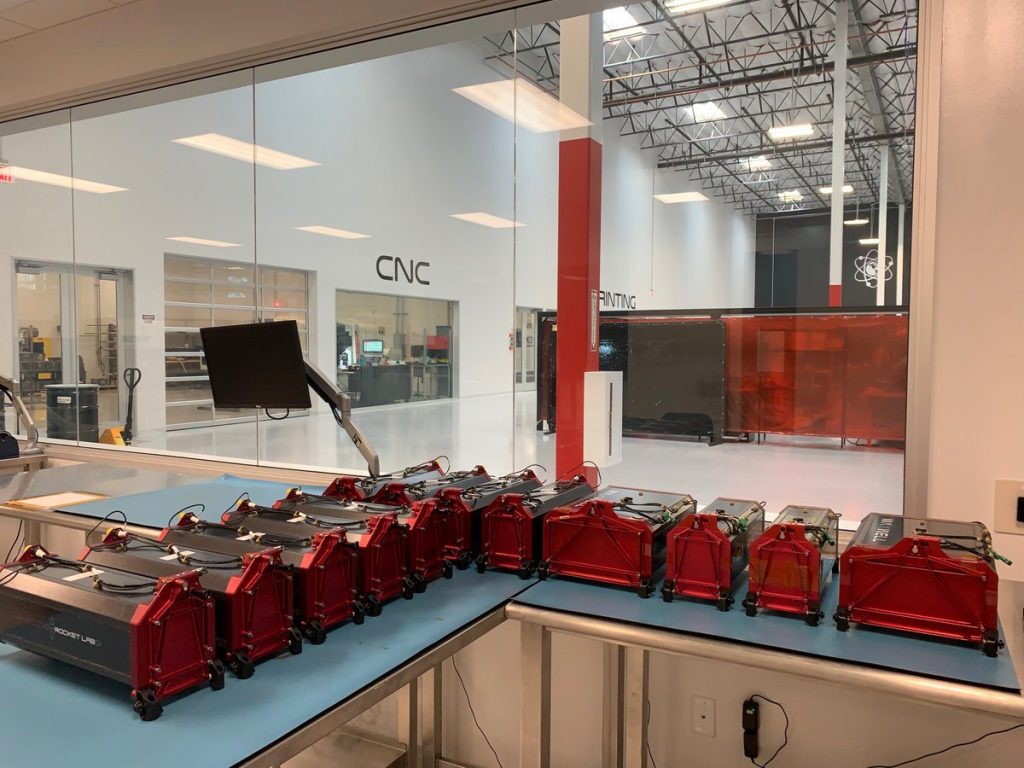 Until then, Rocket Lab is busy preparing for flight fifteen from New Zealand. The recently announced mission, nicknamed "In Focus," is a rideshare mission featuring nine SuperDove satellites for Planet Labs and one payload for Spaceflight Inc. customer Canon Electronics Inc.
While preparing for the next flight, nearby Rocket Lab is simultaneously wrapping up construction on yet another launch pad. Launch Complex 1B is very much near completion and is expected to be brought online by year's end. And that's not the last goal Rocket Lab looks to achieve by the new year.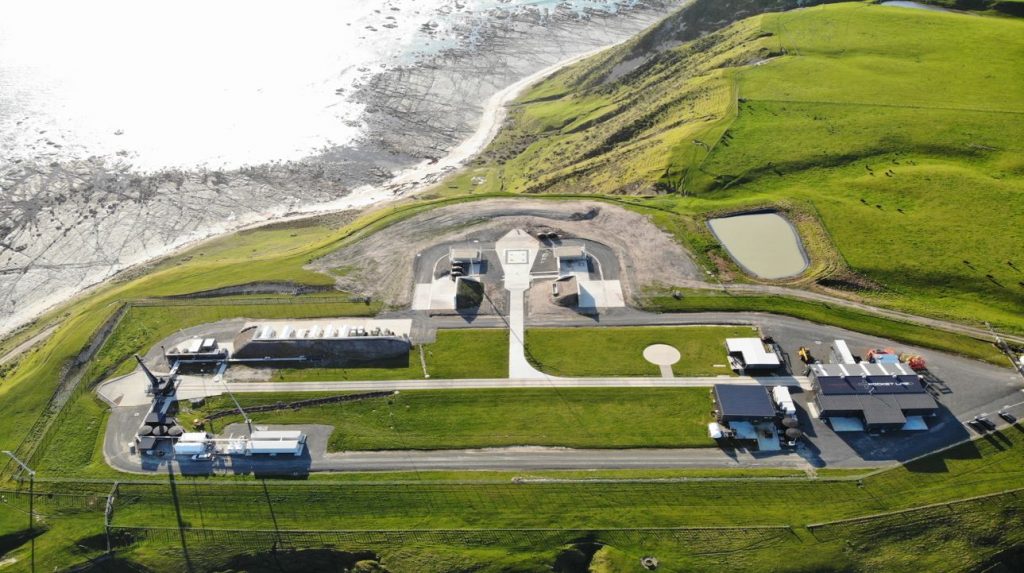 Beck has time and time again confirmed that the seventeenth flight of Electron will be the first attempt at recovering an expended first stage booster. Eventually, the company will attempt to catch the booster as it is falling back to Earth under the canopy of a parachute by utilizing a helicopter equipped with a specialized grappling hook. The first attempt at recovering a booster is not expected to be quite as elaborate.
Rocket Lab has strengthened the first-stage booster enough to survive the return trip. Until now, the booster has slammed into the ocean water and broken up into small bits. With the assistance of improved software and a deployable parachute, the booster of flight seventeen is expected to softly float back for a gentle water landing with the assistance of "recovery pontoons" as described in a Twitter post by Beck.
As of now, Rocket Lab has not identified any target dates for the upcoming milestones. The company has previously stated that the first mission from Virginia is expected to launch in the third quarter of 2020. Electron's next flight – "In Focus" – from New Zealand is expected in the first half of October. Rocket Lab will provide future launch and development updates on their social media accounts.