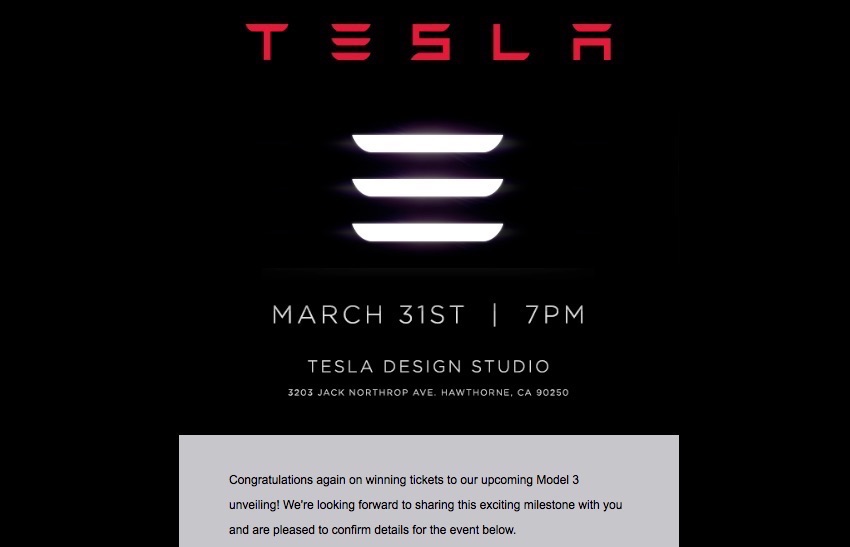 For months I have been half joking about scoring an invite to the Model 3 unveiling event by becoming a "famous" YouTube star. In fact, I started wondering how I could pull this off before Tesla even announced details, and without knowing much about how Tesla handled invites for other events. When the D event was announced, our Model S was on order but I hadn't yet experienced the buzz surrounding events as an official enthusiast. Most of this joking was made on the Forum section of the Tesla Motors website. In fact, on January 8th, this post was started, shouting into the void in case anyone from Tesla management was listening. A fellow forum user was cheering me on, despite none of us at the time really knowing how one would be able to be invited, outside of making 10 or more qualified sales in the second referral contest.
On March 15th, Tesla announced official details about the upcoming Model 3 unveiling event. It would be held at 7pm on March 31st in the Los Angeles area and be an 'intimate' event. To show appreciation to existing owners, a lottery system would be used to fill 650 of the fewer than 800 spaces available for the event.
As soon as the email inviting owners to register for the lottery came through, I urged my husband that we should do it. He worried what would happen if we actually got selected, and was convinced it would happen. We had plans to take off work and arrive at our local service center bright and early to make our reservation for a Model 3. I want nothing more than to get it as soon as possible to be rid of our second car – my ICE Hyundai – and planned to reserve as early as physically possible.
In the hours and day to follow, I started to get nervous. 'What if we get selected?' I thought. That would mean an unexpected trip, un-budgeted airfare, and missing the chance to reserve in store the minute it opens. I can't say whether or not I officially regretted entering the lottery at that moment, but I knew that in the extremely unlikely event of getting selected, I'd have a lot of thinking to do.
March 17th came and went without hearing anything. There was not yet any chatter about owners getting selected by the time I went to sleep on the East Coast and I assumed the word would come down overnight. By the time my alarm sounded at 6:30am, my better half was already nearly done his workout at the gym. He sent me this email, "Obviously we need to chat …."
Yes, it happened. Just as he predicted it would, we got selected to attend the event. I squealed a little. I jumped out of bed. I ran right to my computer and for reasons unbeknownst to me at this moment, I posted a video of my face sharing in the excitement.
I texted my husband the words "Yes, yes, yes!"  I started searching flights. To be honest I had already searched flights and saved an itinerary two days prior which would get us a direct flight at a semi-reasonable price. Back in January, I took first place in one of my fantasy football leagues. $281 in winnings were set aside "just in case" I had a plane ticket to buy in late March. This was supposed to be the week I spent it on something stupid, since by now I'd know that there was no chance I would be at the Model 3 event.
$860. Each. That was the price of the exact flight that was only five-something two days earlier. No way that was going to work. I started to realize that in the few times I had searched flights for the day, anything under $600 was pretty rare, unfortunately. Flights are meant to be booked well in advance and we just didn't have that luxury.
Maybe we should drive to LA. Shoot, I'm going to be late for work. I drove the whole way with my head buzzing trying to figure out how best to get my butt to LA in two weeks. "We're still young, we can do this", I thought. It's probably only two days of driving. Per the EV Trip Planner, it's 55 hours each way. Wait, that's not going to work. There were only 24 hours in a day last time I checked, and we'd need to sleep. (I googled a notable EV cross country trip and realized they had three drivers, took turns sleeping, and had more backup drivers following in an ICE. It took meticulous planning.)
For a few hours I took a mental break. Little did I know the Mister was at searching flights. Once he told me about one he found, a feeling of urgency started setting in. My tone got a bit frantic and I ended up booking before he could give me his blessing.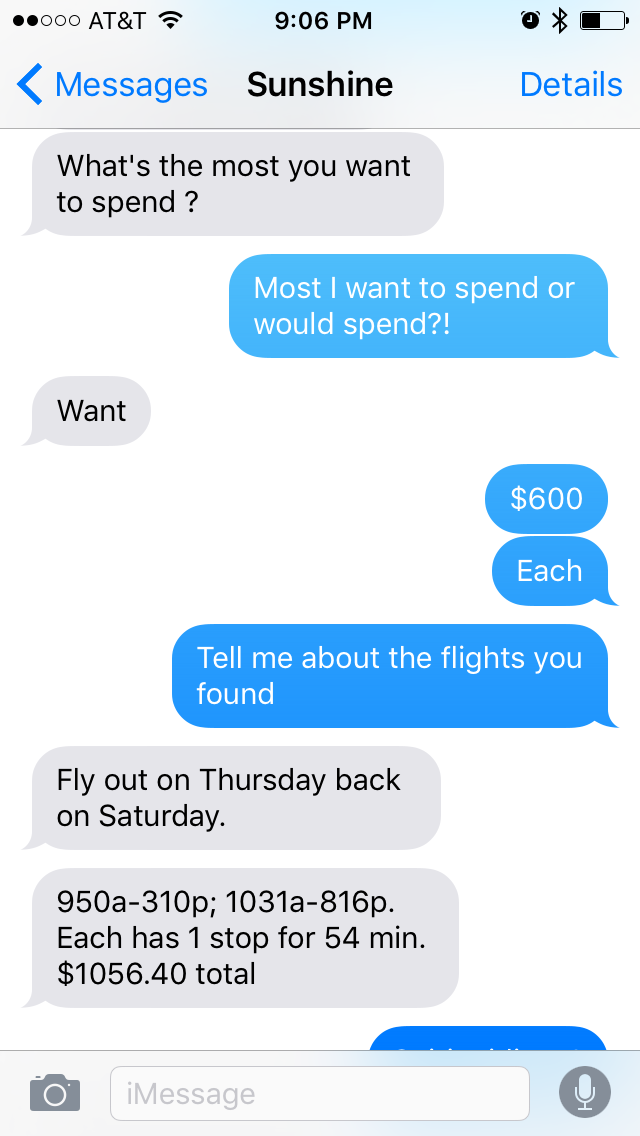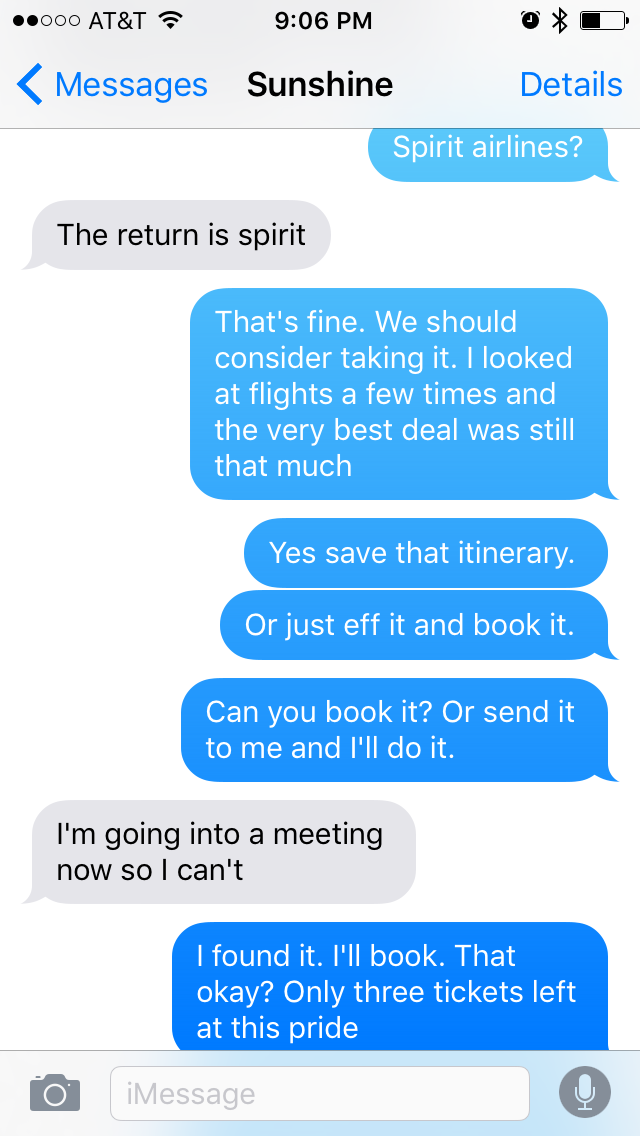 Breathe. We're going. What's $1056 at a time like this? This is the beauty (downfall?) of credit cards, I don't really have to think about it until the due date next month. In my mind tens of thousands of owners signed up for a chance to be at this event and passing up on an RSVP (that we volunteered for) wasn't an option.
What about my plans to reserve in store at the first possible moment? I'll be in the air. There are no scenarios where I can be at a store (even one in California) anywhere near the first hour. I called my local service center and asked for someone in sales to call me back.
"I understand you have a question about reserving a Model 3."
"I promise you won't have gotten this question from anyone yet. Wanna bet? No, that's stupid, let me just tell you… I planned on coming by and waiting around, maybe bringing coffee and donuts to hang out with you guys and place my deposit at the first possible moment. But I can't. I'll be in the air. On my way to Hawthorne!" 
A very pleasant and supportive voice congratulated me. He reminded me that owners would be prioritized over non-owners. I told him of my crazy theory that even reserving at the event, 9 hours after in-store reservations started, could mean 6 months or more of production wait. He chuckled and mentioned getting roughly 15 visits or phone calls every day last week asking about reserving. And that's in Pennsylvania, where only a previous few EV owners live.
Reservation worries aside, I'm pretty pumped about the event. Do you have any speculation about what to expect? Or for that matter, what the dress code will be? Let me know in the comments section!
See recent posts from Electric Jen.
More Tesla Model 3 News