SpaceX's first Falcon 9 launch in more than three months finally has a launch date and it looks like the company's growing fleet is going to attempt to catch (or land) almost every piece of the rocket, a big first for Falcon 9 reusability if SpaceX can pull it off.
After an exceedingly long wait, SpaceX's next launch – Starlink's first "v1.0" mission – is finally on the Eastern range and is scheduled to launch no earlier than ~10 am ET (15:00 UTC) on November 11th, recently confirmed by SpaceFlightNow.com and LaunchPhotography. Although similar lulls in US orbital launch activity have occurred in the past, they are extremely rare: the last time a lull more than three months long occurred was in 2010.

For SpaceX, this is the longest the company has gone without a launch since Falcon 9's last catastrophic failure, which grounded the rocket for ~4.5 months after a massive explosion in September 2016. By all appearances, the likely 14-week gap between orbital SpaceX launches is little more than the product of bad luck, with customer payloads and SpaceX payloads both coincidentally requiring more time than expected to prepare for flight.
Although the extreme delay between launches is unfortunate, it also happens to have given SpaceX's recovery engineers a lot more time to prepare the latest member of the rocket recovery fleet for its first attempted fairing catch. Known as GO Ms. Chief, she joins fairing recovery vessel GO Ms. Tree (formerly Mr. Steven) and has spent the last two or so months being outfitted with a brand new net and arms – slightly different but nearly identical to Ms. Tree's.

Pictured in Stephen Marr's tweet at the top of this article, Ms. Tree and Ms. Chief appear to be more or less complete, and Ms. Chief took to the Atlantic Ocean with her net installed for the first time just over a week ago. If the ships are as prepared as they look, there's a strong chance that Ms. Tree and Ms. Chief will be able to team up to attempt the first simultaneous catch of both halves of a Falcon payload fairing. At the moment, SpaceX has caught a single parasailing fairing half twice during its last two consecutive attempts, a strong sign that the company has solved what proved to be an extremely challenging problem.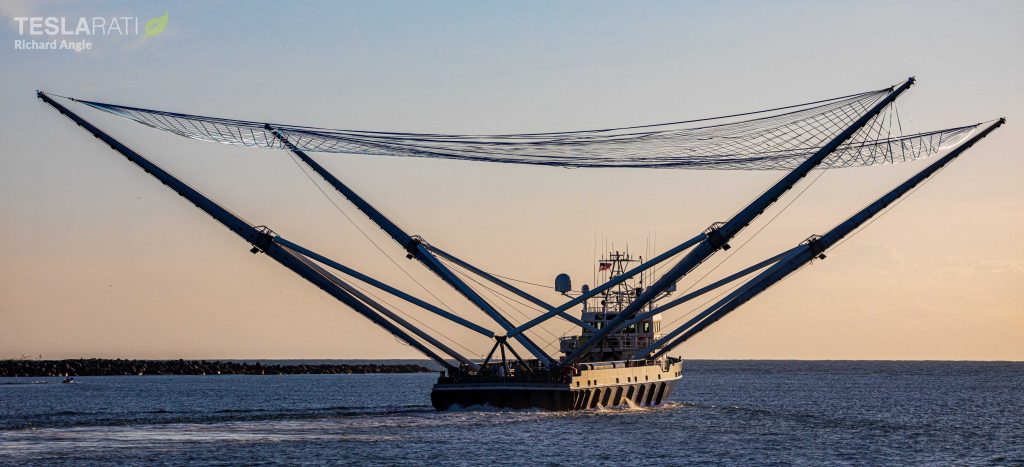 Falcon 9's next reusability milestone
As always, prior to launch, SpaceX will fuel and static fire the Falcon 9 rocket to verify that all systems are performing nominally. According to NASASpaceflight.com, that static fire test is scheduled no earlier than Tuesday, November 5th, approximately six days before launch.
Speaking last month, VP of Flight and Build Reliability Hans Koenigsmann stated that Starlink-1 would fly on a thrice-flown Falcon 9 booster, meaning that the mission will likely mark the first time SpaceX flies the same Falcon 9 booster four times. At this point, SpaceX's Falcon 9 Block 5 nth-reuse milestones are becoming less and less surprising as it becomes clearer than ever that the rocket upgrade – designed to support "at least" 10 launches per booster – is well on its way to reaching that goal.

At the moment, the most likely candidates for that fourth-flight milestone are Falcon 9 boosters B1048 and B1049, the former of which flew its third orbital mission in February 2019, while the latter supported SpaceX's dedicated Starlink v0.9 launch debut in May 2019. Falcon 9 B1046 – also with three launches under its belt – is scheduled to fly for the fourth (and probably final) time as early as mid-December for Crew Dragon's critical In-Flight Abort Test, while Falcon 9 B1047 flew its third and final mission in August 2019.
All things considered, SpaceX's quasi return-to-flight after three months without a launch is set to be an exceptionally important mission for Falcon 9 and should be well worth the wait.
Check out Teslarati's newsletters for prompt updates, on-the-ground perspectives, and unique glimpses of SpaceX's rocket launch and recovery processes.