Update: Less than 24 hours after publishing, SpaceX began installing Starship SN15's nose section, stacking the significantly upgraded rocket to its full 50m (~165 ft) height.
Excluding the installation of a few minor 'aerocover' surfaces used to smooth out the interface between Starship's hull and four flaps, SN15 will effectively be complete and ready to roll to the launch pad as soon as its nose and tank sections have been welded together. Historically, for SN8-SN11, that process – including visual and radiographic (x-ray) inspections for quality assurance – has taken as few as one or two days, meaning that SN15 could technically be ready to roll out as early as Monday, April 4th.
Of note, SpaceX has already scheduled a road closure from 7am to noon CDT (UTC-5) on Monday – likely to transport a crane to the pad but potentially enough to get both a crane and SN15 to the launch site. Simultaneously, an upgraded or modified hydraulic ram – used to simulate the thrust of three Raptors – was already moved to the pad and installed on one of two suborbital launch mounts on Saturday, April 3rd, meaning that the pad will likely be ready for SN15's installation tomorrow.
If SpaceX manages to complete both transport tasks on Monday, odds are very good that SN15 will be able to get through one or several qualification tests – including an ambient-temperature pressure test, cryogenic proof, wet dress rehearsal, and static fire – by the end of the week. Stay tuned for updates!
---
Beginning almost immediately after Starship SN11's midair explosion earlier this week, SpaceX has accelerated work on a new Starship prototype upgraded with "hundreds of improvements."
In November 2020, Musk first revealed plans to implement "major [Starship] upgrades" as early as prototype SN15, though the improvements involved in the first apparent Starship 'block' change were never detailed. On 30 March 2021, the same day as Starship SN11's foggy, ill-fated launch debut, Musk confirmed that the SN15+ block upgrade would feature "hundreds of design improvements [to] structures, avionics, software, and [Raptor engines]."
Around the same time, after more than two months of little to not visible activity, work on Starship SN15 rapidly restarted in an apparent bid to achieve Musk's stated goal of rolling the rocket to the launch pad "in a few days."
Possibly due to a significant shift in focus from Starship mass-production to the construction of Boca Chica's first orbital-class launch pad and flight tests of prototypes SN8 through SN11, Starship SN15 has been in the stacking and assembly phase since the turn of the new year. About a month ago, in early March, the rocket's tank section was stacked to its full height and has been making slow progress in the weeks since – clearly not a pressing priority.
The day after SN11 exploded, SpaceX stacked the last two pieces of Starship SN11's nose and joined their plumbing and avionics runs, more or less completing the upper third of the prototype. Both nosecone flaps were installed a few days prior. On the same day, March 31st, SpaceX rolled Starship SN15's tank section (the bottom two-thirds of the rocket) out of Boca Chica's 'mid bay' assembly building and installed both after flaps before moving the vehicle into the 'high bay.'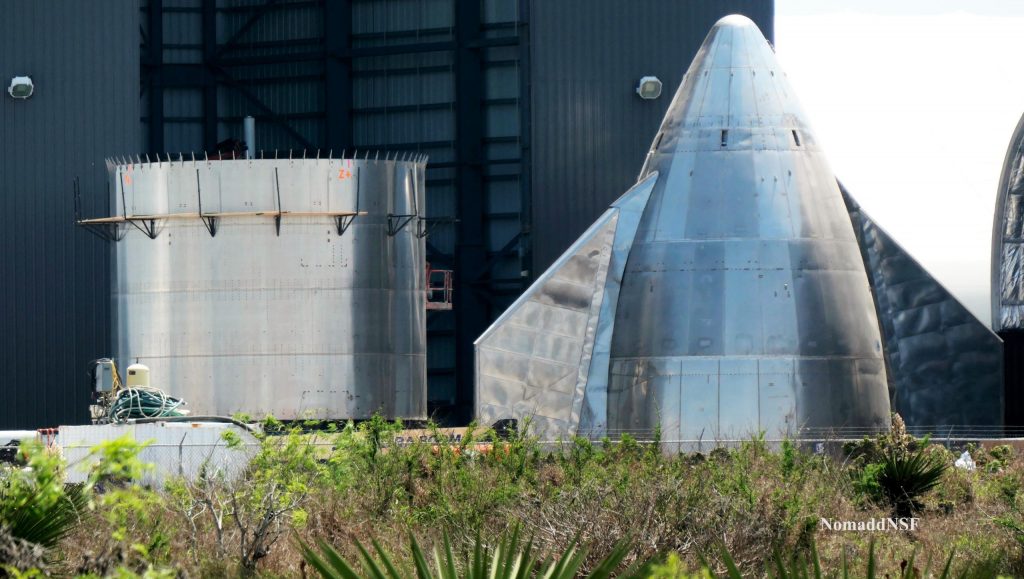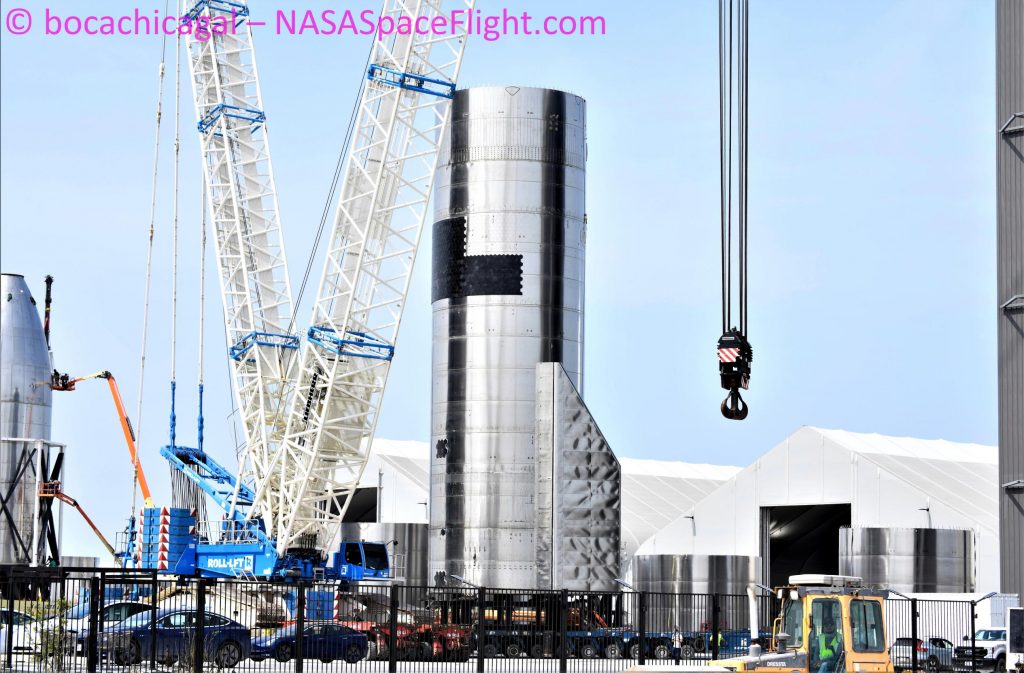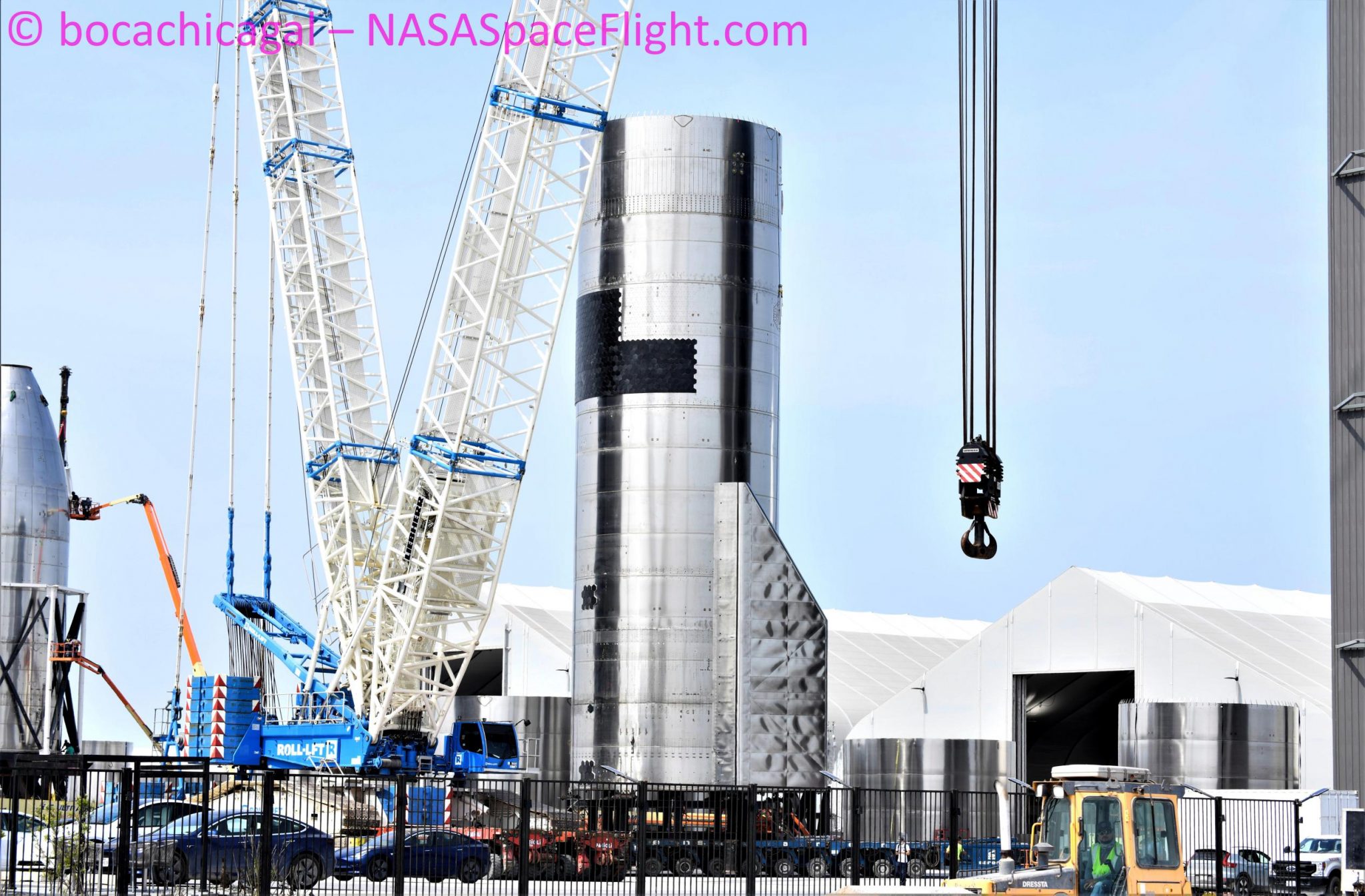 With those steps complete, Starship SN15 should be just a few days away from nose installation, at which point it will need just a few more days of work before SpaceX will be ready to install the rocket on a transporter and roll it to the launch pad. It's not implausible that that move will happen as early as next week, perhaps even leaving enough time for an acceptance test or two before the weekend.