Day 1 of SpaceX's long awaited Hyperloop Pod Competition is underway in Hawthorne, California. Approximately thirty teams competing in the SpaceX-sponsored event including the winner from last year's Hyperloop Design Weekend, MIT, will be judged on four categories ranging from safest and most reliable pod to best performing while in flight.
We had a chance to go behind the scenes with University of Wisconsin-Madison's BadgerLoop team to witness what it takes to prepare for the high speed competition. Those following Hyperloop developments may recall that Teslarati interviewed BadgerLoop after the team won the Pod Technical Excellence award last year and qualified for this weekend's Pod Competition.
For the select thirty-plus members of BadgerLoop out of a total of one hundred and sixty team members contributing to the project, many of whom are undergraduates at University of Wisconsin-Madison, the experience of traveling 2,000 miles to the home of SpaceX to compete hasn't really sunk in. "The entire team just went crazy as we rounded the corner on Rocket Road and saw SpaceX's Falcon 9 rocket resting there. It was surreal." says Claire Holesovsky, third year Junior and Operations Director for Badgerloop.
Kali Kinziger, third year Junior and Industry Relations Lead at Badgerloop tells us that the team has been working around the clock all week out of SpaceX's testing facility during the day, where Hyperloop pods from competing teams undergo a series of structural and mechanical inspections conducted by SpaceX employees, and from nearby Unplugged Performance during the evenings, leading up to Friday's start of competition.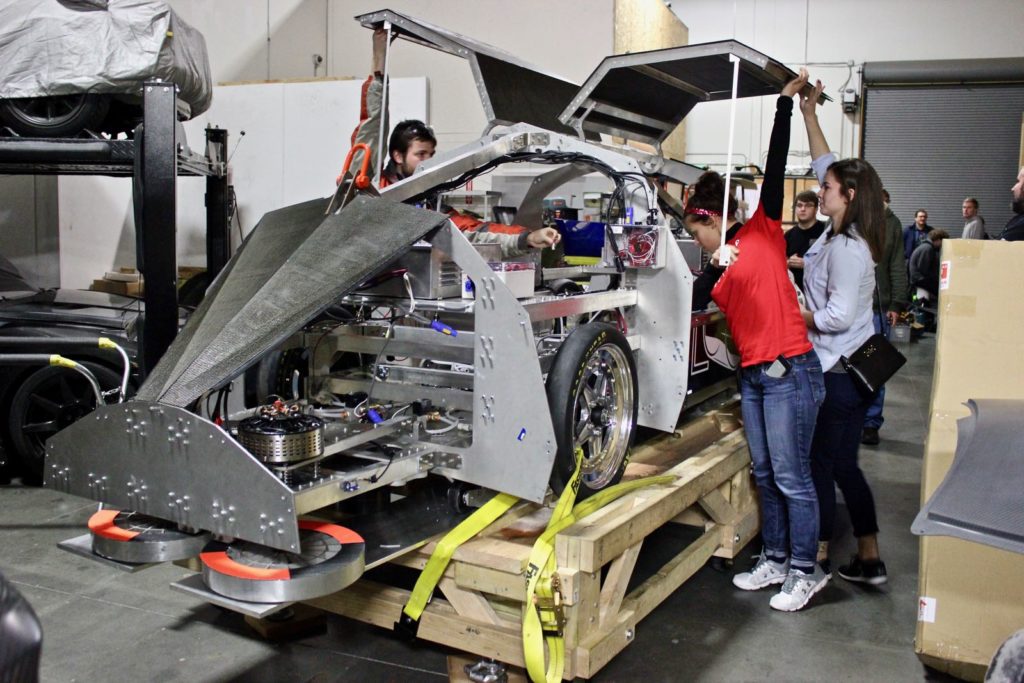 Duncan Adams, BadgerLoop's Technical Director and fifth year Senior in Mechanical Engineering who interned at SpaceX last year, gave us a tour of their award-winning pod concept. The core of the pod is an aluminum chassis outfitted with four 90 horsepower electric motors – two in the front and two in the back – that leverage Halbach arrays to create a magnetic field that passes over Hyperloop's I-beam sub track . It's enough to keep the 2,100 pound pod (second largest pod amongst all teams competing) traveling near 200 mph and smoothly along the track. Duncan tells us that the pod was designed for a person six-foot two inches. Why? "We just want to see Elon in the pod", says Claire.
The carbon fiber skinned pods will be propelled by a 140V, 1000 AMP battery. Duncan tells us that SpaceX will utilize a pusher to initiate movement of the pod before team's are expected to self-propel their pods. Demonstration of pods will take place over three days and BadgerLoop is expected to demonstrate their Hyperloop pod on Sunday.
For the BadgerLoop team, this weekend's pod competition will be an invaluable learning experience that can't be taught. "The learning experiences we have gained are far greater than the curriculum we receive in the classroom. We are able to build off our classroom knowledge by getting hands-on experience with the outside world." says Kali.
Updated: Previous video showing the BadgerLoop team going through a pod fitment test on SpaceX property was removed by request.