Tesla China is showing that it is implementing a zero-tolerance policy when it comes to lying about the prices of their cars. The company made a statement on its Weibo account earlier today, indicating that rumors of a fake Model 3 price drop would be dealt with in a Court of Law.
According to the posting from Tesla China's official account on the Chinese social media platform, a user known as "Teikeni" stated that the price of the Model 3 would be dropping to ¥199,000 ($29,787) before incentives.
Currently, the Standard Range+ costs ¥249,900 ($37,406) before incentives, making it the most affordable version of the Model 3 sedan for Chinese customers. However, Tesla was clear in its posting that the price is currently set for the Model 3, and there is no indication that it will be dropping the price even further.
Tesla China's account also stated that it would be taking the user who started the rumor to court.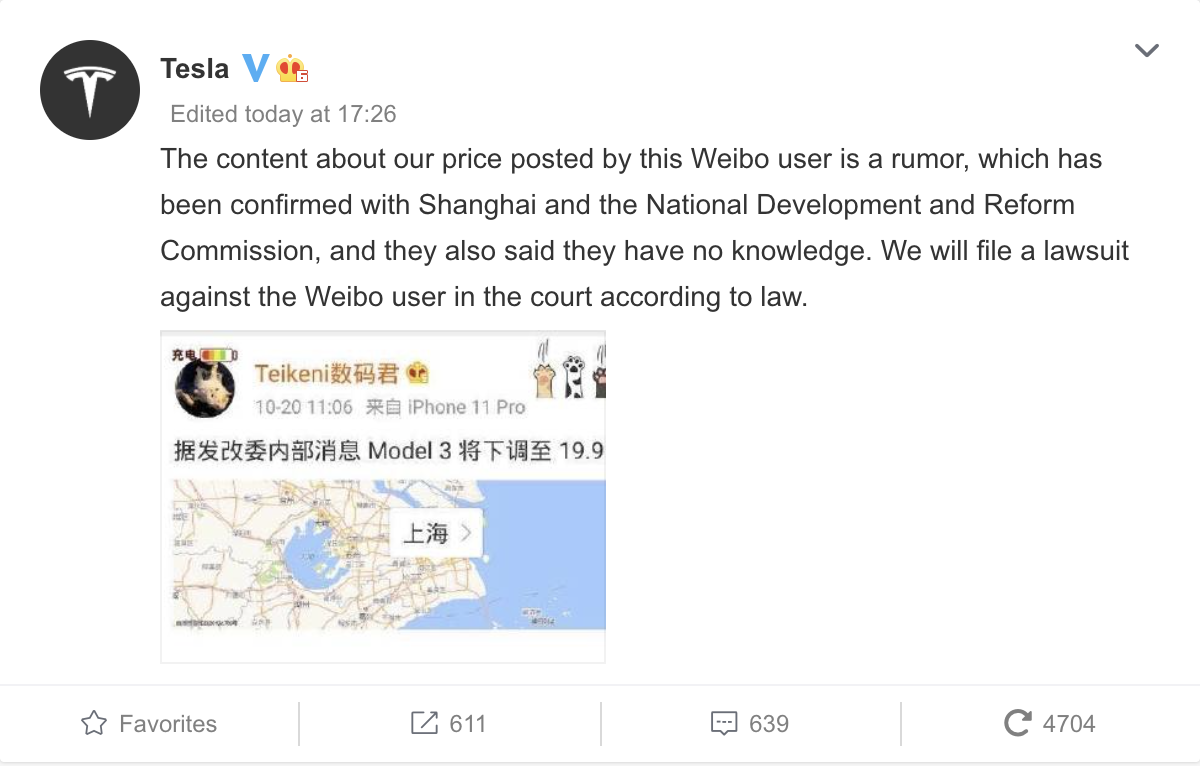 The company's statement regarding the false narrative regarding another price drop stated:
"The content about our price posted by this Weibo user is a rumor, which has been confirmed with Shanghai and the National Development and Reform Commission, and they also said they have no knowledge. We will file a lawsuit against the Weibo user in the court according to law."
There are several laws that are violated by the Weibo user in this case. One could be Article 4 of the Advertising Law of the People's Republic of China, which states that "Advertisements shall not have any false or misleading content or defraud of mislead consumers."
Another is directly in regards to "rumor spreading" in an online setting, which holds a penalty of up to three years in jail. Reuters reported on the introduction of this penalty back in 2013, when the Chinese Judicial System noted that users could be charged with defamation if rumors they create are visited by 5,000 users or if the rumor is reposted more than 500 times.
This is not the first time Tesla China has had to deal with a lawsuit on a public scale. In August, Tesla filed a lawsuit against e-commerce giant Pinduoduo, who recently ran a promotion for the Model 3 sedan without Tesla's approval.
The news of the false price reductions is indicative of an effort to gain notoriety by using Tesla's name. It is a reminder to always confirm Tesla news with the company directly, or through an intermediary that has reported on the company's price changes in the past in an accurate manner.