Tesla's new Cybertruck is as much of an all-electric pickup truck for the adventurous early adopter and high-tech consumer, as it is an aristocratic armored battle machine for a dystopian future. At least that was my first impression after taking the first test ride in Elon Musk's seven-year-in-the-making baby on Thursday night in Los Angeles.
Riding through the backlot of Tesla's Design Studio and SpaceX headquarters, it didn't immediately register in my head that this spirited test ride was taking place inside a bulletproof truck that's the size of a Ford F-150 SuperCab. Spanning 231.7 inches long, 79.9 inches wide, and 75.0 inches tall, Tesla's Cybertruck isn't exactly small and certainly won't be someone's second Tesla sharing the average home garage. This thing is going on the driveway.
The auto-presenting door handles are reminiscent of the Tesla Model S and run flush against Cybertruck's DeLorean-style stainless steel body. Not any regular stainless steel. Musk's brainchild is fortified by ultra-hard 30X Cold-Rolled stainless-steel that Tesla calls the Exoskeleton.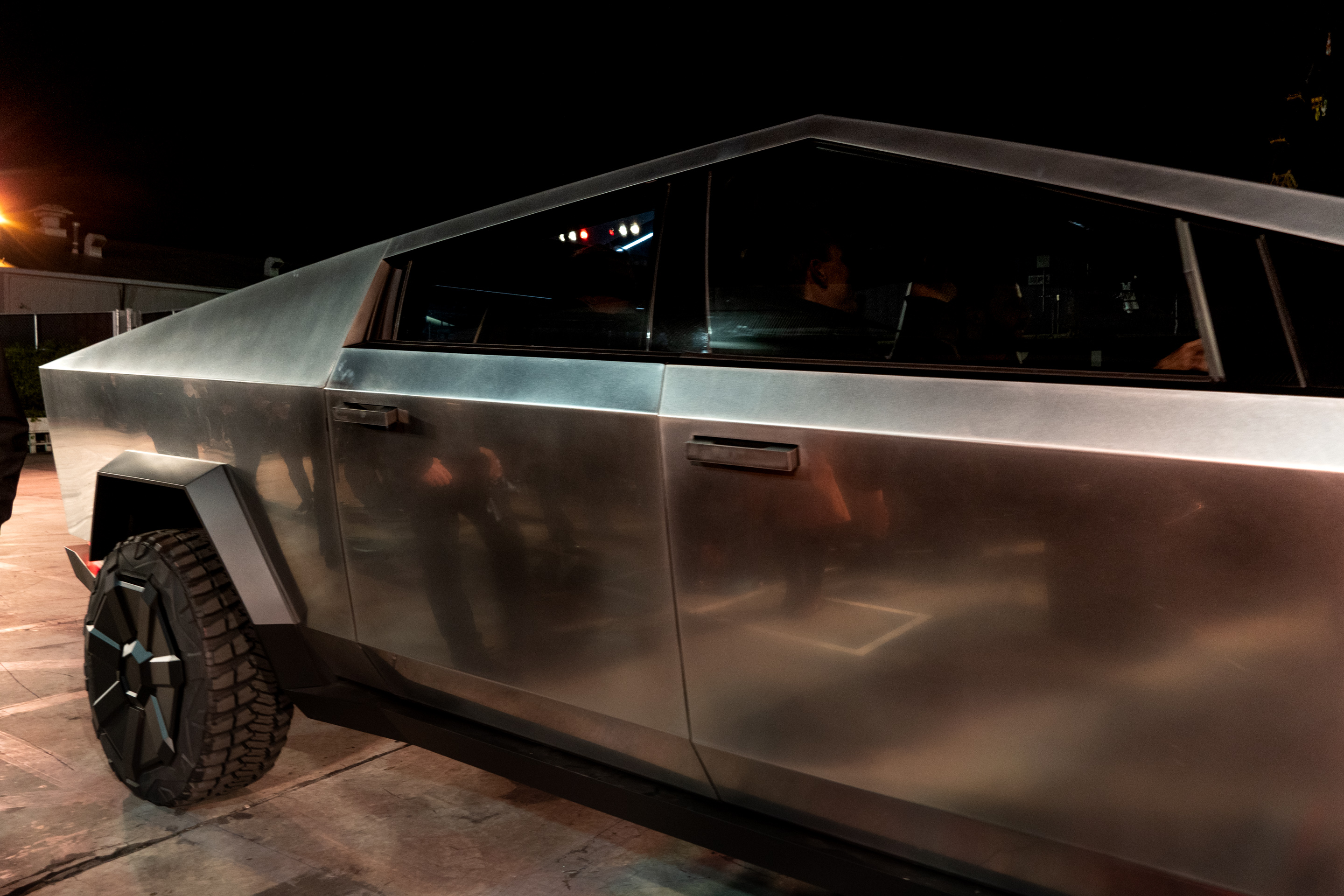 As we climbed into the cyberpunk "Blade Runner" inspired truck, a satisfying thud from closing the door jarred my memory that Tesla's Chief Designer Franz von Holzhausen just slammed a sledgehammer against them. This thing's a beast.
And we're about to take off.
The ever-so familiar feeling of instant acceleration from an all-electric powertrain would follow. We blasted down Jack Northrop road in Tesla's dual-motor prototype, reaching 60 mph from a gradual 20 mph roll in roughly 4 seconds. Tesla claims a 0-60 mph time of 4.5 seconds for the dual-motor variant, while a tri-motor configuration will be able to eclipse it in 2.9 seconds.
The sounds of Cybertruck's big, knobby tires clawing at the road are a reminder that no noises go unnoticed in an electric vehicle.
Tesla's DNA for interior design that's characterized by extreme minimalism, combined with high-tech features, carried through to its electric Cybertruck. A single 17-inch center-mounted touchscreen acts as the main command center for this heavyweight. Tesla didn't release details on Cybertruck's weight, however judging by the similarity in size to a Ford pickup, and taking into account a battery pack that can support up to 500 miles of range, one can presume that Tesla's "Supertruck" will top the scales at nearly three tons. The rearview "mirror" is actually a digital display that projects video captured from a rear-facing camera. This allows for greater visibility, especially when cargo's on board such as a Tesla All-terrain Vehicle. Because the truck's vault can also be covered and used for closed storage, having a camera that streams video to the rearview mirror is of utmost importance.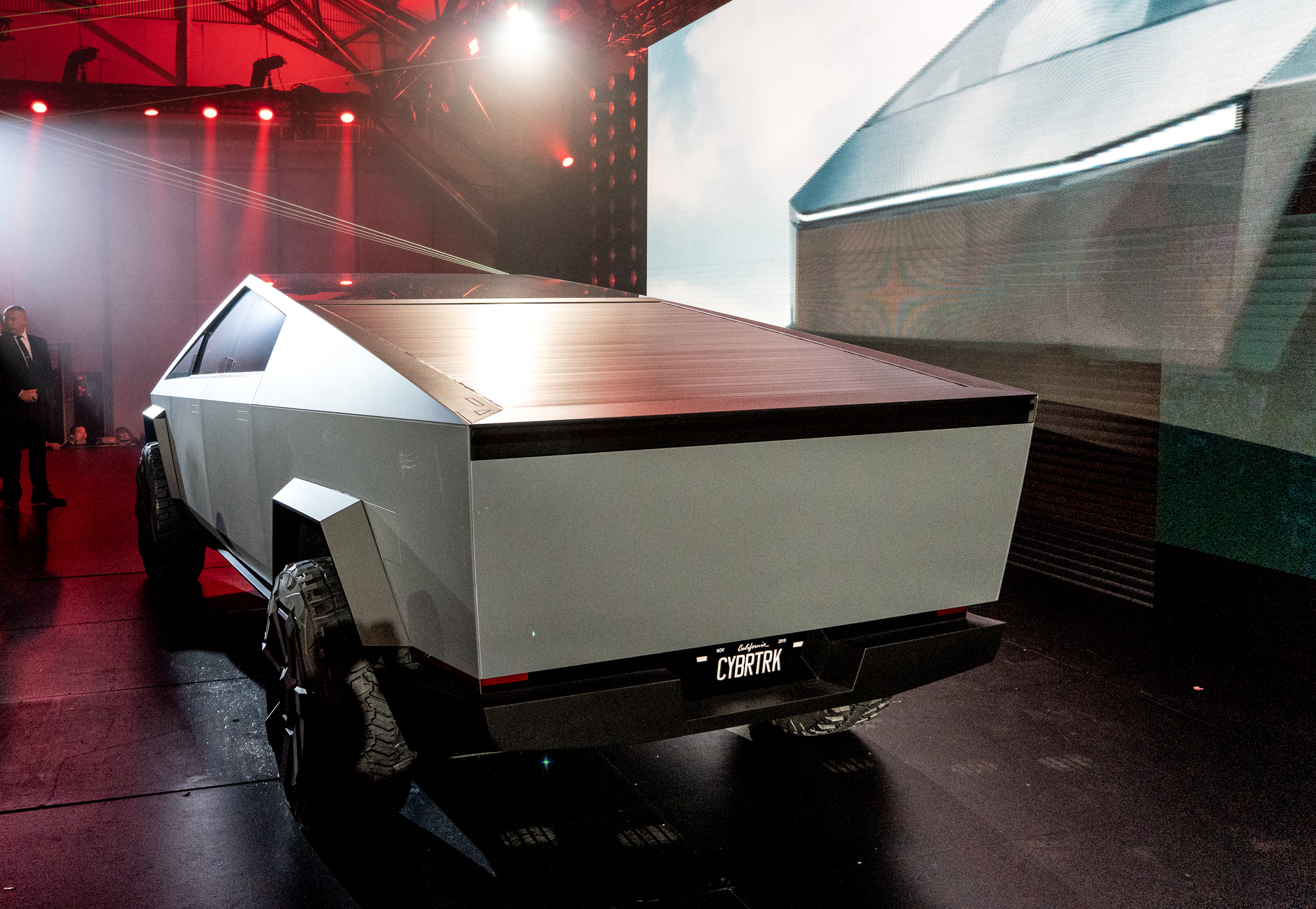 The dashboard and center console were very reminiscent of the Tesla Model 3. The interior was comprised of an airy glass roof, seating for five adults with the option to have a sixth seat in place of the front center armrest, and not much else.
Looking out through the narrow rear window and Cybertruck's stainless steel finish comes into focus once again. What is traditionally referred to as the pickup bed, Tesla is calling this 6.5 feet long space a vault. A sleek set of lights runs alongside the vault and illuminates any content that's inside.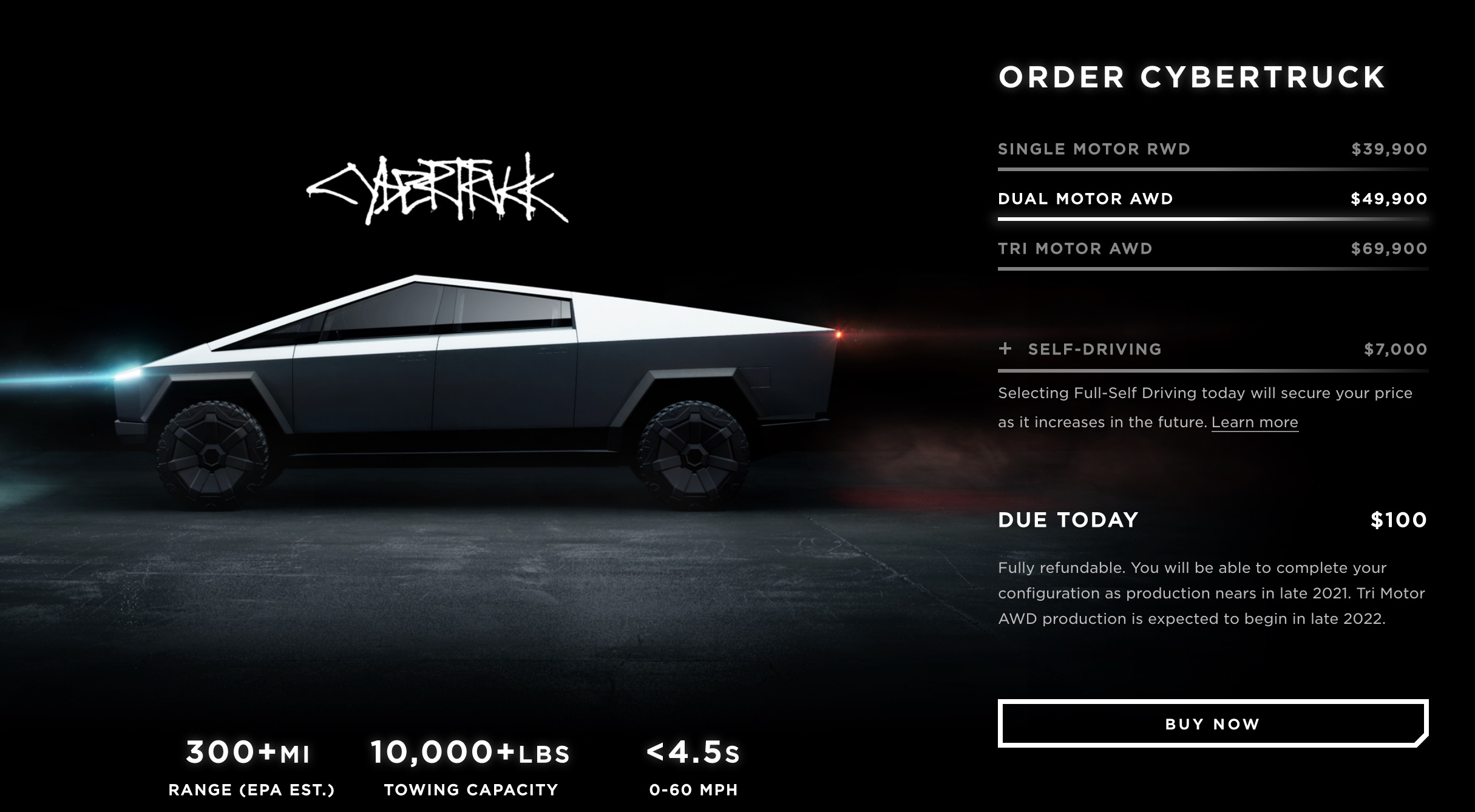 With a starting price of $39,900 for the single motor Cybertruck and just under $50,000 for the dual-motor all-wheel drive variant, Tesla's pickup truck is priced competitively in the top-selling automotive category in the US.
Will Cybertruck appeal to the existing Ford and Dodge pickup truck demographic as we know it? Probably not. But that's okay. Its polarizing look that elicits feelings of both I love you and I hate you, takes some time to process before becoming a buyer.
Similar to Musk's mission to showcase an alternative to the traditional minivan with something utterly over-engineered like the Model X, Tesla aims to do what the Falcon-winged SUV did for the soccer Mom, as it looks to do with the DIY-savvy early adopter who also happens to be a bit handy. Make no mistake, Musk's Blade Runner truck won't be replacing the Ford F-150 anytime soon.
Also, make no mistake, Tesla Cybertruck is as badass as they come and won't have much competition when it becomes the official truck of Mars.
I love you. I hate you. I love you again.