Tesla unveiled its long-awaited Cybertruck this evening at the SpaceX rocket factory near Los Angeles. CEO Elon Musk revealed the truck's cyberpunk look along with numerous descriptions of the vehicle's specs, but in an unexpected twist at the tail end of the presentation, Musk stated Tesla had created an all-terrain vehicle (ATV), surprising attendees of the event.
The all-black ATV was unexpected, as Musk was ready to walk off the stage to end the presentation before adding that Tesla had decided to make a four-wheeler. A rider navigated the ATV onto the stage before hopping off to load it onto the newly-unveiled pickup truck. As the Cybertruck's bed cover slid up revealing the six-and-a-half-foot space, the rider maneuvered it onto the pickup, showcasing the truck's adaptive suspension,  and plugged it into a charging outlet located above the truck's right rear tire.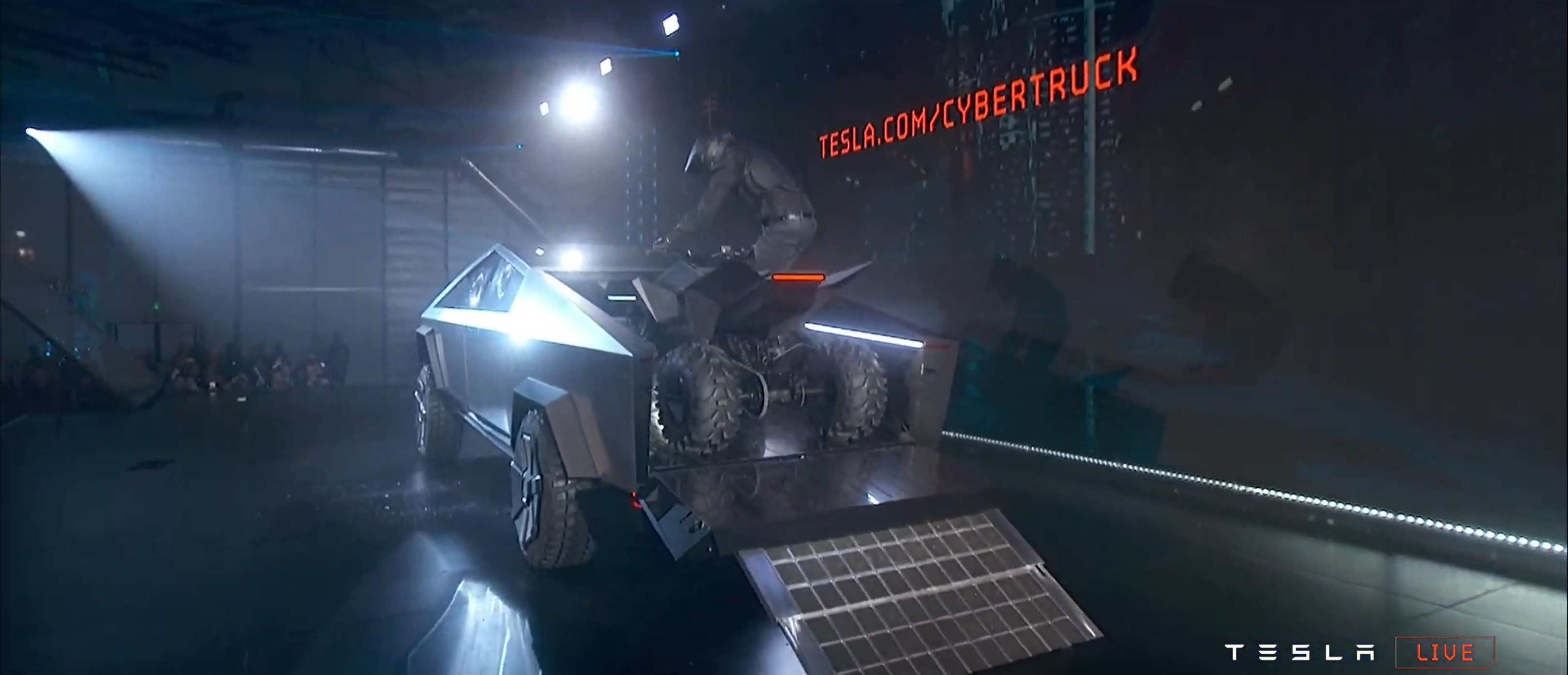 The ATV has long been a mode of transportation for those interested in outdoor activities. However, they are powered by gasoline and petrol-based products. There are very few electric ATVs on the market, and they are all aimed toward a safe way for children to gain knowledge on how to operate them. The only full-electric ATV on the market presently is the Stealth Electric ATV that uses a 4 kW motor to support 72 volts of power, giving it 35-38 miles of range and speeds capable of 35 MPH.
While Tesla noted the new Cybertruck will be useful for those who want to utilize it in an off-road setting, the ATV will complement the use of the new electric pickup in the outdoors. The benefit of having the ability to charge the ATV from the truck's bed will provide convenience, as owners will not be forced to haul gasoline with them to the ride site. Tesla seems to be gearing up for the outdoor market, as fellow electric car maker Rivian has geared their vehicles toward those who enjoy experiencing the outdoors.
Specifications regarding price, battery capacity, top speed, range, and towing capacity for the ATV are still unknown at this point.