A recent sighting of the Tesla Cybertruck at Palo Alto, California, has attracted the attention of electric vehicle enthusiasts online. While the all-electric truck is covered with a camouflaged wrap that's been sighted in the past, the vehicle appears to have been equipped with new wheels.
Uploaded on Instagram by user zecazan, the Cybertruck video showed the all-electric pickup truck driving smoothly on the city's roads. As the vehicle passed by the Instagram user's car, one could see that the Cybertruck had apparent aero wheels. 
When the Cybertruck was released in 2019, the vehicle's first prototype was fitted with massive off-road tires and futuristic aero covers. Later sightings of alpha prototypes over the years suggested that Tesla was testing the Cybertruck with different wheel configurations. The recently spotted Cybertruck wheels, however, do not appear to have been spotted before. 
The apparent aero wheels look pretty sleek on their own, though electric vehicle enthusiasts online are split on whether they match the Cybertruck's brutalist design. One of the best things about the Cybertruck's original aero covers, after all, is its unashamedly futuristic look.
While the Cybertruck's range would likely be substantial, aero wheels will likely go a long way toward maximizing the all-electric pickup truck's range. As such, it is no surprise that Tesla may be looking to release the Cybertruck with aero wheel options, whether the vehicle is equipped with off-road or street tires.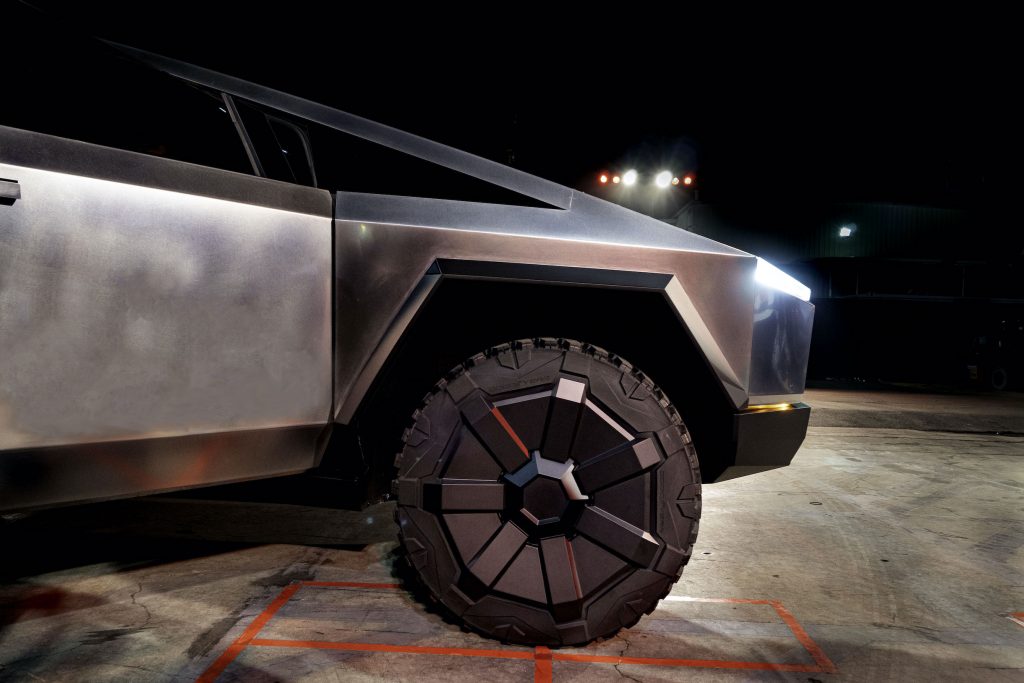 The Cybertruck has seen its own fair share of delays, but the vehicle is attracting a lot of excitement among EV fans, and possibly regular truck buyers as well. In a recent comment to CNBC, Wall Street veteran and TSLA bull Gary Black predicted that the Cybertruck will become a rolling billboard that could ultimately help sell Tesla's brand even more. 
"(The Cybertruck is) gonna start rolling across America like a rolling billboard, and people are gonna see it, and they will be like, 'Wow, that's real interesting,' and they're gonna go to the website, and they're gonna order a Model 3 or Model Y or Model S or Model X or a Cybertruck. And you're gonna produce this whole halo effect, which is exactly what happened back in '20 when the Model Y first came out," Black said.
Don't hesitate to contact us with news tips. Just send a message to simon@teslarati.com to give us a heads-up.