Tesla's recent 2019.16 update is filled with new features that make the company's electric vehicles even safer on the road. Among these is a new driving visualization system, upgrades to Sentry Mode, Lane Departure Avoidance, Emergency Lane Departure Avoidance, and Conditional Speed Limits, to name a few.
Driving Visualization enables the live environment rendering on a Tesla's screen to zoom in and out depending on where the electric car is being driven. In the feature's release notes, Tesla mentions that Driving Visualization could help detect vehicles in a driver's blind spot. "The driving visualization has been adjusted to automatically zoom in and out to better utilize screen space and inform you when a vehicle is detected in your blind spot. The visualization remains zoomed out when driving on highways," the company wrote.  
A video of Driving Visualization appears to have been shared in the past, during YouTube influencer Like Tesla's demonstration of Enhanced Summon using a Model 3 that is part of the company's early access program. Based on the footage of the feature, Driving Visualization's transitions when zooming in and out are smooth and lag-free.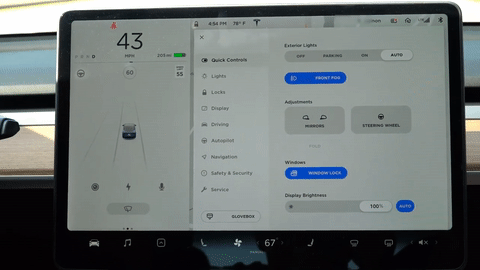 The 2019.16 update also includes improvements to Sentry Mode, allowing Tesla owners to activate the feature as soon as the vehicle is on Park and enabling the security system to engage depending on location. Tesla describes these optimizations in the update's release notes. "It's now easier to enable and disable Sentry Mode by tapping the Sentry Mode icon at the top of your touchscreen when your is in Park. Your car can also default Sentry Mode to always be enabled when your vehicle is parked by going to Controls > Safety & Security > Sentry Mode > ON if selected ON, you can exclude Home, Work and/or Favorite places by selecting the checkboxes. If a location is selected, Sentry Mode will be disabled when your car is parked near those locations," Tesla wrote.
These improvements ultimately make it easier for Tesla owners to activate Sentry Mode. The camera-based security system has proven itself multiple times in the past, catching thieves, vandals, and parking lot offenders (to name a few) in the act. Sentry Mode's recording capabilities even played a part in the arrest of an individual who attempted to break into a parked Model 3, as well as a woman who intentionally keyed an electric car.
Tesla's Lane Departure Avoidance and Emergency Lane Departure Avoidance features were recently announced in a blog post on the company's official website. Lane Departure Avoidance feature is an extension of Lane Departure Warning and applies corrective steering to keep drivers in their intended travel lane if a departure is sensed without a turn signal, while Emergency Lane Departure Avoidance is designed to return a Tesla vehicle back to its original lane if a departure and an imminent collision are detected. Both these features are activated even if Autopilot is not turned on.
Tesla's 2019.16 update further includes features such as Software Update Preference, which gives electric car owners the capability to check if updates are available for their vehicle, and Conditional Speed Limits, which determines speed limits based on road conditions. "Your vehicle will now display conditional speed limits, such as speed limit based on time of day, weather condition, etc. If there is a conditional speed limit for your current road, it will be displayed in grey below the regular speed limit sign," Tesla explained in the feature's release notes.
Tesla appears to be rolling out 2019.16 to the first members of its early access program. From here, these new features will be refined and optimized until bugs and other issues are addressed. Once completed, Tesla owners can expect their vehicles to receive the features in this update shortly.