A regulatory filing made on Tuesday indicated that Tesla CEO Elon Musk donated about $1.9 billion worth of TSLA shares to charity in 2022. The donations were initiated in the latter half of the year, starting on August 12, 2022. 
In total, about 11.6 million TSLA shares were gifted to charity by the Tesla CEO from August to December. The majority of the donations, comprised of about 10.1 million TSLA shares, were made between November 30 and December 27, 2022. 
Elon Musk sold almost $23 billion worth of TSLA stock over the course of 2022, thanks in part to his acquisition of social media platform Twitter. The CEO sold $8.5 billion worth of shares in April, and he followed this up with another $6.9 billion in August 2022. 
Another round of TSLA share sales worth $3.95 billion in November and $3.6 billion in December completed Musk's offloading of Tesla stock in 2022. All in all, the CEO offloaded around $22.9 billion worth of TSLA stock last year.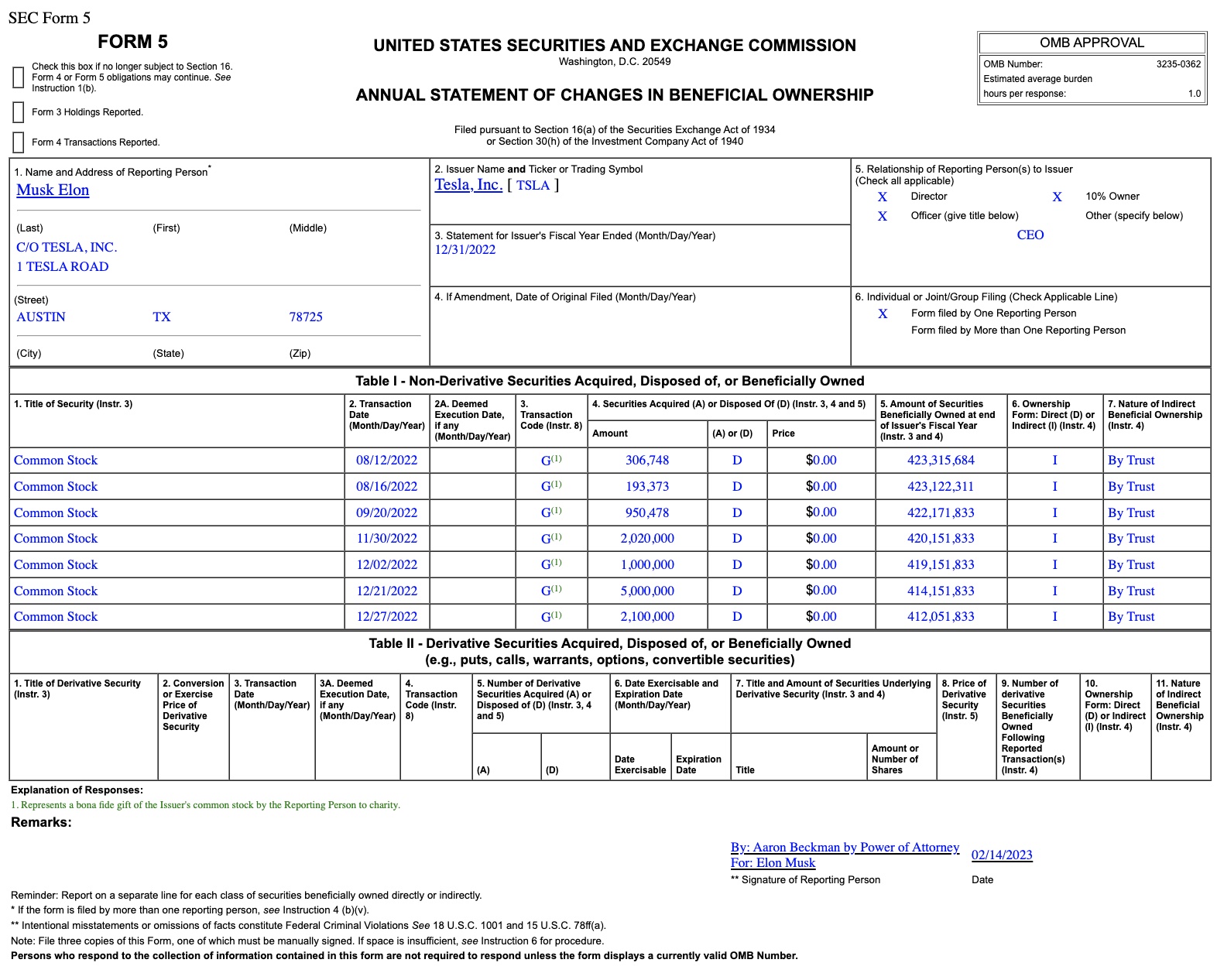 The SEC Form 5 filing did not list the recipient of Musk's TSLA share donations last year. The donations to charity are expected to help the Tesla CEO reduce the taxes he owes on profits from the shares that he sold.
Musk's TSLA stock donation of $1.9 billion to charity in 2022 is not a small amount. However, it is noticeably less than the $5.7 billion worth of TSLA stock that Musk donated to charity in 2021. 
The controversies that surrounded Elon Musk's acquisition of Twitter, as well as other headwinds that faced Tesla, negatively affected TSLA stock. The electric vehicle maker's shares dropped 65% in 2022, its worst annual performance on record. Musk also lost the title of the World's Wealthiest Person to French billionaire Bernard Arnault.
Tesla shares have since recovered, with the stock practically doubling since the year started. The rally was partly initiated by the company's aggressive pricing strategy for its vehicles, as well as strong Q4 and FY 2022 results. 
Disclosure: Maria Merano owns TSLA shares.
The Teslarati team would appreciate hearing from you. If you have any tips, contact me at maria@teslarati.com or via Twitter @Writer_01001101.