After years of not-so-quiet desperation, the "missing link" Supercharger in Erie, PA has finally powered up! The location is a vital link for Tesla owners going multiple directions and one that has been near the top of regional owners' requests.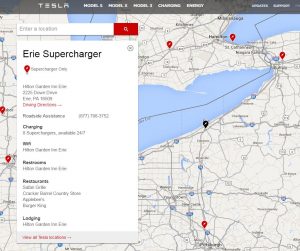 While you might not think of Erie as a transportation hub, it quickly became a desirable charging stop as the Supercharger network has been built out, much like railroad stations and crossroads have historically become vital only after their peripheral arteries grew.
Emails to and from Tesla suggesting locations had always centered around the busy Peach Street commercial district. Indications were strong that Tesla had found a site long ago only to have it fall through for unknown reasons– a story that would seem to mirror the same timetable and complications that long plagued the Harrisburg, PA Supercharger.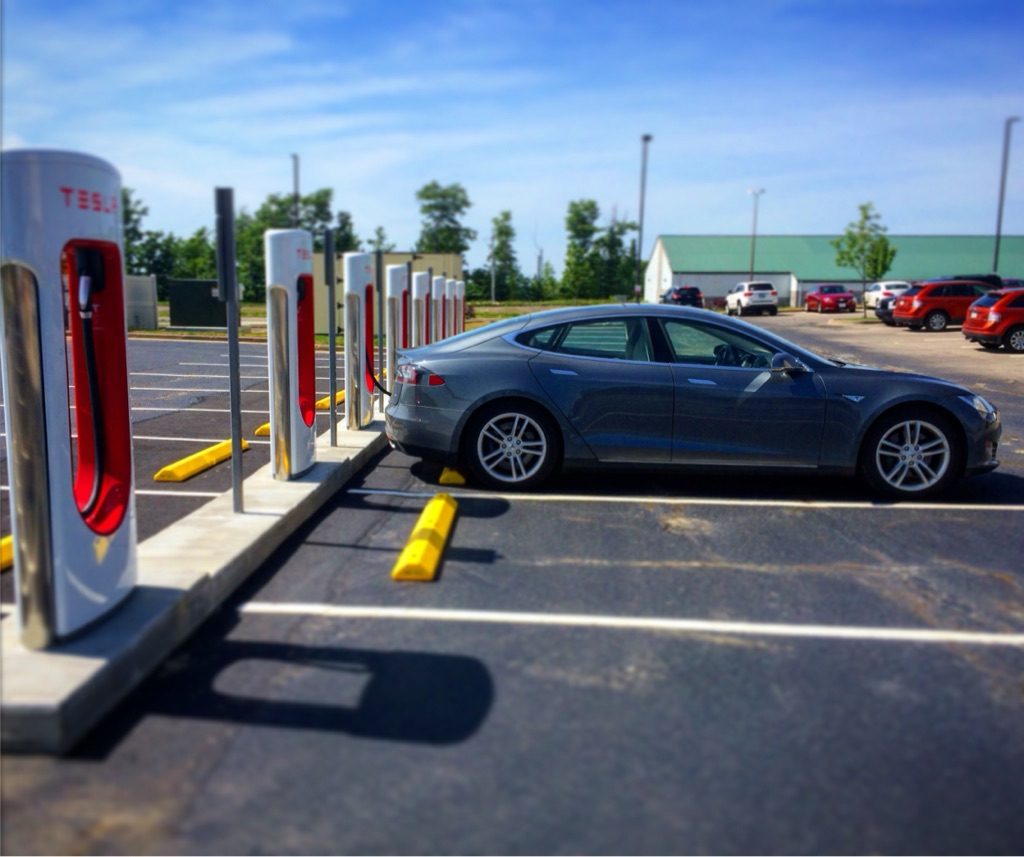 The one-two punch of having two strategically located Pennsylvania charging sites fall through must have hit the team hard after the relative ease of building Somerset and Cranberry locations near Pittsburgh.  Harrisburg was another long-bemoaned missing link that made travel across the state problematic at best. Eventually, a welcoming property was found and construction in Harrisburg and Erie have been nearly simultaneous, with Harrisburg coming online just a few weeks earlier.
With Erie now powered up, the hosting businesses in Erie are hoping to attract some new guests. My own observations from frequent travels up and down I-79/90 would suggest they're going to be pleasantly surprised.  Ontario license plates make semi-annual appearances in large numbers as the "Snowbirds" transit western Pennsylvania. They're also common sights around Pittsburgh year-round, with a good majority of them coming from Toronto.
The largest city in Ontario is its provincial capital, Toronto– indeed, it might surprise many to find out that Toronto has long been the largest city in Canada, more than double the size of Vancouver. It also barely nudges Chicago out of the top four on the continent, with only Mexico City, New York City and Los Angeles claiming more residents.  So when the city of Toronto goes on vacation… a good many of them wind up in western Pennsylvania.
For Tesla owners in Ontario, the Erie Supercharger is a reasonable half-day's drive away.  Straight drive-time is about 4 hours, but add in border crossings, charging stops and some meals and those driving from Canada will find the proximity of the Erie hotels to be an ideal overnight rest– regardless of which way they're going.  It's also an ideal overnight from Washington, DC (among others) and a more ambitious day away from Chicago or Boston. The "jump" from Pittsburgh/Cleveland to Buffalo is history!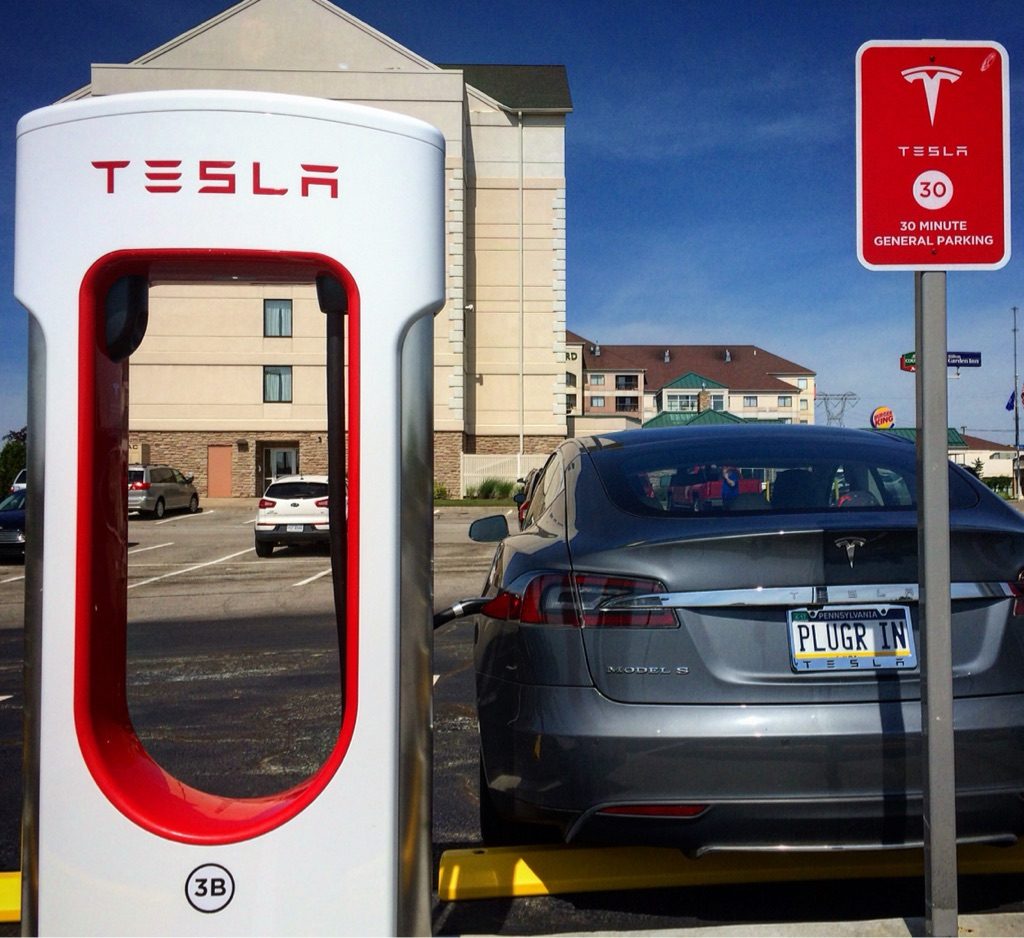 More importantly, the addition of Erie makes these trips less butt-clenching. Hyper-miling the stretch from Ohio or Pittsburgh to Buffalo, New York, was always doable in warm weather with careful planning and discipline. Winter brings brutally cold weather from across Lake Erie and strong headwinds (particularly for south/west bound traffic), often laden with snow and ice. With that comes a dramatically shortened range and the trip becomes very questionable in even an 85/90 kWh Tesla. Several drivers have found themselves limping through bad weather conditions with cabin heat exchanged for heart-pounding images of impending doom. Erie makes these worries all go away and four-season travel around the lake should be no less difficult than in a gas-powered car… and certainly much more pleasurable!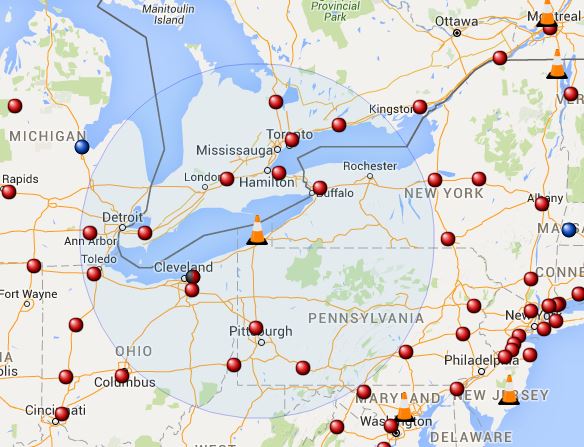 If you have destination charging as an option, the Erie Supercharger also partially plugs a large hole in rural New York and Pennsylvania. With a modest 200 mile (as the crow flies) radius centered on the charger you could hypothetically now reach deep into the less populous parts of both states to enjoy their many parks. Or… admittedly, you could drive into the middle of Lake Erie and have range enough to make it back (assuming you've first activated submarine mode).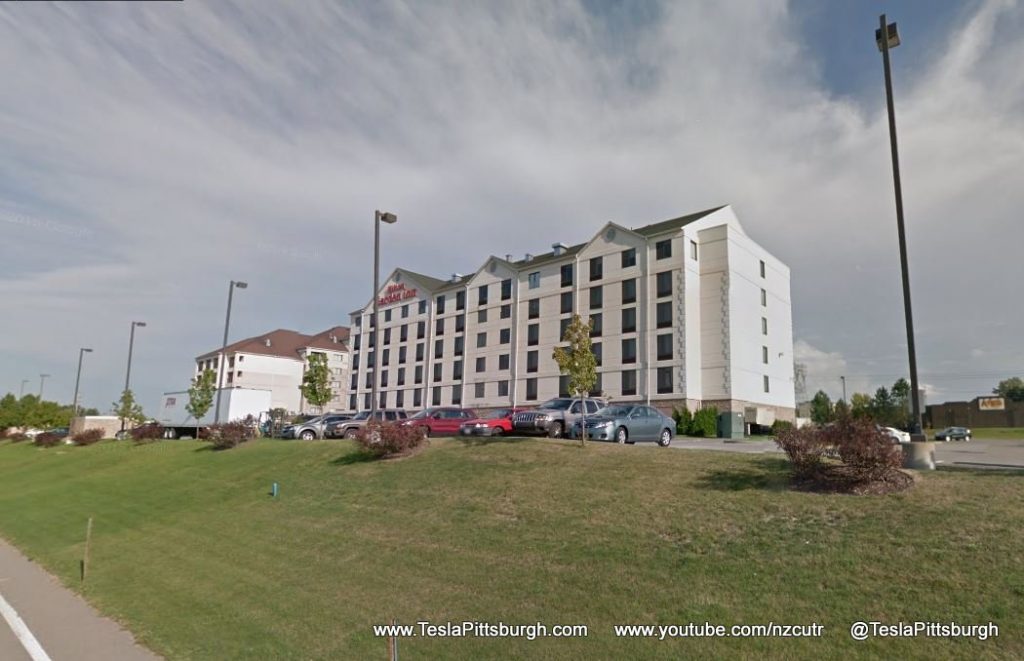 The Hilton Garden Inn, which hosts the Supercharger, is part of a larger facility called the Ambassador Banquet and Conference Center, which includes a Courtyard by Marriott and the Safari Grille. The entire facility is ideal for any road-weary snow birds making their seasonal migration or wedding parties/business meetings full of Tesla owners.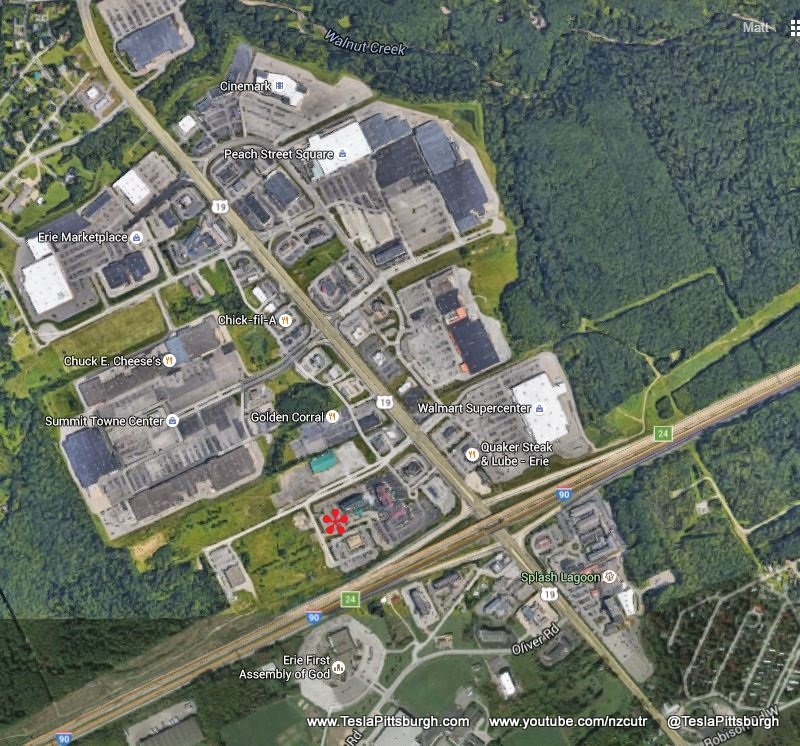 Within easy walking distance of the Supercharger there a lots of food options.  A Cracker Barrel beckons for those needing a longer charge, while an Applebee's and Burger King split the medium and short charging crowd.  If you're willing to brave the pedestrian lights on Peach Street, you can also easily walk to our usual stops, Quaker Steak and Lube. Widen your search zone a little more and the world is your oyster:  Steak n' Shake, Golden Corral, Krispy Kreme, Texas Roadhouse, Eat n' Park– they're all accessible by sidewalk.  Or you can drive to many more within a mile radius, like our other frequent stop: Famous Dave's Bar-B-Que.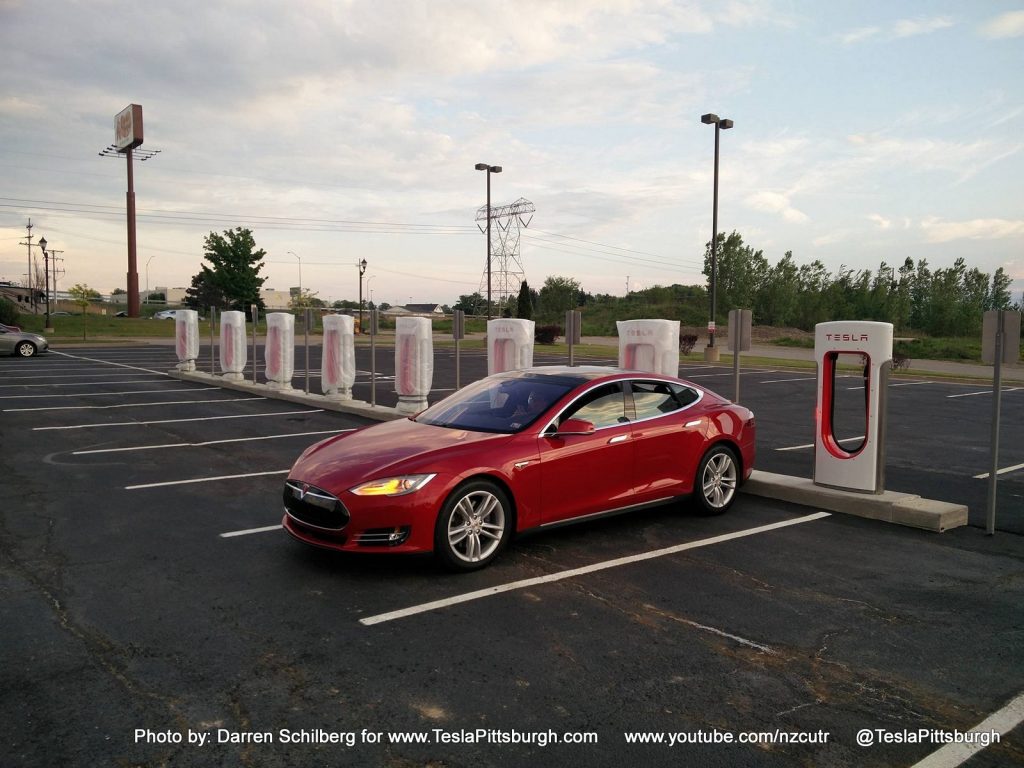 Other nearby shopping opportunities and amusements are nearly endless.  All the big box store companies are represented as well as a movie theater and a family-oriented water park called Splash Lagoon, which is owned by the same parent company as the Hilton Garden Inn.
One of the initial unknowns was how Tesla would lay out the chargers themselves. I'd speculated that given the proximity to campgrounds and the lake that Tesla might make the slots pull-through to allow Model X's with trailers an easier charge.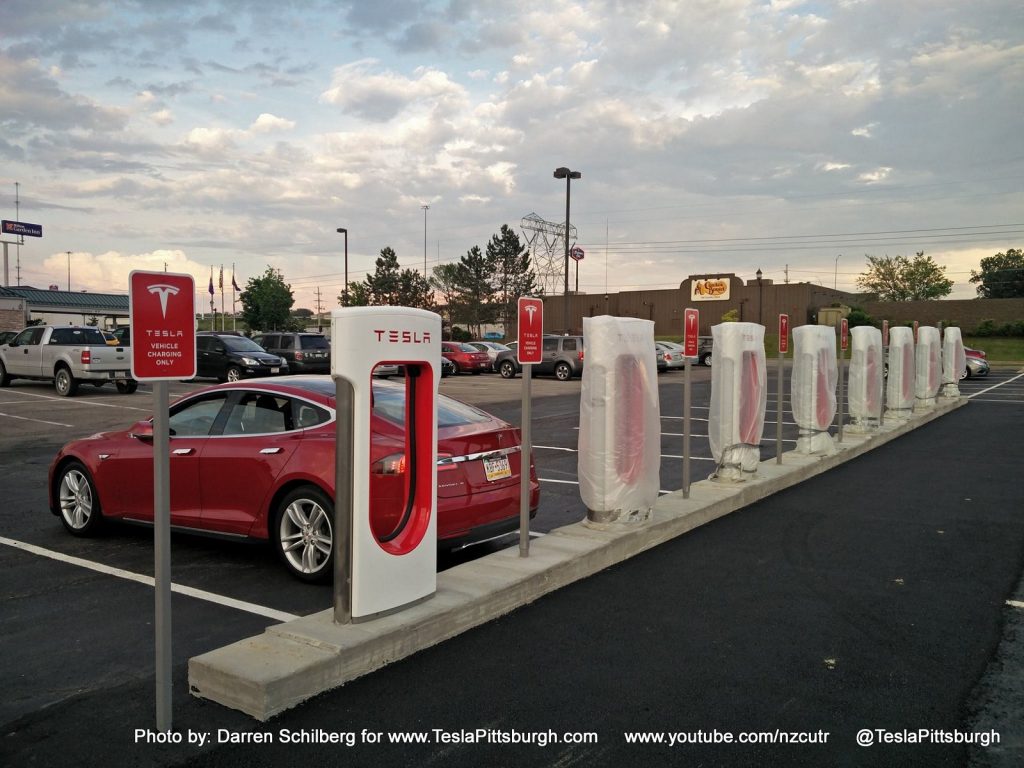 Turns out that was wrong, but there is an advantage to the way Tesla has situated these chargers versus most other locations.  They ran a curbed peninsula out into the parking lot between two rows of pre-existing parking spots, which effectively gives access to the chargers from both sides.  I'm not a math expert, but to me that at least halves the chances of any given charger being blocked by a gas car.
By powering up the Erie Supercharger, Tesla has essentially completed two major routes that touch all four compass points.  With the elimination of cold weather as a range concern, Tesla tourists can now whoosh around the northeast with relative ease… with two regional holes yet to fill (and hopefully next): I-80 in Pennsylvania and I-86 in upstate New York.
Please note: We are not specifically authorized, sponsored by, or otherwise directly associated with Tesla Motors and make no claims to be so.