Tesla recently launched "Life with Model 3", a portion of the company's site where owners have the ability to share short clips of their favorite parts of owning the all-electric sedan. The unique page features the phrase "Filmed by Owners," showing the joy and excitement Tesla drivers experience on a daily basis.
The site is integrated into Tesla's main webpage and features an introduction comprised of numerous clips from Model 3 owners, where they could be seen enjoying their vehicles and its novel features and characteristics.
The numerous videos show owners in a number of different scenarios, whether it would be driving the car with a passenger who has yet to encounter the Tesla experience or short clips of what owners are packing in their vehicle's frunk.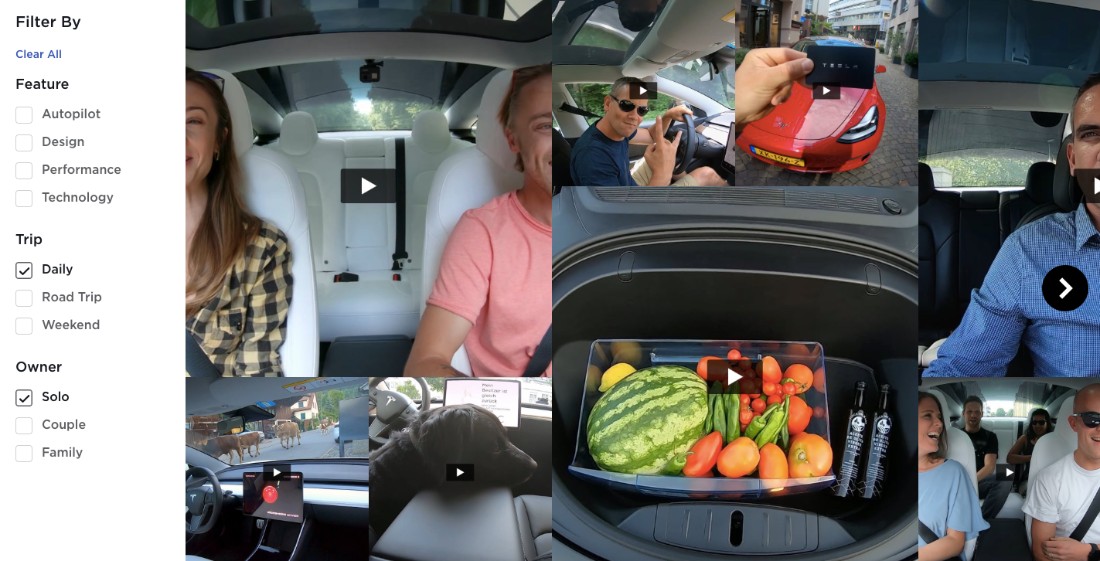 As you scroll down the page, there are options available for the viewer to pick the feature, duration of the trip, and how many people were involved in the making of the clip. There are multiple categories for the feature, including Autopilot, Design, Performance and Technology.
Trip options can be narrowed down from Daily, Roadtrip, and Weekend. Owner options are Solo, Couple and Family. This gives the viewer the opportunity to experience what it is like to own the Model 3 and can open up many possibilities of use for potential owners to explore.
At the very bottom of the page, Tesla has a form available for European citizens, allowing for the possibility to win a Model 3 for two weeks. This experience will allow potential buyers to win the experience of owning a Tesla Model 3 for a short period of time.
Tesla is confident with the idea of a short-term ownership experience that could eventually turn into a purchase down the line. The clips on "Life with Model 3" are enough to plant the seed of potential purchase in a viewer's head, but the opportunity to drive a Tesla and use it for daily life for two weeks may guarantee the sale of a vehicle in the long run.
Tesla executives such as CEO Elon Musk and Chief Designer Franz von Holzhausen have remarked that each vehicle manufactured by the electric car maker is an instrument of fun. From their performance to their novel Easter Eggs, this definitely does seem to be the case. And as could be seen in the clips found in the company's "Life with Model 3" series, there are many memories that can be made in a Tesla too.