Tesla ended the third quarter on a strong note, but if the electric car maker's activities this October so far are any indication, it appears that the company is looking to end Q4 in an even more remarkable fashion. Amidst reports that Tesla has produced the 100,000th Model 3, the Silicon Valley-based company also registered more than 13,000 new Model 3 VINs in just two days.
This weekend's VIN registrations were notable, considering that as of October 8, Tesla had already registered around 17,800 Model 3 in Q4. This past weekend's filings were remarkable in their own right, as it saw the registration of the biggest batch of Model 3 VINs yet – 9,426 vehicles, ~52% of which are estimated to be Dual Motor AWD. With these latest filings, Tesla had registered a total of 148,386 Model 3 VINs to date.
#Tesla registered 9,426 new #Model3 VINs. ~52% estimated to be dual motor. Highest VIN is 148386. https://t.co/3pDIYHWgim

— Model 3 VINs (@Model3VINs) October 14, 2018
Tesla's rate of VIN registrations appears to be picking up this month. October is only halfway through, but the company had already filed 30,478 new Model 3 VINs. If Tesla continues with this pace, October could easily be a record month for the Model 3's registrations. While VIN registrations do not directly correspond to the number of vehicles immediately being produced by the carmaker, the rate of filings does give an idea about the pace of the Model 3 ramp. Elon Musk acknowledged this in the Q1 2018 earnings call, when he noted that "any information that we provide would be a week or two in advance of what will become public knowledge just due to vehicle registrations and shipments that are tracked very carefully."
Earlier this week, Bloomberg's Tesla Model 3 production tracker, which has become more accurate with time, also showed that the overall production of the electric sedan has gone past the 100,000-mark. The tracker, which uses data from VIN registrations, social media reports from Model 3 owners, as well as direct reports submitted to the publication, currently estimates a total of 101,067 Model 3 built to date.
As further signs emerge of Tesla's Model 3 ramp hitting its stride, it seems like Elon Musk's long-term play for the electric car's production is finally taking shape. When Musk envisioned the manufacturing of the Model 3, he saw an automated machine that builds the machine – one that would look nothing short of an "Alien Dreadnought." The first 12 months following the start of the Model 3's production proved challenging for Elon Musk and Tesla, though, as one bottleneck after another started emerging from both the Fremont factory and Gigafactory 1.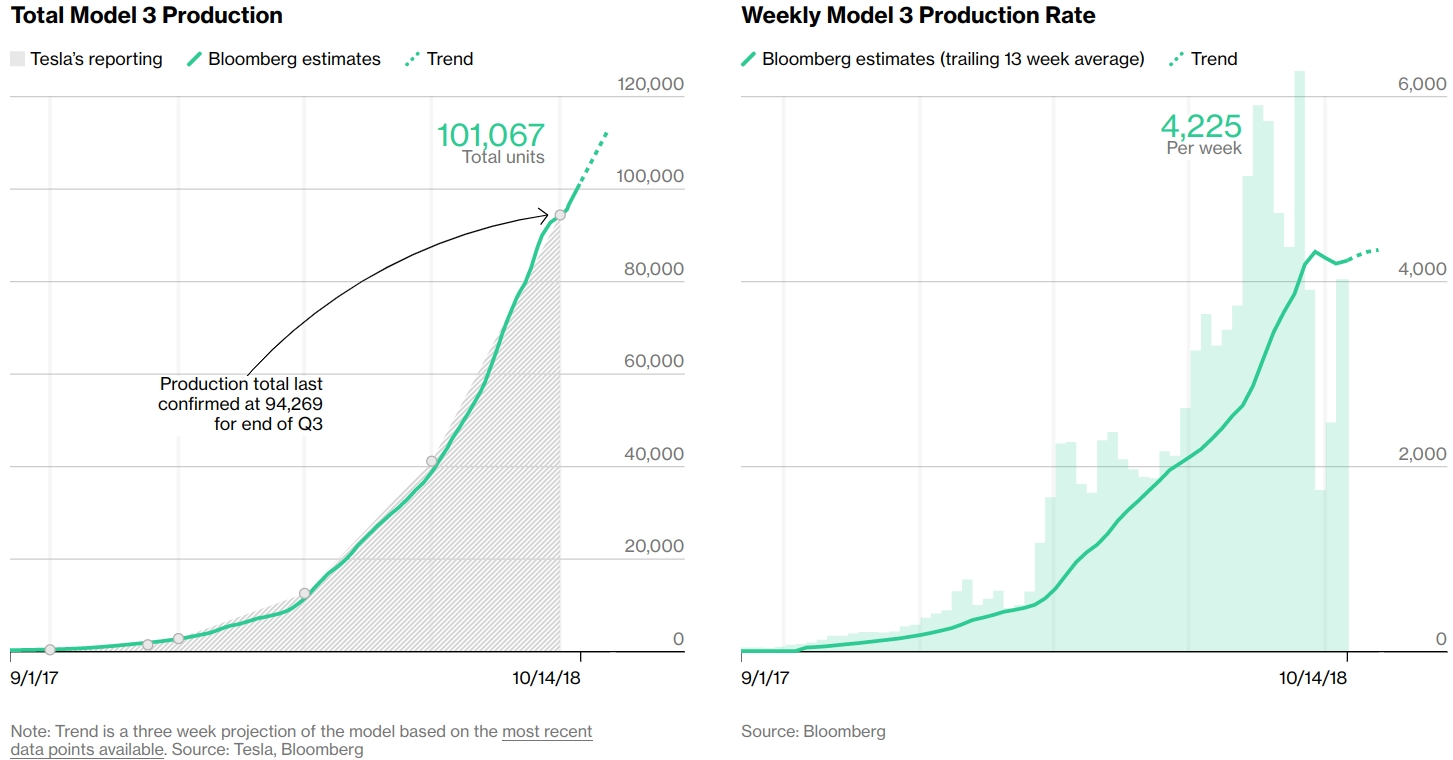 Eventually, it would be Tesla's capacity to explore out-of-the-box strategies that ultimately made a difference in the Model 3 ramp. As Tesla adopted a more balanced workforce that utilized both humans and robots to construct the electric sedan, the company also looked into more unorthodox strategies to hit its targets. At the final month of Q2, for example, Tesla set up GA4, a Model 3 assembly line built inside a sprung structure. George Galliers, an analyst from Evercore ISI in London, visited the Fremont factory and noted that GA4, despite being built on the controversial "tent," "looks to be permanent and in theory should be able to support much faster cycle times" following more optimizations.
In Q3, it was also revealed that Gigafactory 1 is receiving more upgrades in the form of new Grohmann machines, which would be installed by the end of the third quarter or the beginning of Q4. These new Grohmann machines, according to analysts from Worm Capital, will "help module production become three times faster, and three times cheaper." Panasonic, which previously announced that it is looking to finish its upgrades to Gigafactory 1's battery cell production lines, has revealed that it is expediting the installation of new cell production lines as well.
It remains to be seen if the record batches of Model 3 VIN registrations are the result of improvements in the battery module production lines in Gigafactory 1. That said, considering Tesla's tendency to continuously improve and innovate as it goes, it appears that the Model 3 ramp would be stable and strong enough to allow the company to charge ahead towards the end of 2018.