The Track
Las Vegas Motor Speedway (LVMS) outside course is adjacent to the Super Speedway and is conveniently located close to the center of the city. It's a 2.4 miles long, technical course, featuring 13 turns of various configurations. The track is completely flat with no elevation changes or on/off camber turns.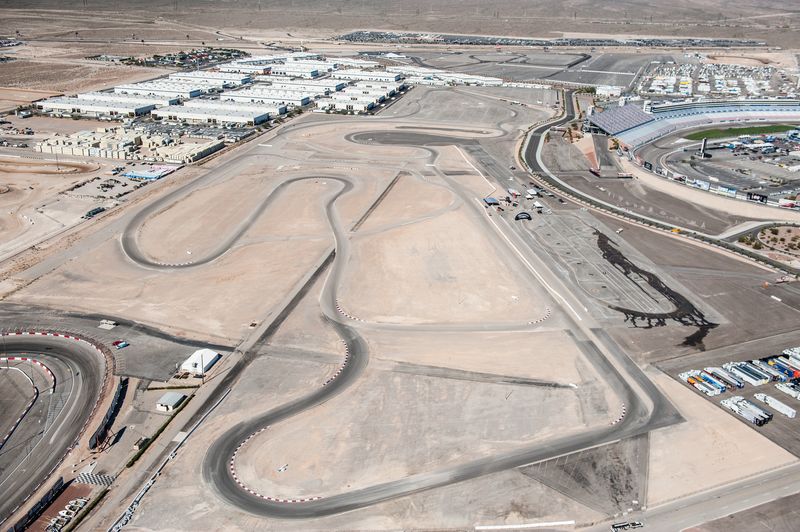 The Tesla Model S
The Model S handles quite well on this track, although frequent speed changes contribute to more pronounced power limitation. The track surface did not change much throughout the day which allowed us to maintain the same amount of tire grip and slippage. The consistent track conditions allowed us to really concentrate on racing techniques and follow proper racing lines while building our experience with the open passing format.
Our best lap time was 2:17 with a top speed of 110 mph on the front straightaway. Run Group: Orange with Speed Ventures
Charging and Power Consumption
The course is only 11 miles away from the new Las Vegas Tesla Supercharger. With the Supercharger so close by, we were able to run full sessions in the morning and then head back to the Supercharger during our lunch break to fill back up. It's approximately a 20 minute transit each way and requires another hour to recharge.
The outside course has a single 220V 50Amp SS2 twist lock outlet behind the building. We confirmed it was operational however there was no need to use it given that the Supercharger was so close by.
Also see: The Tesla Racing Series
The track consumed less power than other tracks we've raced at, averaging 900 wh/m. We were able to run the first lap all out before power limitation began on the second lap. After approx. 6 to 8 laps, power was limited to 80 kw (1/4 of MS capacity). At this point it was time to pull off the track, as the car could barely accelerate. We tried spending a few minutes in the grid to let the car cool down. After about 4 minutes the power limitation was reduced by not completely gone. It was good enough to allow us to continue racing, but unfortunately by the time we've cooled down, the session was practically over.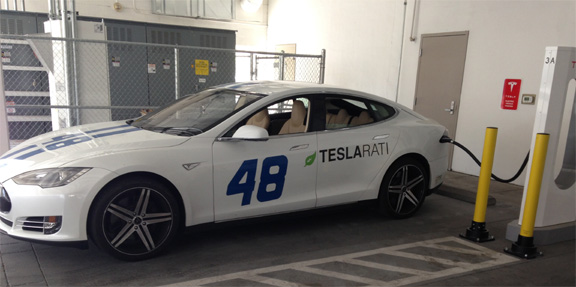 Travel
Traveling to Las Vegas in the Model S was an adventure in itself. The area between Las Vegas and Barstow is prone to extremely high winds and sand storms which we seriously underestimated. Sustained head winds of 35mph along with steep elevation changes substantially reduce available range. Even by reducing driving speeds to 40 mph our power consumption was consistently in the 400-500 wh/m range.
In the end we paid dearly for it and ended up stranded on the side of the road with no range left. Tesla was a class act and gracious enough to cover the towing, but overall it was a very stressful experience which we'll surely learn from.