Rising YouTube stars at 'Like Tesla' are best known for finding and sharing unique insights into Tesla by way of their personal experiences with the Model X and their involvement within the Tesla community. Their latest video reveals a handful of keen insights into the Model X that you might now know about. Some fun, and others just fun to know.
Every Decibel Counts
We had previously revealed that Tesla worked with Continental Tires to produce a "silent tire" using noise reducing tire technology. The Model X uses Continental Contisilent tires which come with a special foam liner that's designed to absorb road noise originating from the tread, and results in a reduction of 9 decibels. For reference, a 10 decibel reduction in sound is equivalent to a 50% noise reduction.
If you're a Model X owner, this tidbit is important to remember the next time you visit your local tire shop. Coming into the discussion armed with all the details will ensure that you get the right tires for the car while also retaining the quietest ride possible.
Easter Egg within an Easter Egg
Converting your Tesla into a submarine through the 007 easter egg isn't much of a secret, but did you know that the driving tab also changes personas and becomes Diving? On the Mode X Doors menu tab, the driver's side door is similarly renamed Diver.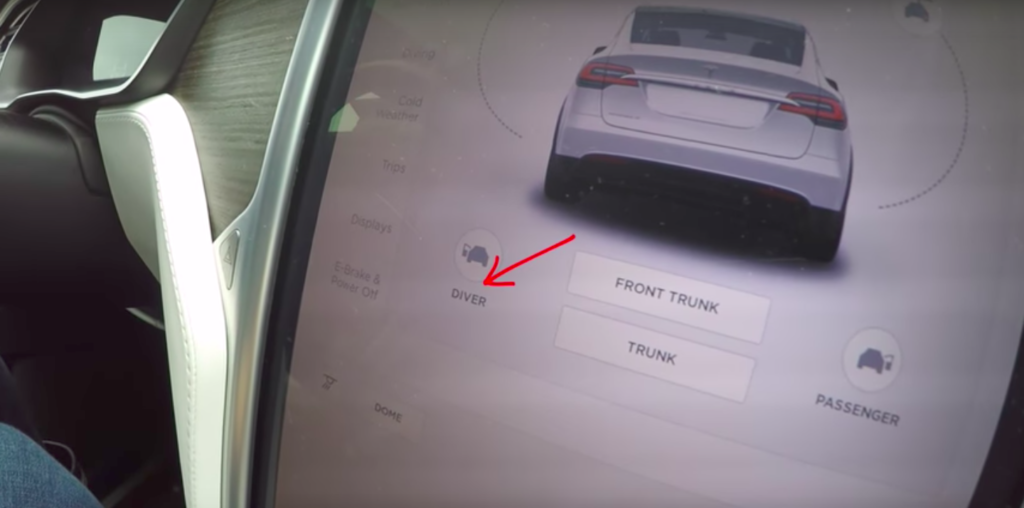 Attention to Detail
Tesla software engineers don't skimp when it comes to attention to detail. Case in point is the icon that represents an engaged Autosteer functionality. The steering wheel icon on the dash lights up in the color blue, but did you know that the position of the steering wheel icon reflects the actual position of the physical steering wheel?
Another hidden feature which we previously highlighted is Tesla's Active Hood safety feature. Active Hood is only available on European cars at the moment and works by raising the back of the hood when it detects an imminent collision with a pedestrian. This feature was designed to minimize pedestrian fatalities in the event of collisions. It is unfortunately, not available on U.S. vehicles at this time though with Tesla's extreme focus on safety, the possibility of it appearing on U.S. vehicles could happen.
Trapped behind a powerless Falcon Wing door? There's a solution to getting out. Like Tesla also reveals the purpose behind the mystery plastic grill that's located above the front USB ports on the center arm rest console.
Check out the full video by the Like Tesla to learn about additional Tesla tips and tidbits.