A new over-the-air software update v7.1 (2.20.45) has gone out to Tesla Model X owners that allows for better control of the vehicle's electronically actuated seats and famed falcon wing doors. Most notable in the update, a minor change to the company's existing version 7.1, introduces a feature that provides individual control of the vehicle's second-row seating directly from the center touchscreen.
Model X owner's are also presented with a feature that will close the falcon wing doors, self-presenting front doors, and even the rear trunk hatch all in a single swoop through a press of the key fob. Prior to this feature, closing the sophisticated doors on the Model X required a combination of actions that included touching the door control via the center touchscreen plus the physical press of either the key fob which would only close the front doors, or the B-pillar mounted falcon wing door switches assuming one hand't already closed it via the touchscreen.
Fair warning that the new update brings about convenience, but comes with the unintentional consequence of making for quite a Model X show.
 v7.1 (2.20.45) Release Notes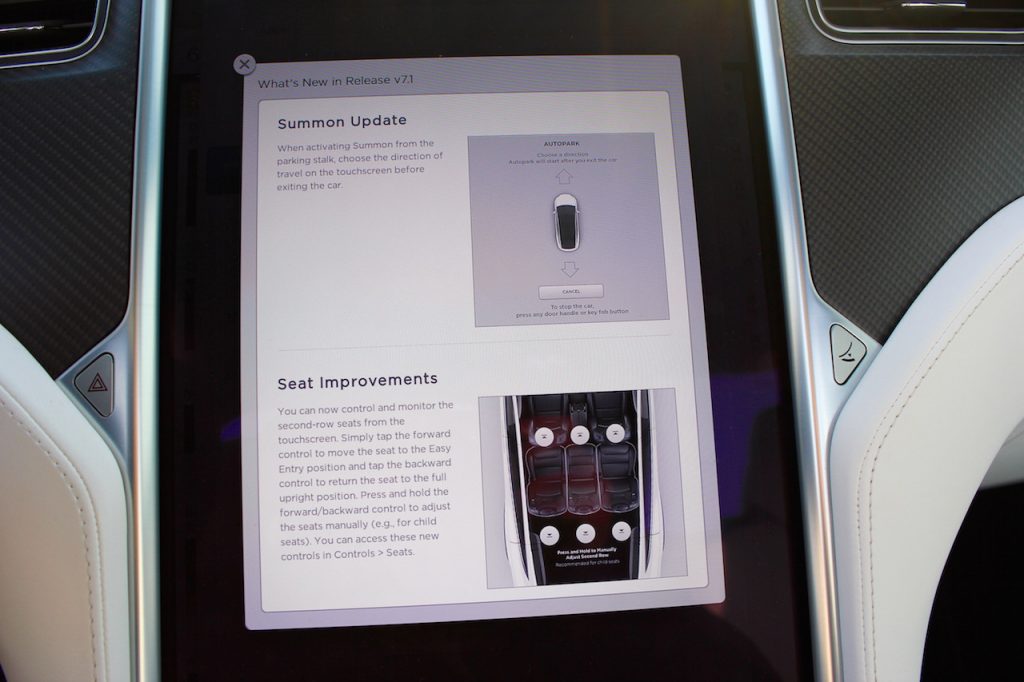 Model X second-row seat adjustments are substantially improved in this version. This includes the ingress and egress of passengers in the vehicle's third row, which prior to the update required a delicate balance between adjusting the seats via a button mounted on the back of the second-row seat, and the re-adjustment of the first row seat.
According to the release notes:
Seat Improvements
"You can now control and monitor the second-row seats from the touchscreen. Simply tap the forward control to move the seat to the Easy Entry position and tap the backward control to return the seat to the full upright position. Press and hold the forward/backward control to adjust the seats manually (e.g. for child seats). You can access these new controls in Controls > Seats."