A fourth Tesla referral program is rumored to be in the works after a Tesla owner spotted a Model X appearing in a hidden section of their MyTesla page. Roadster and Model S owner Dennis Pascual sent us a link to his Tesla referral code that when clicked upon led us to a "Tesla Referral Program" page showing a refreshed Model S and Model X side by side. Below each vehicle is a button that leads to each vehicle's respective Design Studio where the potential buyer can pick their choice of options and custom build their Tesla.
Updated: Tesla announced details for its seventh Referral Program which includes an 'Annual Award' and prize containing a Model 3 delivery event invitation.
Though we have no official confirmation from Tesla yet on whether this find is part of the company's continuation of its long-running rewards and arguably successful program which provided incentives to existing owners and new buyers, the message on the page would indicate otherwise. Tesla owners with existing referral codes will find that their link leads them to a page that reads,
"Receive a $1,000 credit when you order a new Model S or Model X."
If you've enjoyed visiting our site and seeing our live behind the scenes coverage of events, please consider using our referral code for $1,000 off the purchase of your Model S and Model X. Your support helps us with content production. We're particularly interested in bringing your the first photos of the Elon Musk-signed Red Powerwall 2.0.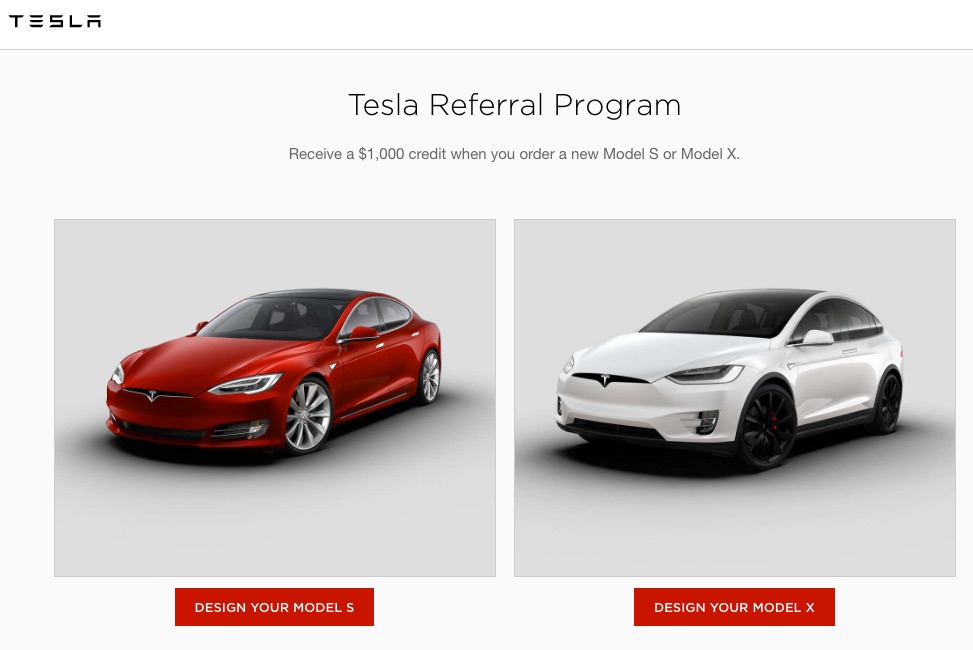 What started as an experimental incentive program back in July of 2015 as a way to stimulate word of mouth sales of its Model S vehicle quickly snowballed into one of the greatest sales tools the company could have ever hoped for. With no advertising plan in place, Tesla managed to sell thousands of vehicles through its first three referral programs all by plugging into its loyal and very satisfied customer base.
Previous winners of Tesla's referral program saw giveaways ranging from a fully loaded Ludicrous P90D Model S to invitations to the now confirmed July 29 official Gigafactory Grand Opening launch party. Details behind Tesla's fourth referral program have not been released but we expect it to remain relatively unchanged. Existing Tesla owners are given a referral link that can be shared with prospective Tesla buyers. Buyers who use the link will receive an instant credit towards the purchase of the vehicle. We'll be sure to update this post once we receive word from Tesla on what this latest finding means.